Fiction Preview: Special 243
---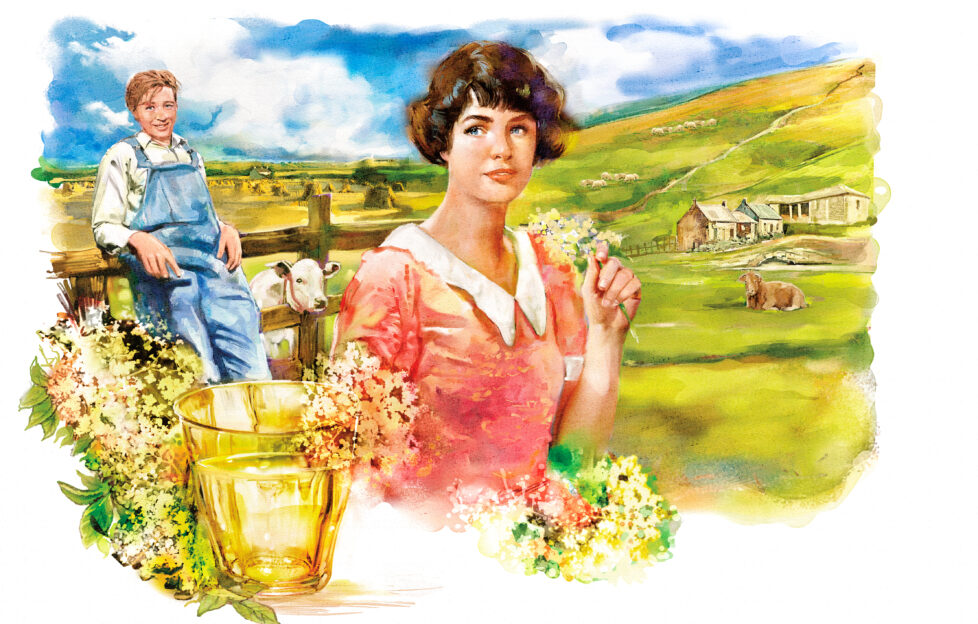 Artwork: Sailesh Thakrar
Hello, everyone, and welcome to our preview of the fiction in our latest Special, 243.
You'll find it on the shelves from Wednesday, May 24.
Let's look at the fiction inside!
Twenty Brand New Stories
Our opening story is a cracker – Pamela Kavanagh's "Taking Charge". We're in the 1550s, and Maria dreams of choosing her own husband, when the time comes. Her family, however, have other ideas. Featuring artwork by David Young.
After a difficult year, Carol and her family decide desperate times call for desperate measures – celebrating Christmas not once a year, "But Once A Month". Written by Alison Wassell, it's illustrated by David Young.
Leo must figure out exactly what the key unlocks, in "Granny's Garden". By Nicola Martin, artwork from Tracy Fennell.
Everyone's house looks great – on social media, in Lydia Jones' "Houseproud"…
…while one man's love for dance continues to "Move With The Times", in Alison Carter's short story.
Super Spring Reading
Brenda is going through the change of life, and is missing the happy days when her children were young. Will a spot of babysitting put things into perspective? By Eirin Thompson, "Be My Baby" is illustrated by Kirk Houston.
Elderflower wine was the cure for all ills – if only Maggie could remember how to make it. Becca Robin's "Good For What Ails You" is set in 1926 and illustrated by Sailesh Thakrar (above).
Andrea hopes her cooking will help her bond with her aunt, in "A Taste Of Home", by Amanda Quinn.
Tasha has been with her boyfriend for ever, and their mums are already planning the nuptials! Then Tasha meets Flynn. "Love's Young Dream", by Teresa Ashby, is illustrated by Mandy Dixon.
A new friend brings people together, in "A Guiding Light", set in 2004. Written by Ann Ridley, it's illustrated by Mandy Dixon.
Our Eight-Page Long Read
Jack decides to fly planes for the Republicans, during the Spanish Civil War – landing her in an enemy jail! Alison Carter's exciting eight-page thriller, "To The Rescue", is illustrated by David Young.
Something For Everyone
Was Menna's time at the biscuit factory exactly as she remembered it? "In Perspective" is by Gabrielle Mullarkey and illustrated by Sarah Holliday.
Maya wonders why her nan is so cold towards her auntie, in "Clouded Judgement" by Teresa Ashby. Artwork, Kirk Houston.
Widowed Janet enters her dog in the show, hoping to take them both out of their comfort zones. "Best In Show" is by Julie Goodall and illustrated by Jim Dewar.
We're in the summer of 1976, next, where two young girls suspect their neighbour is a witch! "Speaking Of Witch" is by Alyson Hilbourne.
There's subterfuge in our next story, where a visit to Broadcasting House must be kept under wraps…"Sound Effects" by Joanne Duncan, is set in the 1960s.
A Really Good Read
Alice's mum and dad are always bickering, in Eirin Thompson's "Parent Wars". Artwork, Sarah Holliday.
Could clearing their parents' attic bring Sylvia's sisters back together? "A Treasure Shared" is by Becca Robin and features artwork from Ruth Blair.
Annie has passed her driving test – now she just needs something to drive, in Amanda Quinn's "New Lease Of Life". Artwork, Jim Dewar.
A bump on the head could bring much-needed clarity, in Gabrielle Mullarkey's "Do You Remember?". Artwork, Sarah Holliday.
And our final story of this special is Laura Tapper's "Playing Fair", where a busy mum finds keeping up with her children's interests isn't always fun and games! Artwork, Kirk Houston.