11 Ladysmile Lane – Episode 37
---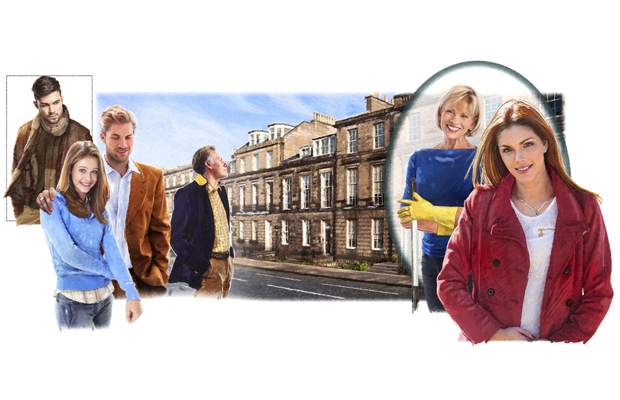 Illustrated by Mandy Dixon.
Harrison had hardly got into his office when Ewan came charging in after him. He gestured to the lad to sit down.
"So, was it useful?" Ewan asked eagerly. "Finding out where the guy you were watching went next?"
Harrison shrugged. In fact, he'd learned nothing more than he already knew – that the man was going away for a few days.
Harrison had followed him just to the railway station. No doubt Ruth's client had got his departure date wrong.
"What about you?" he asked Ewan, aware that the boy was desperate to relate his little adventure, but not expecting much.
He was wrong.
". . . and when he stopped before he got into his car and took his mobile phone out, I stopped, too, pretending to be tying my shoelace." Ewan paused to retrieve a piece of paper from his pocket.
"Here's what he said on the phone," he finished triumphantly. "I wrote it all down."
Harrison looked at the neatly written note.
It gave the name of the caller and the person he wanted to speak to.
"Any good?" Ewan asked Harrison.
"It certainly is!"
From what Ewan had just told him, Harrison was confident this would be sufficient to prove Ruth's client's suspicions of double-dealing in a contract with which he was involved. Her client would be delighted!
He tried to phone her but was told she was in a meeting.
"I'm just glad to be able to thank you for what you're doing for me," Ewan said when Harrison told him again how pleased he was. "Anything else I can do? I like it. It's interesting."
This boy could be himself, Harrison thought as he looked at Ewan's enthusiastic young face, as he was when he was a new police recruit.
Normally, such memories weren't welcome to him. Normally, he would have shaken them away. But today…
"Can you file?" he asked, pointing towards his cluttered desk.
He expected Ewan to get fed up with that quickly, but the lad stuck at it until everything was put in order except for two invoices. These were for work done that Harrison had – badly – typed up a few weeks earlier but clearly had not yet sent.
"You can't expect people to pay if they don't receive their bills!" Ewan scolded, making Harrison smile. "I'll redo them for you with today's date and get them posted."
By close of business Harrison not only had the tidiest desk he'd ever had since setting up on his own, but an improved accounts system as well.
Seated at his desk, with a coffee Ewan had made for him before he'd departed with a promise to "pop in again tomorrow", he noted that Ewan had put the folder relating to his own case at the top of the "in" tray he'd also set up.
"Can't blame him for that!" Harrison said to himself with another smile.
Tugging at his short beard, as he did when he was thinking, he started rereading the accumulated paperwork. There was a fair bit. But beyond still being certain that Ewan was being used as a scapegoat, Harrison was still puzzled by it all.
"There's something I'm missing," he said aloud.
Picking up one of the company's brochures he'd taken when he had posed as one of Mel's staff and had done a morning's work there with her, he flicked through it.
"Now, then!"
He stopped at a photo of the family who owned the business. Apparently it had been taken the day they had moved into their present premises. Frowning, he reached for the company's telephone extension list. It had everyone's names on it.
He laughed.
"I suspect that it isn't so much a question of something missing, as someone!" he said aloud.
Picking up the phone, he dialled a number.
"Mel," he said, still laughing. "You are a genius!"