A Time To Reap – Episode 21
---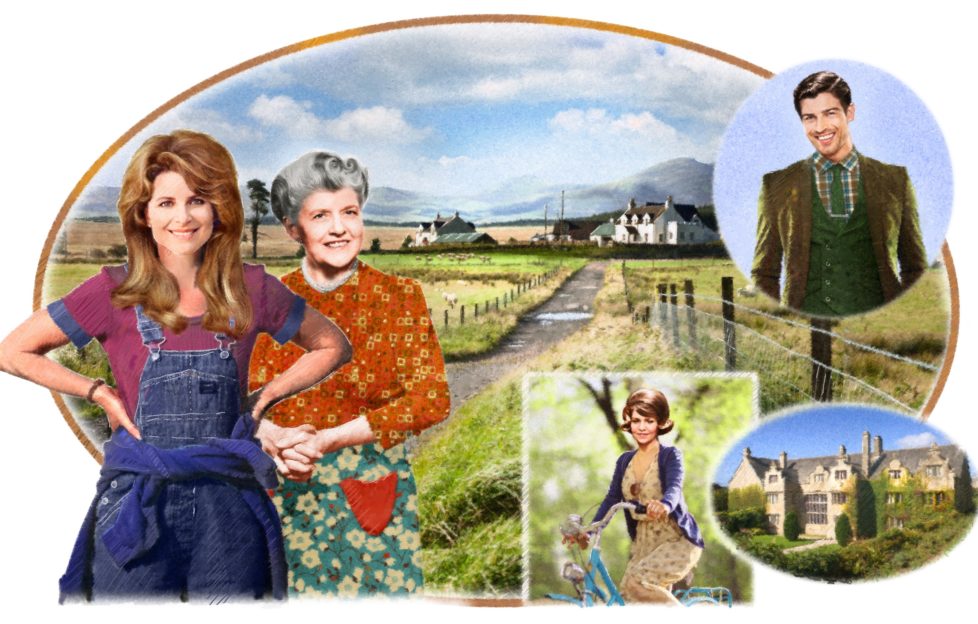 Illustrated by Mandy Dixon.
June hurried past Mrs Duncan's house on her way up to the main road, not wanting to attract the attention of Tibbie or Flora after the awkward visit last Sunday afternoon.
Of course she wanted to be friendly – this was Tam's boss's family and she'd been shown nothing but kindness by them – and she had gone to a lot of trouble to provide a nice afternoon tea.
But she'd been apprehensive when Tam had said that little Flora wanted to see the baby, and sure enough Flora seemed to think Sadie was to be played with as if she were a doll, and not a living being.
She'd sat down and spread her summer dress to make a lap, then held out her arms, evidently expecting June just to hand Sadie over.
June had muttered something about the sugar bowl and retreated to the kitchen, Sadie on her hip.
When she came back Tam was trying to interest Flora in their newly acquired kitten, but Flora would have none of it.
She made a beeline for Sadie, patting her hand and waving her rattle at her.
It was sweet and June wished she could relax, but instead she busied herself with pouring milk into cups and passing plates, clutching Sadie to her all the while.
Eventually, after they finished tea, she'd given in and put Sadie on Flora's knee, keeping a very tight hold of her.
When Flora asked for the third time if she could take Sadie for a walk in her pram Tibbie intervened and told her it was time for them to go home.
Once they'd said their goodbyes, Tam had been uncharacteristically tight-lipped. After Sadie was in bed he put his arm round June.
"June, Sadie is ours. No-one's going to take her away. You could have been nicer to that wee girl."
As she walked along to the village post office and shop, June thought of how difficult it was to put her feelings into words.
It wasn't because the baby was adopted that she couldn't bear to let Sadie out of her sight and didn't like anyone other than herself or Tam to hold her.
She would feel this way if she'd given birth to Sadie.
Her arms felt empty when the baby wasn't in them and she worried when she couldn't see her, even when she was just upstairs, tucked into her cot.
She looked at Sadie now, safe and asleep in the pram but so small and helpless and precious, and yearned to pick her up.
Of course, as Flora was only four years old even Tam wouldn't have let her take Sadie out on her own.
But some time, he said, maybe they could all go for a walk and let Flora push the pram? June had nodded agreement.
Then there was their next-door neighbour, Isa.
She'd actually offered to look after Sadie any time June wanted. As if a mother wouldn't want to look after her own baby all the time!
Through the shop window she could see that several people were waiting to be served. No room for the pram. From behind the counter Nancy caught her eye and waved.
June waved back, and kept walking.