A Year In France – Episode 05
---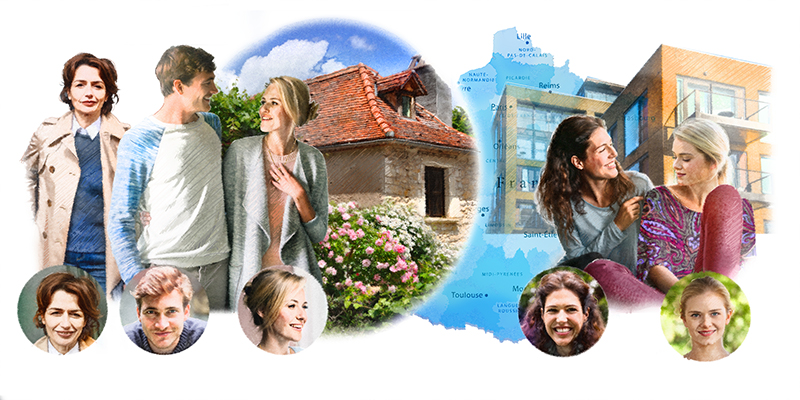 Illustration by Mandy Dixon.
Leaving the village behind her, she walked along the main road to A Taste Of The Countryside.
It was further than she thought and she began to regret not driving down from the cottage. Philippe had promised to buy her a small runaround soon, but in the meantime had urged her to use his Jeep.
It was bigger than anything she'd ever driven before and she wasn't ready to drive it on the wrong side of narrow roads.
A Taste Of The Countryside was housed in a modern building set back from the road and next to Le Jardin Pépinière.
As she pushed open the large shop door, a buzzer sounded. Julia smiled as she saw two small children in a playpen near the till.
"Bonjour, Madame Delahaye," the women behind the counter said.
"Bonjour," Julia replied, surprised. "How did you know my name?"
"It's a small village. I know everyone. It's too early for tourists, so you had to be Philippe's new wife. I'm Nicola Bongars." She held out her hand.
"Your English is very good."
"That's because I am English," Nicola said. "Married to a Frenchman."
"Like me!" Julia laughed, judging that Nicola had to be older than her, probably in her early forties. "Are these your children?"
"Two of them. I have an older son also, Olivier. I don't usually bring the twins to work, but today I'm standing in for the assistant, who has an emergency."
"It's a very inviting shop," Julia said, looking around at the array of things on offer.
There were conserves, wine, pottery, fruit juices, sweets and biscuits, fresh vegetables, flowers and plants. A stand by the door held pamphlets about the local area.
"Everything here is made or produced locally?"
Nicola nodded.
"Within a forty-kilometre area. Were you looking for anything in particular?"
"I was just curious to see what you sold," Julia said. "I've just had a French lesson with Madame Colbert and needed a walk to clear my head. My French is rusty and Madame Colbert is strict."
Nicola laughed.
"She's a good teacher, though. The main thing you have to do is speak French at every opportunity. Do you and Philippe speak French at home?"
"Not really." Philippe always spoke to her in English.
"Talk to him in French every day for at least an hour and you'll be surprised at how quickly you'll improve."
"That's a thought," Julia replied, not wanting to say how little she saw of Philippe. When they were together she wanted their conversation to flow freely which, if she was struggling for words, it wouldn't.
"I see you've met Herve," Nicola said, looking at the estate agent details Julia was holding.
Julia pulled a face.
"I found him to be very rude."
Nicola shook her head.
"He's like that with everyone."
The door opened and the buzzer sounded as a couple entered the shop.
"Bonjour," Nicola called out.
"I'd better get going," Julia said. "I'll be back, though."
"I'm here three or four mornings a week," Nicola told her. "If I'm not here I'm usually next door. Le Jardin," she went on, seeing Julia's puzzled look. "Come for a coffee."
"Thanks. I'd like that," Julia said.