A Year In France – Episode 40
---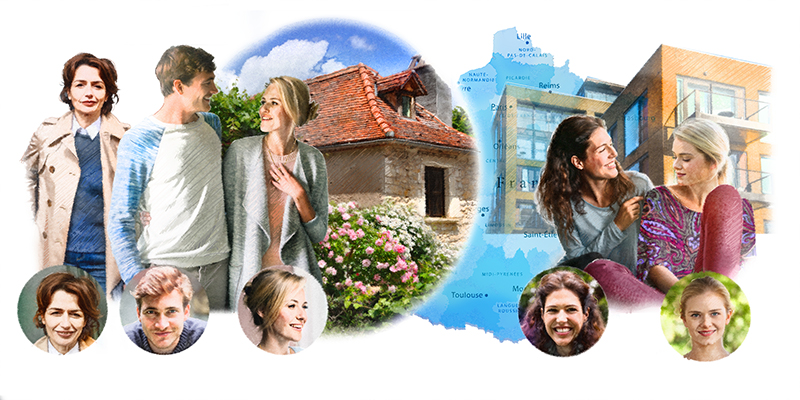 Illustration by Mandy Dixon.
After lunch, as Christiane poured coffee, the conversation turned to Philippe's latest book – a subject he was, as usual, reluctant to discuss.
"I'm having to do a lot of research for this one," he said. "I know nothing about space technology which one of my characters is involved with."
"I know a lot about it," Thierry said quietly. "It was my speciality when I worked in Toulouse. I would be glad to help."
Philippe looked at him.
"Really? I might just have to take you up on that offer. Thank you, Thierry."
Half an hour later Julia and Philippe said goodbye and set off for home.
As Philippe turned off the driveway on to the road, Julia had an idea.
"Any chance we could go home via the new house? I want to look at it again."
Philippe laughed.
"Of course."
"Good. And while we're driving you can tell me what Christiane said to you out in the kitchen."
"Basically she told me off in the way only mothers can!" Philippe laughed before adding, "She said it's her life, she's happy and I can get used to it because she's not giving Thierry up!"
Seeing a car approaching the bend in front of them on the road leading to the new house, Philippe pulled over and waited for the small red car to negotiate it, before starting to drive carefully around it himself.
The driver gave a thank-you wave as he passed.
"Thierry makes her happy," Julia said, once they were moving again. "And that's all you should be worried about."
She smiled as Philippe drew up in front of the house.
"Oh, I can't wait to move here!" she exclaimed. "Do you think Herve would let us have a key next week so I could come and do some measuring up?"
"I don't see why not," Philippe replied. "Do you want me to come with you?"
"Would you? The windows are quite high so it would be easier for you."
Philippe started the car and turned it around.
As they drove along the final stretch of road leading to their house, they caught a glimpse of the same car they'd seen earlier. It turned on to the road and disappeared off into the distance.
"He was too far away for me to see, but I'm sure he came out of our driveway," Julia said uneasily.
As they parked in front of the cottage they could hear Tess barking.
Philippe unlocked the door and pushed it open before bending to pick up something off the doormat.
"It's addressed to you," he said, handing a sealed white envelope to Julia.
Standing there looking at the envelope addressed to Mrs Julia Delahaye, née Edgar, Julia searched for clues as to whom it might be from.
There was no stamp so it had clearly been delivered by hand.
"Do you think the man in the red car had anything to do with this?" she asked suddenly, a sense of foreboding filling her mind.
Philippe shrugged.
"I have no idea. Open it."
Julia paused.
"Will you open it for me? I have a feeling I'm not going to like the contents."