A Year In France – Episode 44
---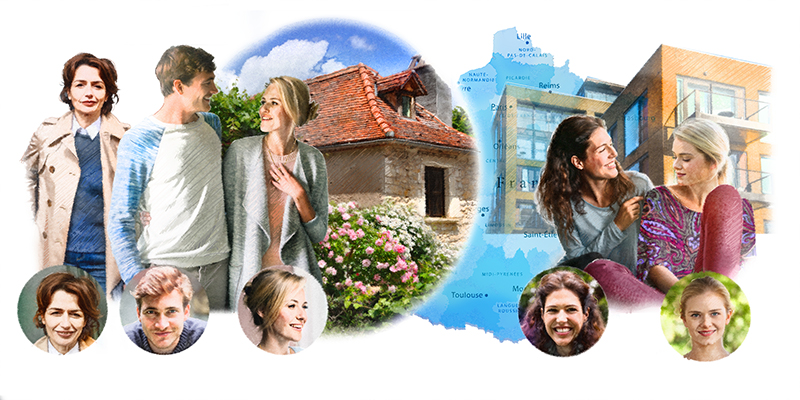 Illustration by Mandy Dixon.
Despite knowing his claim about being her brother was a lie, the message from Travis Edgar had unsettled Julia far more than she admitted to Philippe.
During the day there was no time to think about him, with agency stuff to deal with for Maddy, writing up the press releases Nicola wanted, walking Tess, packing up for the move and meals to shop for and cook. Busy didn't even begin to describe her life.
That night sleep evaded her and she lay tossing and turning as this unknown man invaded her thoughts.
"You look a bit frazzled," Nicola said the next afternoon when Julia rushed into A Taste Of The Countryside with a folder full of press releases ready for envelopes.
"I can't believe I was so worried about living a quiet life just a couple of months ago," Julia confessed. "And I've just realised it's Philippe's birthday soon and I've done nothing about it."
She put the folder down on the counter.
"Are you able to print out the labels for the envelopes? I can't stop now as I've got to get home and do some more packing, but I'll come back down tomorrow to help you stuff the envelopes."
A leaflet on the noticeboard advertising a sale of furniture caught Julia's eye as she turned to leave.
"Is this local? We have to buy extra things for the new house."
"It's in the old chateau about forty kilometres away," Nicola informed her. "They hold a couple of auctions every year – usually a mix of antique and modern stuff. Gilles and I have bought from there in the past."
"I'll have to see if I can persuade Philippe to take me," Julia said.
When Julia mentioned the sale over supper that evening, Philippe shook his head.
"I can't leave my work for something that could turn out to be a waste of time."
Julia sighed.
"I don't really have time, either, but we do need things for the new house."
"Ask Mum to go with you. She loves things like that."
"But if I buy something large, my car is too small to bring it home in. Yours would be better."
"You could always take it instead of your car. If not, the auctioneers offer a delivery service," Philippe said.
When Julia rang Christiane, her mother-in-law didn't hesitate to agree to accompanying her to the auction.
"We'll make a day of it. There's something I want to ask you."
"I can't spare a whole day," Julia said, sighing.
"I'll pick you up on Thursday at nine o'clock. We can take our time and then have a coffee at the chateau before looking around.
"If there's nothing there that grabs your attention we can come home early. The auction won't start until after lunch," Christiane said decisively.
Julia had barely put her phone down on the kitchen table after talking to Christiane when it rang.
"Maddy! How did the supper party go?" she asked.
"Dannie's parents are lovely. The evening was going well until Jason the Obnoxious unexpectedly joined us.
"I hope Dannie has the strength to resist the pressure he's putting on her and dump him.
"Anyway, agency news. Luc has done the edits I suggested and I'm about to start approaching publishers. I just know this book is going to be huge!"
As Julia listened to Maddy's other news, she couldn't help wondering about her friend and this Luc who was going to propel the agency to the forefront of major literary agents and publishers with his debut novel.
Was he going to do more than that? Spontaneous and impulsive were the words that sprang to mind when thinking about Maddy and her relationships.
There had been times in the past when her private life had been chaotic, but her professional life had always been just that: professional.
Was this Luc going to turn out to be a special person in Maddy's life? Maddy was being so circumspect with what she was saying about him that Julia began to wonder what her friend wasn't telling her.