A Year In France – Episode 45
---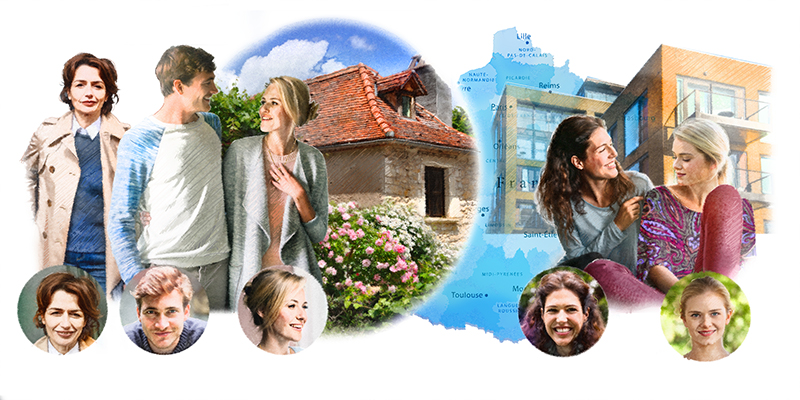 Illustration by Mandy Dixon.
When the estate agent rang to give them a completion date just ten days away, Julia found herself struggling to fit everything she needed to do into daylight hours.
She even thought about cancelling the day out at the auction, but Christiane wouldn't hear of it.
"I'll come over for a couple of days between now and moving day and help you with the packing up and cleaning."
"Thank you," Julia said gratefully. "I'd appreciate that."
On Thursday morning, Christiane arrived promptly and they set off.
"It usually takes about an hour to get there," Christiane said, as she made for the main road up into the mountains.
"Philippe tells me you had a letter the other day from someone claiming to be your brother?" she went on carefully, glancing sideways at Julia.
Julia nodded.
"Philippe said I should meet him, but I know it's just a hoax."
"It has been known for strangers who turn up out of the blue claiming to be relatives to be telling the truth," Christiane said gently.
"Not in this case," Julia said, fingering the chain of her locket. "I'm my mother's only child and my father died when I was a toddler. As much as I would have loved to have had a brother . . ." She sighed.
"Christiane, do you mind if we change the subject? You said you wanted to ask me something?"
"Of course." Christiane hesitated. "But first, please remember I'm always here if you need someone to talk to, OK?"
"Thank you," Julia replied.
"Now that's out of the way, will you be my maid of honour when I marry Thierry? Your love and support is important to me. You're like the daughter I never had."
Surprised by how emotional Christiane's last words made her feel, Julia swallowed hard.
"It would be an honour," she managed to say.
*  *  *  *
After arriving at the chateau they had a quick coffee in the tea rooms before clutching their catalogues and making their way to the Grand Hall where a jumble of larger items like beds, dressers and sofas had been placed together.
An hour later and Julia had marked her catalogue with several possible purchases, including a large oak table that would be perfect in the kitchen of the new house.
Having seen everything on offer in the Grand Hall, Christiane led the way to the first of the ante-rooms.
Chairs, stools, small tables, old-fashioned radiators and boxes of linen, cutlery and glassware were piled on every available surface, including that of Lot 103, which was an old desk.
Julia looked at the details in the catalogue.
Mahogany Serpentine Desk with brass teardrop handles. Concave-shaped middle drawer. Bottle-green leather top. Needs attention. No reserve.
"Polished up, this would be lovely," Julia said, carefully moving a box and inspecting the top before opening and closing the middle drawer.
"If it's in my price range, I think I may just have found Philippe's birthday present," she said to Christiane. "I'm sure he'd prefer a proper desk instead of the table he works on now."
Deciding they'd seen enough of the goods on offer inside the chateau, the two of them made their way outside to the barn where the catalogue indicated garden furniture and other implements were stored.
Apart from a wrought-iron table and chairs set that Julia liked, nothing else caught her attention.
"Let's have lunch," Christiane said. "Then you can go over the items you've marked and put your price limit against them. It's easy to get carried away and spend more than you intend."