May The Best Team Win – Episode 30
---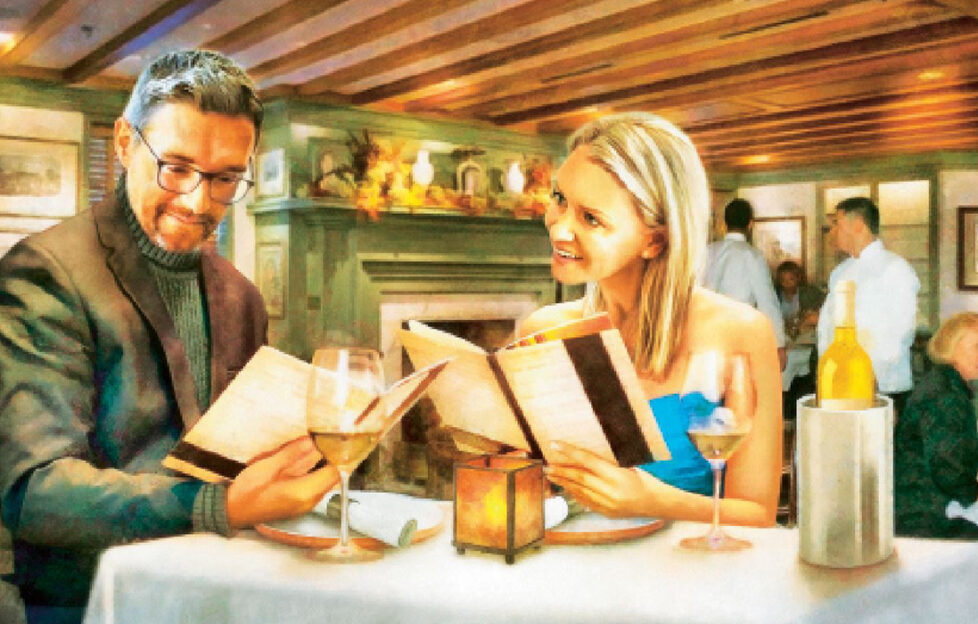 Illustration: Gerard Fay
Priscilla had a determined expression on her face, and Maeve decided to busy herself elsewhere for a moment.
"Justin. I don't suppose you remember me."
Justin looked up at Priscilla in surprise.
"Mrs Montfrey, isn't it?"
"It is. I'm wondering what you're doing here with that glum look on your face."
He hesitated, studying her for a moment.
"I'm feeling a bit anxious, to be honest," he admitted.
Priscilla raised an eyebrow.
"Maeve, black coffee please," she called.
"Why is that?" she asked Justin. "You should be having a wonderful time."
Justin shook his head.
"I love Sara," he said. "I really love her, Mrs Montfrey." His chin sank into his hand. "But for ever is a long time, don't you think?"
Priscilla frowned.
"Drink this," she said, passing him a large mug, "and listen up."
He sipped the drink, his eyes on her face.
"You love Sara and want to spend your life with her. That's why you got married, isn't it?"
"Yes, but I'm tied down now, aren't I?"
"Don't be ridiculous. You're free to enjoy life together. That's it, drink up." She refilled his mug.
"You're very lucky to have Sara. Someone else would be happy to snap her up."
Justin stuck out his chin.
"Better not try it."
"Instead of being afraid, go and enjoy one of the happiest days of your life.
"Be grateful that a beautiful young woman has put her happiness in your hands, and be grateful that you're not lonely and have a host of opportunities before you."
Justin nodded slowly.
"Thanks, Mrs M."
He got to his feet, picked up his coffee, and headed back upstairs.
---
"C'mon, Apollo. We don't want to be late."
The golden retriever barked softly and Neil smiled. Apollo was eager to see Rachel again, too.
They'd been to the cinema a few days ago and now they were meeting for a drink.
Neil couldn't remember when he'd last felt this happy. He'd bought a new shirt for the occasion.
The pub was half full this evening and Maeve waved cheerily at him from behind the bar.
It was warm and welcoming, stepping inside from the chill, misty night.
The flower display from the wedding still stood at the foot of the stairs.
Neil let Apollo off his lead and spotted Rachel sitting at a table in the corner.
He hurried over.
"Sorry, Rachel, I hope I'm not late." He kissed her cheek.
"Not at all." Rachel glanced up at him and he drew in a breath. "How are you? How's work been?"
"I've had a good week so far, thanks. I think our new start is finding his feet.
"How about you? I expect the surgery's been busy."
Rachel nodded.
"Yes, it's that time of year. I'm giving a lot of flu jabs at the moment."
"It's a wonderful job that you do," he told her.
"I really enjoy it. Being a nurse was the only thing I ever wanted to do."
Neil envied her. He was happy in his accountancy work, but he'd fallen into it after university, almost by accident.
"Have you seen Priscilla lately?" Rachel interrupted his reverie.
"Yes. I dropped in on her in my lunch hour. I wanted to make sure she was OK."
Rachel gave him a look and he took her hand.
"She was fine. Told me she was sorry that the Master Minds would win the quiz final, as the Smarty Pints had done very well to come this far!"
Rachel laughed.
"She's fully recovered then." She chuckled.
Neil grinned.
"You were very good to notice something was wrong and help her out."
"I did very little. It was Ali who resolved things."
Neil didn't agree. Rachel had taken the time and trouble to notice something was amiss and to listen.
She was a wonderful woman and he really wanted to kiss her.
"Poor Priscilla," Rachel continued, her face falling. "Suspecting an affair is a terrible thing."
Neil frowned. He knew she was thinking of her own ex-husband.
"I'm so glad it turned out to be a misunderstanding. I wouldn't wish divorce on anyone." Rachel sighed.
Neil wasn't sure what to say. She looked miserable.
Was she still cut up about Mark even after 10 years?
She rubbed her eyes and attempted a smile.
"I'm sorry, Neil. It's just that, well, Mark got in touch last week and…"
"What is it?" He took both her hands in his.
"He wants me to sell the house."
To be continued…