No. 4, Whitehall Gardens – Episode 28
---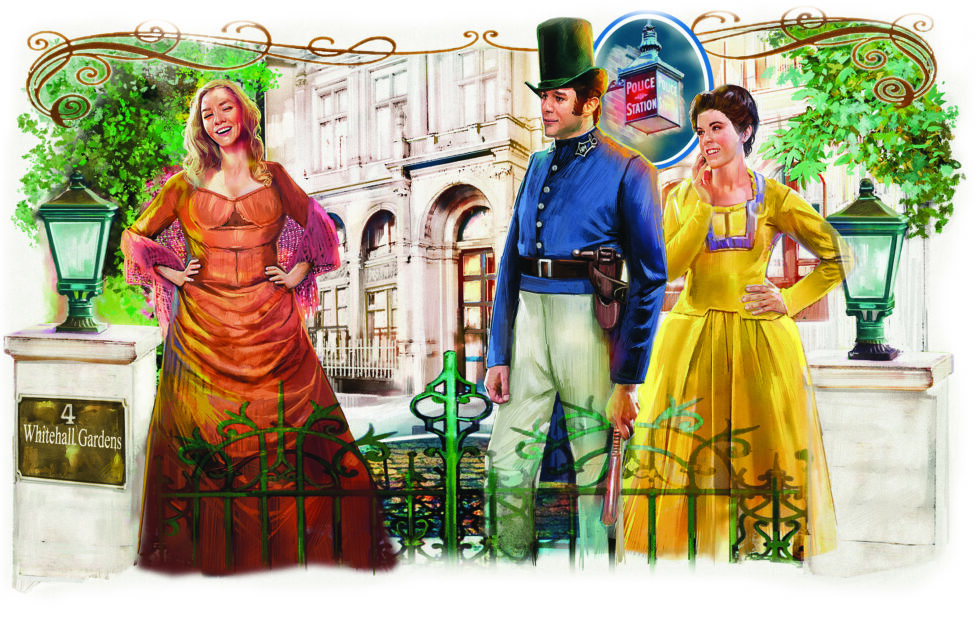 Illustration by Sailesh Thakrar.
Clementine froze. She had spoken to Griff about new horses. How she regretted that now!
Molly had called at No. 4 and persuaded Clementine to help in the wild scheme. Molly had sworn that Clementine's part in it would be entirely innocent.
With Clementine's encouragement, Griff would order a new pair of carriage horses from a company started up by Silas and Molly.
The horses would be delivered and this would give Molly and Silas a legitimate order to show off on their orders book and in their advertising.
With the endorsement of the Home Secretary himself they would attract other wealthy purchasers, take their deposits, and vanish with the proceeds.
In the end Molly had done more than cajole; she had threatened, in her wheedling way.
She had suggested that if Clementine felt unable to help with this favour, then it might be necessary to recall Clementine's part in the laundry scam, and mention it to the police.
Clementine had said she'd consider it. It had been a relief just to get rid of Molly, and for some days she'd tried to forget her.
But Molly's face kept coming back to Clementine. So, nervous of what she might do, Clementine had taken a deep breath and had gone to the stable, where she had mentioned a new company of horse merchants to Griff.
"If you're ever told to buy stock," she'd said, edging away even as she spoke, "I can provide a name." The word "reputable" had hovered on her lips, but she could not speak it.
"Now, it's an odd thing," Griff replied. "The steward and I were in conversation about that.
"Mrs Peel's carriage will not do once the baby comes, and the new carriage I've got my eye on will warrant a new and larger pair."
"That's for you to decide," Clementine said.
""We might make a visit together to see them, Miss Denny," Griff said, beaming.
"Of course," Clementine had finished, "these things cannot be hurried. Mr Peel may not agree the purchase."
And now, here in the garden, Griff was informing her that Molly's plan was working!
She wanted to weep. Now there was no hope of calling back the man she loved, no prospect of finding a way for them to be together.
When Molly's plan began to bind the Peel household in its tendrils, Clementine's association with William would more than likely bring William trouble.
Of course, he was already at risk, having Molly for a sister, but if it were known that he also knew the Peels' nursery maid who had assisted in the scam, then his career would be over.