No. 4, Whitehall Gardens – Episode 29
---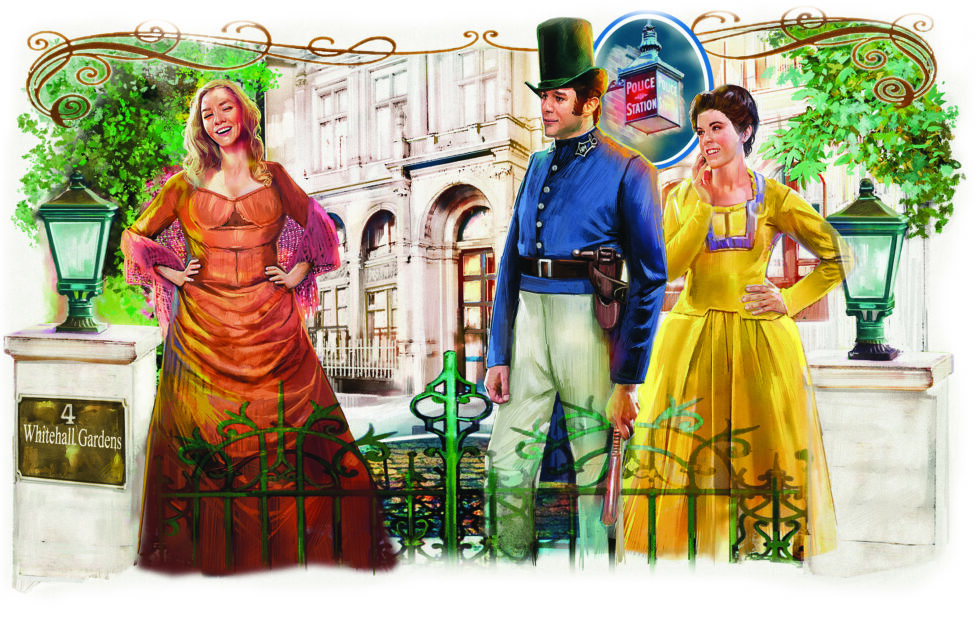 Illustration by Sailesh Thakrar.
"Clemmie! Clemmie!" Frederick was running across the grass. "Come and tell Robert that he is an ass!"
"Hush, Fred," Clementine reprimanded. "You should not say that about your brother."
"He takes the quoits from me and will not let me play!" Frederick cried.
"Oh, you do try my patience!" Clementine exclaimed.
When she glanced down, little Fred looked stricken, and she regretted her harsh words.
"Let us go and sort it out," she said with a kinder smile.
The boys calmed down, the quoits were returned to their box and the children distracted with another game.
Clementine sat on a wall and tried to think. William must be protected.
She was as certain as she could be that he did not know about his half-sister's nefarious new scheme.
If he could be kept out of this, and could later plead ignorance of the affair of the horses, he might be believed.
Clementine knew that he was of exemplary and proven character, but if the police were ever to link Molly with Clementine, that would certainly bring him down.
Silas and Molly would doubtless be discovered in the end, then Molly would be unlikely to spare Clementine again and save her from taint. Then the connection would take the Runners straight to William!
A few of the staff at No. 4, Whitehall Gardens were already aware of the attachment between Clementine and William.
Even little Julia, always listening at doors, had asked questions about the nice man (as she referred to William) who had come to call.
Clementine watched the little boys trying to hit shuttlecock with battledore, and Julia tapping imaginary shoulders as she surveyed her imaginary troops.
The scene should have been idyllic – happy children in a happy household. But the Peels were unaware that the young woman caring for their children was miserable and afraid.
She must immediately end the association between herself and William Grant, and must avoid talking to him, or about him. She had to keep her distance from William, and try to stop Molly as well.
The latter might yet be possible, though it would be hard: Griff had looked delighted at the plan for buying new horses.
He would probably now make it his life's work to please Clementine by buying his blessed horses from the most feckless horse traders in all London, just because she had suggested it!
Clementine picked up the rope handle of the quoits box and began to drag it across the grass towards the back door. It felt as though it weighed half a ton.
She called to the children.
"It is time to be inside. It's getting cold."
Her duties still had to be done, with or without William Grant in her life.