No. 4, Whitehall Gardens – Episode 32
---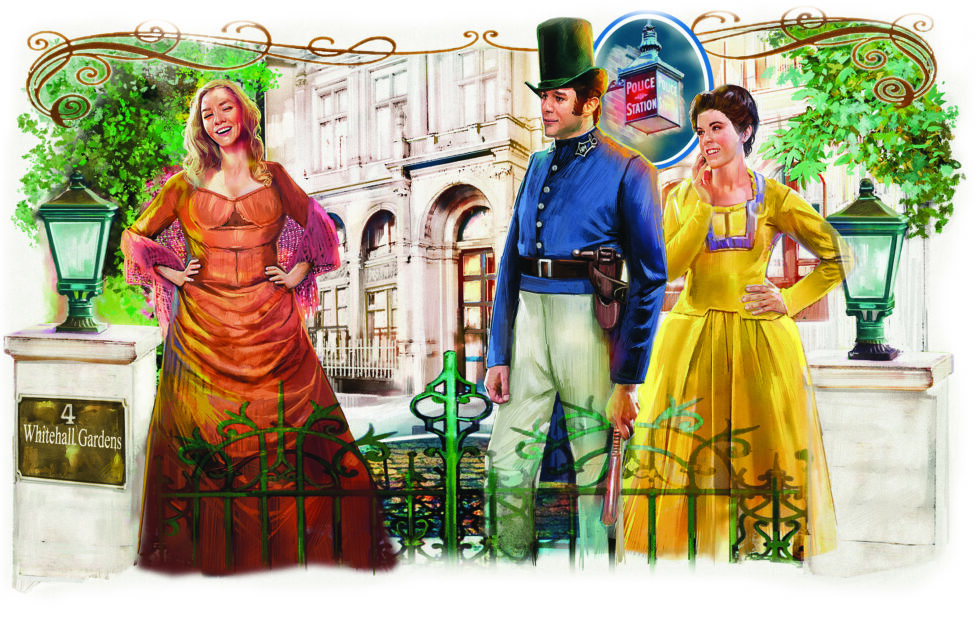 Illustration by Sailesh Thakrar.
Mariah spoke first.
"I am sorry, daughter, for prying," she said.
"I should think so!" Molly hurried in and snatched the key up. Her face was turning pink.
Mariah stood up stiffly.
"But now it's done, and we have seen what you and Silas Browne intend, all we wish to do is stop you getting into danger."
"You know this scheme is sure to fail?" William added, standing, too.
Molly turned on him, two hard pink spots glowing livid on her cheeks.
"You mind your own business, William Grant!" she spat. "Do-gooder, always sticking your policeman's beak in where it's not required! You're barely even my brother!"
Mariah raised a hand.
"Child, this language will bring us no help. You have to see –"
"I see very well," Molly interrupted. "I see Will favoured ever since he was a baby. I see him raised to be the obedient, tedious man he is!
"Well, there's some of us with more inside our heads. Brother, if you want to carry on until you're in your grave, earning ten guineas a year and having nothing, you keep on. I want more. I've ambition, and so does my Silas!"
William was furious. His very job was at risk if she kept on with the criminal scheme he'd seen evidence of. She didn't have enough brain to think of him!
But Mariah had both hands raised now. She was trying to calm Molly down and could see her son's anger rising.
The strain that showed on her face made him close his mouth and clench his fists, and in that second he saw Molly again in all her feebleness and needy fragility.
"She won't be moved," he said quietly. "At least she's steadfast."
Molly misunderstood. In her mind there was always wonderful, courageous Silas.
"I am steadfast to my man," she said, her chin waggling with self-righteousness. "If you ever get a girl, Will, you'll see what that sort of loyalty means."
He clenched his fists tighter.
"I must put away the boot polish," he said softly. "Let us go, Mother."
William had to work that afternoon. As he walked north towards Worship Street he thought about his sister.
He knew that the only way to stop her would be to give her up to the authorities. Otherwise she risked her own future as well as his career, should she manage to carry out her plan.
Those recruiting for the new Metropolitan Police Force would never employ a man tarnished by such fraud and corruption, not even a man who had sat in the Home Secretary's drawing-room.
He decided that Molly must have a short, sharp shock now, to save her in the end.
Rain began to fall, and William felt miserable. If he turned his own sister in, Clementine Denny would hear about it, and that would snuff out any spark between them for ever, if the spark was even still alight.
William tipped his hat forward and trudged on, cold and wet.