The Mystery Of Anna Grace – Episode 18
---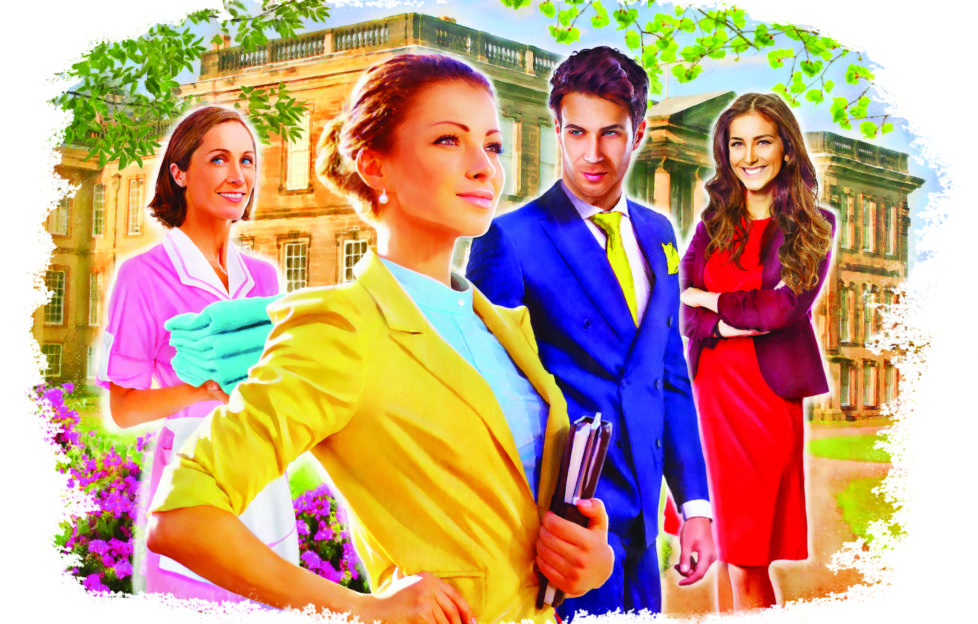 Illustration by Kirk Houston.
The next morning, Charlie wanted to take some photos of Anna Grace in the snow to upload to the website.
The wind was so cold it almost hurt to breathe in, but seeing Dean and Albert struggling to protect the outbuildings against the worst of the snow, Charlie went to give them a hand.
She spent the day going back and forth between various parts of the estate in Katarina's car, taking Dean and Albert flasks of coffee, holding things while they nailed tarpaulin over broken windows, secured doors and checked for burst pipes.
Charlie had hoped to spend today looking at Anna's journals, but helping Albert and Dean gave her the chance to get her bearings, as she had not really had the time to explore since Robin had given her the tour a few weeks back.
The light was now starting to fade from the day and the sky was looking ominously grey.
"Go on back and get warm, Charlie," Albert told her. "You've barely stopped all day. Dean and I will finish up."
"If you're sure," Charlie said.
Katarina greeted her at the kitchen door, where Charlie pulled off her boots.
"I have made borscht for the workers," Katarina said, taking Charlie's coat and hanging it on a hook near the range.
"I thought borscht was Polish," Charlie said.
"My grandmother was Polish. Now, you need a glass of wine," Katarina said, reaching for a bottle of red from Anna Grace's cellars.
"I may need to drive again tonight," Charlie said.
Katarina indicated the windows before pouring a small glass for Charlie.
"In weather like that? Mr Robin would not allow you to go out on such a night."
Charlie took a sip of wine, feeling it warm her all the way through.
"The summerhouse is all but rotten," Charlie said. "Most of the windows are gone and everything in there is mouldy.
"Unless we do something now, Albert says we may as well pull it down in the spring."
Katarina snorted.
"So much for Miss High and Mighty and it being a place to exchange wedding vows," she said.
"I did see it at its worst, but most of the wood will need replaced. Though the roof was sound," Charlie went on.
"There's some other stuff in there, too, but it was buried under various things, so we'll leave sorting that out until another day."
"You have spiders' webs on your jeans," Katarina pointed out, brushing them off in a motherly gesture.
"Are there people coming for dinner tonight?" Charlie asked, glancing at the clock. It was already six.
"Mr Wynford. He is a paying guest and he helps Mrs Cecilia and Mr Robin with all sorts of things. He will be quite happy with the chicken. Harriet, she leave with Grant Thornberry after lunch.
"The Mortons, they come again. Not paying any money," Katarina added.
"I'll give you a hand when I've finished this," Charlie said, putting a spoon into the borscht, which was hot and tangy.
"You will rest," Katarina said sharply. "I can manage chicken and potatoes for five. Besides, you were up early this morning and have not stopped."
"It was good to get it all done before the snow started again," Charlie said. "Dean filled the boot of Albert's four-wheel-drive with rotten wood and bits of rusty bicycle. He even found an old pram that was too good to throw out."
"You are thrifty, unlike Mrs Cecilia who brings guests who never pay and steal things.
"Once, I caught a woman who was trying to put the tea service with the little roses in her suitcase!" Katarina exclaimed. "Where is young Dean now?"
"Albert said he would bring him back to the cottage and they would watch a film. They'll drop in to pick up some food in about half an hour," Charlie replied.
"He is putting on weight," Katarina said, pulling out a sizzling roasting pan and dropping the potatoes into the hot fat. "When Dean arrived, he was like a skeleton."
"He was," Charlie said. "He's a nice lad, isn't he?"
"If it weren't for Mr Robin, he would be sleeping on streets. Now, you finish the borscht, then have hot bath. Then you come and join us for raspberry cheesecake."
"Thank you, Katarina," Charlie said, then headed upstairs.