The Mystery Of Anna Grace – Episode 40
---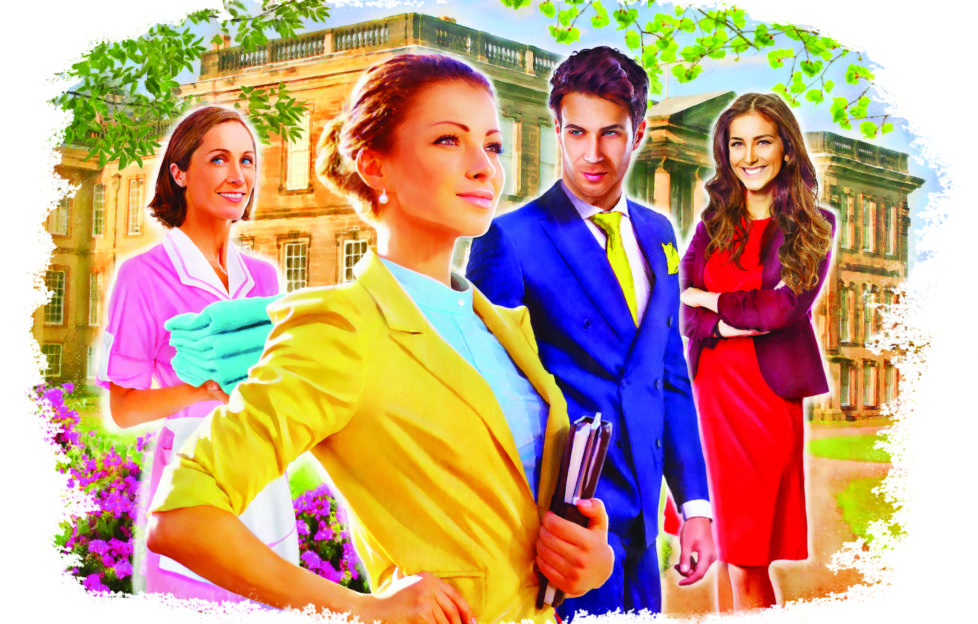 Illustration by Kirk Houston.
"My grandmother always said that fires respond to panic and won't light if you get het up," Charlie said, kneeling by the fire as the flames eventually started to catch.
It might have been a late spring day but there would still be a nip in the air in the dining-room so the fire wouldn't seem out of place, Robin thought as Charlie put up the fire guard.
"Ghillie likes stretching out on the hearth rug and we don't want him getting his fur singed," Charlie said. "The candlesticks won't be just for show tonight."
Robin realised that most other people would have had a fit of the vapours in the face of a house full of new guests and a power cut. But here was Charlie, finding a way to make things work.
It was the same Charlie, he thought, who had dealt with a break-in, being snowed in and had still managed to bring out the best in folk, so even tetchy Mrs Leahem was enjoying herself.
Suddenly, his teenage romance with Harriet seemed like a very long time ago.
"I'd better find my mother," Robin said, afraid that Mrs Cecilia would be trying to help somewhere.
"I think Mrs Cecilia's on standby to help the ladies get ready for dinner. She said that if the ladies wanted to bring their finery into her bedroom, the light there was good enough for even the most short-sighted of guests to see by," Charlie replied.
"Good thinking, Charlie. There's nothing my mother likes more than fashion. It also stops her trying to help Katarina, which usually ends in them not speaking."
Just then, Katarina bustled in.
"Charlie, Dean says could you go and give him help at the cottages? The potatoes are nearly ready for the roasting."
"I'll just find my wellies," Charlie said. "Robin, would you mind keeping an eye on the fire? We don't want it going out."
"Of course. I don't think it would dare go out, Charlie!" Robin laughed, despite the crisis unfolding around him, as Charlie hurried off down the back lane.
*  *  *  *
Guests were quite happy to mingle in the lounge with a glass of sherry or wine. They had been discreetly advised that the power was off, although everyone was so buoyed up by their day of sketching, painting and chatting that even Mrs Leahem only complained once about how she wouldn't be able to see to apply her mascara.
"That's the great thing about artists," Mrs Cecilia said, when everyone was assembled. "We always dress creatively. I'm just admiring all these beautiful outfits."
It had actually been Harriet's idea that guests could wear what they liked to dinner.
"No point in creating a barrier if some of the men don't want to wear a tie."
One of the art students was in a ballgown, teamed with clumpy boots, and there were floaty tops and some pretty spring dresses.
Charlie noticed that one or two guests had not thought to bring a jacket or pashmina to put round their shoulders. Perhaps she'd better stoke up the fire some more.
She glanced at the time on her mobile phone.
Seven p.m. They were meant to serve dinner around half past, but with the power cut it would be more like eight. Not too bad, considering.
Robin had suggested that Charlie take some pictures for the website, and by the time everyone had assembled and she had taken a few shots, and the photographer from the local paper was finished, too, Katarina was looking much happier.
"The chickens and roast will soon be ready to carve. Dean is keeping everything else warm in the cottages. We will only be a little late."
Charlie squeezed Katarina's hand.
"That's great," she said. "We might just have done it!"
"Charlie," Katarina said. "The dress from the attic looks very beautiful on you, but you are still wearing your wellies."
"Oh, I pulled them on for the trips up and down the lane!" She caught Katarina's eye again and they both laughed, relief adding a faint note of hysteria to their giggles.