The Mystery Of Anna Grace – Episode 41
---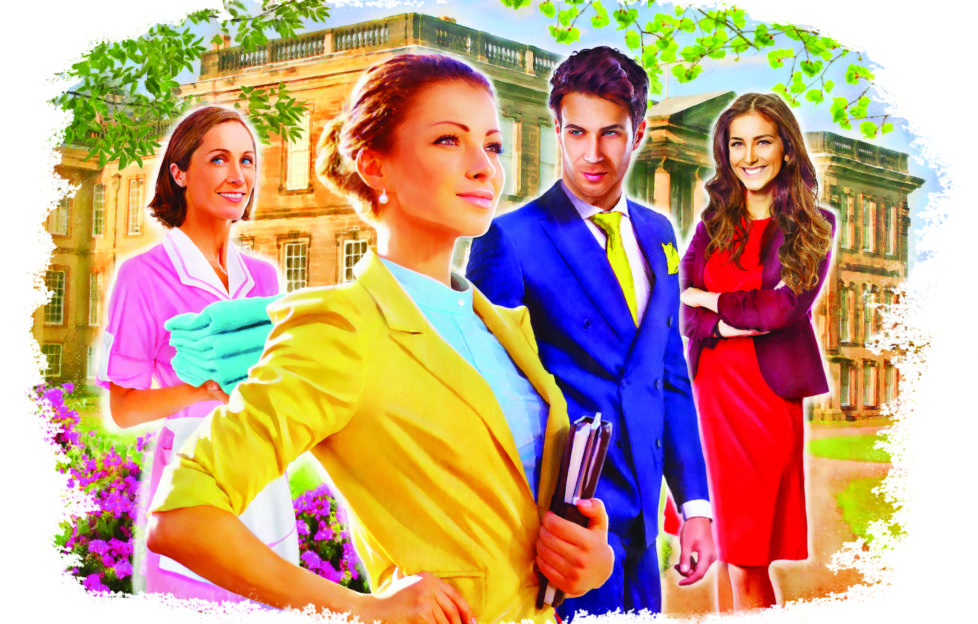 Illustration by Kirk Houston.
Katarina and Dean were serving, but Charlie, in her role as marketing assistant, was seated at the table, mingling with guests to ensure that everything was to their satisfaction.
At first, making polite conversation in the midst of a crisis was hard work, as all Charlie could think about was how they would get through the evening with no power.
However, it was Robin, sitting beside Charlie for the starter, who gave her the courage to remain calm.
"No need to issue mass apologies for the power cut," Robin whispered. "It's beyond our control and if things are still off at breakfast, then we'll have to think of something else."
"Flasks of hot water from the cottages and cereal instead of a fry-up?" Charlie replied quietly.
"You're good," Robin whispered. "There's something different about you tonight but I can't work out what it is."
Typical man, Charlie thought – here I am in all my finery and he can't work out what it is.
Charlie wished for a moment that it could just be the two of them. Wasn't that the Anna Grace way?
They were always surrounded by guests or Mrs Cecilia, Harriet, Dean, Albert or Katarina. What had her mother said a few months back? Focus on Anna and her story, be careful of your fragile heart.
Was her heart still fragile? Did Robin feel anything for her beyond the regard of a kindly employer?
"I can't charge my mobile phone," Mrs Leahem declared.
"It's good to be out of touch for a little while," Wynford replied smoothly, before Charlie could think of what to say. "All part of the Anna Grace experience."
"Well, it wasn't like that when we went painting in France last summer," Mrs Leahem said.
"But I'm sure they didn't have a resident hare in France. Or indeed a little nest of leverets," Wynford replied.
"Lever-whats?" Mrs Leahem asked.
"Why don't you fill us in on how the day went, Wynford? Was everyone suitably inspired?" Robin interrupted, as one of the art students asked Charlie about any special offers the hotel might be running later in the year.
The starter was an avocado and grapefruit salad.
"Oh, yes, the place is truly wonderful," Mr McNee said, sipping his hand-pressed apple juice. "You could stay here a month and still not run out of inspiration."
"I took some shots of the summerhouse," someone else added. "And down in the field near the house there is a most marvellous selection of wildflowers there."
Another guest mentioned how they were trying not to cut the wildflowers in the grass verge near the road where they lived.
Charlie lit the candles.
"Oh, candlelight. How romantic!" Mrs Leahem exclaimed.
Charlie hoped she would still think it romantic at one a.m.
Harriet and Grant had just arrived and Harriet went into full front-of-house hostess mode.
She looked stunning in a knee-length silk dress, which was warm enough for the dining-room.
"Good thinking on the wheelbarrow, Charlie," Harriet told her with a smile.
"I'll give Dean the credit for that one, but thanks," Charlie said.
"I once had to fill a bath with cold water and put vintage champagne in there to keep it chilled when the power went off in one of my dad's hotels," Grant shared with the group.
Everyone laughed.
"Oh, Grant, do tell us more," Mrs Cecilia said.
Charlie had arranged that the hosts would move places between courses so that they could circulate. Still, she was disappointed that Robin seemed to be moving further and further down the table.
Was this all things would ever be, she wondered – an employee who got on well with her boss? And if it was, could she continue working here?
Then she thought back to sitting on the rug in the sunshine with Robin that afternoon and the way things had felt so relaxed between them.
It was one of those lovely memories that would remain with her always, as dear to her as the memory of being looked after by Katarina that snowy night not long after she first arrived.
As the main courses were served and guests helped themselves to roast potatoes, carrots and peas, the conversation flowed.
The candles started to burn down and the light was beginning to fade from the day.
Charlie was dispatched to fetch a guest's cardigan from her room, then was so caught up with tending to various guests that she had no time to think any more about Robin.