Together We Stand – Episode 07
---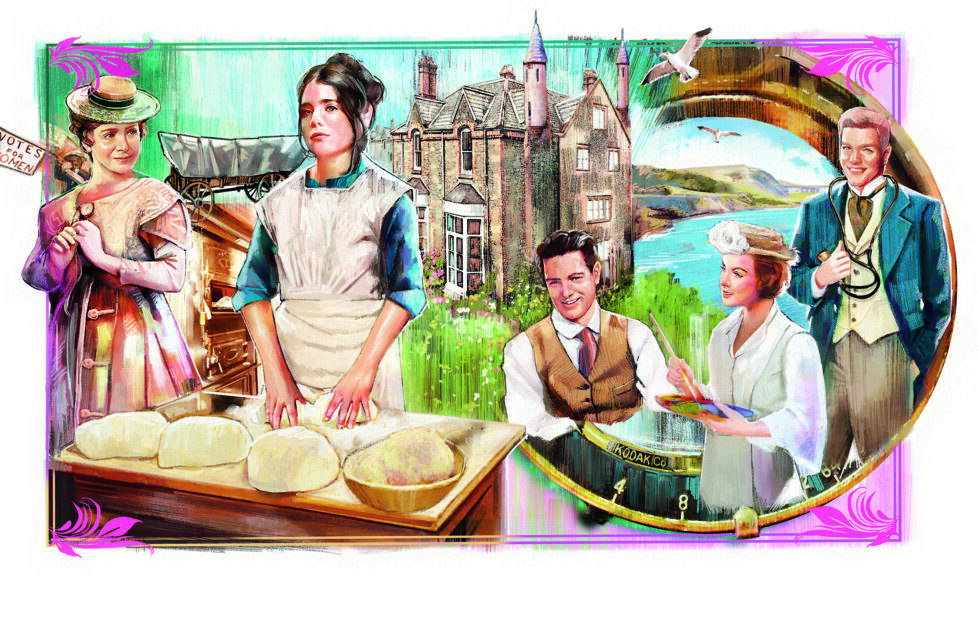 Illustration by Sailesh Thakrar.
"Maybe it is not such a good idea," Evan said as he accompanied his mother home to the house overlooking the west shore.
"I think it's an excellent idea. Mr Samuel must have trusted that she was capable of such a venture." She gave him a sly glance.
"I'm sure you can't object to Miss Gillingham being involved. I've heard she's an excellent artist. I was thinking of asking her to make the designs for the cups and plates, and help with the decoration of the main room."
Evan hid a smile. His mother had always been an astute businesswoman. His father had been proud of her and never slow to confess that she was the power behind his success.
Evan was certain Miss Gillingham's skills were as excellent as his mother believed, but he wished she wouldn't try her matchmaking skills on every suitable woman she found, attempting to organise his future in the same way she had captained their household during his childhood.
Miss Gillingham was attractive, but what had he to offer an accomplished young woman like that, with her fine clothes, her previous life in New York, and her air of sophistication?
He could hardly expect her to drop everything to become his nurse and secretary, and with the number of patients who could never afford to pay him, he would never be a rich man.
He could not abandon his patients to live a life of ease, pandering to the ailments of the rich. Which meant that marriage was out of the question.
He pushed the thought aside, the unease that had been growing that afternoon back to haunt him once more.
"I meant about the picture wagon, Mama. Wasn't there some trouble about it some years ago? I am sure there was a reason Mr Samuel kept it out of sight."
"Who on earth would have been interested in that old thing? He brought it here before I was born."
Evan pushed open the front gate.
"I am sure you are right, Mama."
All the same, there would be no harm in speaking to Inspector Twm Williams, who had been with the local constabulary for as long as Evan could remember.
Evan chuckled to himself. The inspector, as he recalled, had also been sweet on his mother for as long as he could remember.
Mama was not a woman who was meant to be on her own, for all her independence. No-one would ever replace Papa, of course, but Mama might welcome the chance for companionship with a like-minded gentleman who would respect her.
If she could practise her matchmaking, so could he.