Together We Stand – Episode 08
---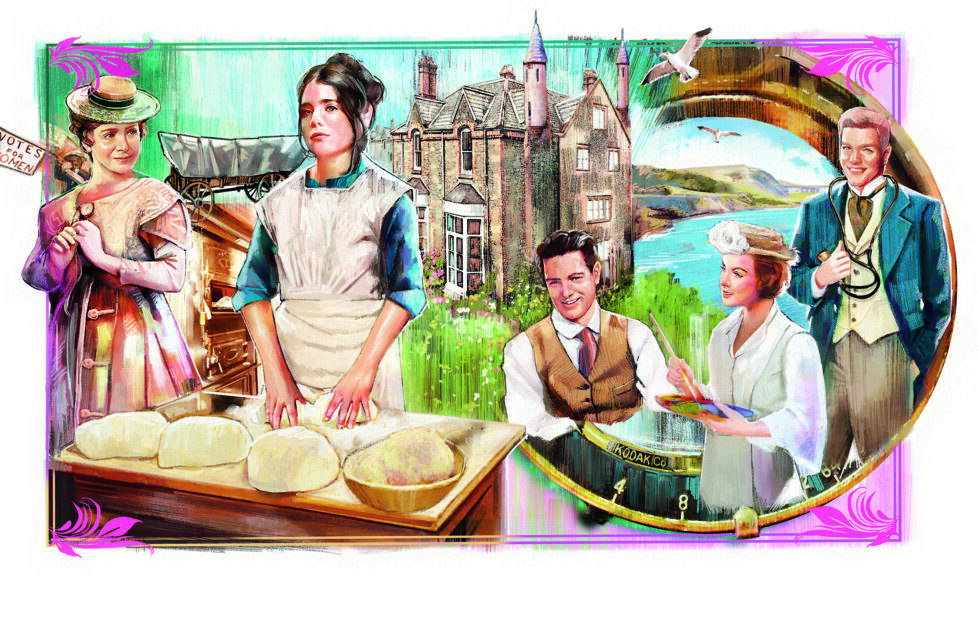 Illustration by Sailesh Thakrar.
"So you are prepared to give it a try?" Madeleine asked eagerly a few days later, as she and Tanni sat at a table in the overgrown grounds of the Bron Derw.
Tanni nodded slowly. A shiver of terror went through her whenever she thought of the risk she was taking.
"But I can't wait a whole year to see if it works. Miss Angharad at the bakery has agreed that I can reduce my hours for three months, so I'm hoping they would take me back if the studio doesn't pay in that time." She met Madeleine's eyes.
"It's no good telling me I should be prepared to take more of a risk, Miss Gillingham. I can't let Mam and the babies starve."
"I wouldn't ever think such a thing." Madeleine hesitated. "I have to leave in an hour or so. Henry is taking me back to Aunt Julia in Chester, where we've been staying. I'll be back. Mrs Humphries has commissioned me to make the designs for the tearoom.
"Henry is talking about not selling the Bron Derw after all, but returning it to a guest-house." She smiled. "It seems our lives are destined to be here now."
"Don't you want to go back to New York?" Tanni asked.
"Not now I'm here. We spent so many childhood summers here, Henry and I, it feels like coming home." Madeleine leaned forward. "If I am to help Henry set up the Bron Derw, and Mrs Humphries with her designs, maybe I could help you.
"I have an allowance," she added as Tanni began to protest. "I wouldn't need to be paid, and I have money for materials.
"I would love to paint a backdrop for you. I wanted to design sets for plays and operas when I was at art school in New York."
Her eyes were gleaming.
"It could be a princess in a tower, or a knight fighting a dragon. Between us we could make the studio the place where every visitor wants to go. Then they can have tea and cake and Mrs Humphries can tell them all about equality for all."
Tanni laughed at the vision of a respectable stockbroker from London, in full St George regalia, being hauled from battling the dragon to sip from the best china while Mrs Humphries lectured him on universal suffrage and votes for women.
She smiled. She had to confess that the thought of attempting this on her own had been terrifying, but Miss Gillingham's enthusiasm had given her a feeling that this wild idea might work.
In the distance, she could see Henry making his way towards them.
She nodded.
"Thank you," she said. "I would like that very much."
* * * *
It was late in the evening that Henry returned from Chester. With the decision made to stay, he had found himself itching to get back to the Bron Derw.
He would have to go back to America to wind up his business interests, but that could wait. The Bron Derw, with its air of crumbling into the sea, could not.
He parked the Ford on the street below the turning up to the house. The heat of the day rose up from the pavement as he walked rapidly up the road. There was no moon, but starlight was bright across the bay, bringing with it the sigh of breaking waves on the sand.
As he arrived at the Bron Derw, he came to a halt. The sound reaching him had nothing to do with the peaceful scene. It was the creak of a door being forced open, and it came from the outbuildings where the picture wagon lay.
There was a louder crack, followed by the creaking of hinges, as the door to the outbuilding was forced open. Whoever it was, they must have been too absorbed in their task to have heard his approach.
Retrieving the flashlight from his pocket, Henry set off towards the intruder.