Fiction Sneak Peek: August 10, 2019 issue
---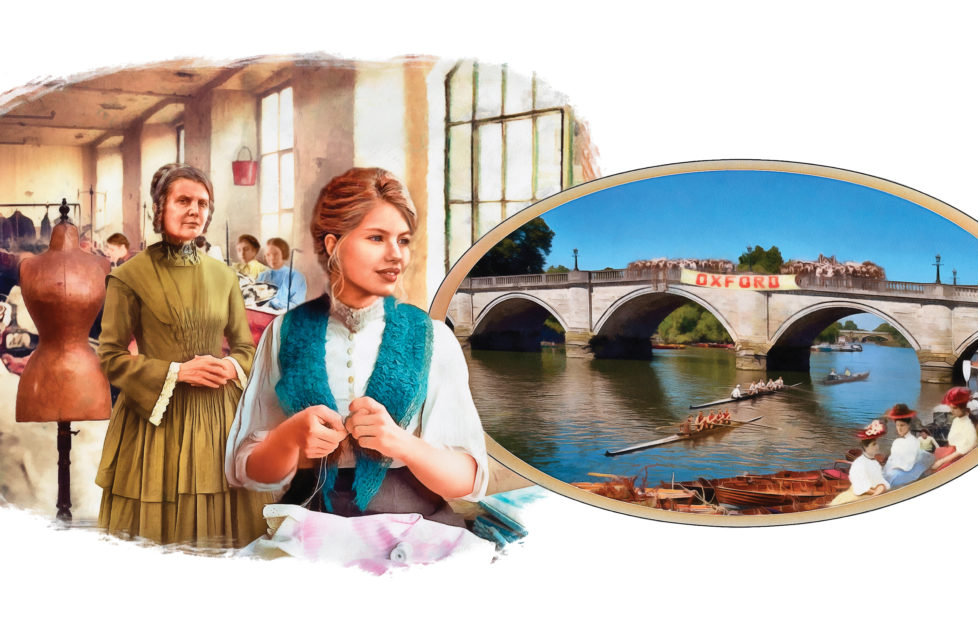 Illustration by Gerard Fay.
Join Fiction Ed Shirley for her sneak peek into this week's super seven story selection!
There's so much of the story in this illustration: an Oxford boat race, the period setting of a dressmaking workshop . . . But you'll want to know what part Polly plays in "Race To The Finish" by Katie Ashmore. And for that you'll have to read the story!
It's set in 1869, by the way, publication year of the very first "The People's Friend". An excellent year!
In "Our Little Cottage" by Val Bonsall, Mark and Duncan had fallen in love with the place, but love doesn't always last . . . Illustrated by Jim Dewar.
"Making Changes" by Helen Yendall features young Ben, who may have the wiser head when it comes to doing what you want. Illustration by Jim Dewar.
Being run over by a bicycle doesn't sound the best way to begin a new friendship, does it? Read "Bowled Over" by Eirin Thompson to see how it develops.
"Nobody's Perfect" by Teresa Ashby is about a mother-in-law, and Rebecca thinks that old truism is fibbing in her case!
"Striking Out" by Joanne Duncan is set in the 1960s. Shona simply wants to exercise her independence and make a life for herself. Why can't her family see that? Illustration: Kirk Houston.
Teresa Ashby features for a second time in this issue, with "Always There", a lovely story about a dad and his daughter, illustrated by Jim Dewar.
Series
"Hold The Front Page" by Eirin Thompson sees Leo and Jo viewing a house – together! What?
The wedding invitations are going out in "Riverside", our unmissable weekly soap by Glenda Young.
Serials
In part 2 of "Where The Musk Mallow Grows" by Pamela Ormondroyd, Michael and Lottie are getting to know each other better. It's the final part of this short serial next week. Illustration: Helen Welsh.
"The Call Of The City" by Katharine Swartz focuses on the family back home, dealing with Andrew's heart attack. If only Grace wasn't so far away. Illustration by Sailesh Thakrar.
If this sneak peek has piqued your interest, why not subscribe to "The People's Friend" today?