Editor's Diary: Out And About
---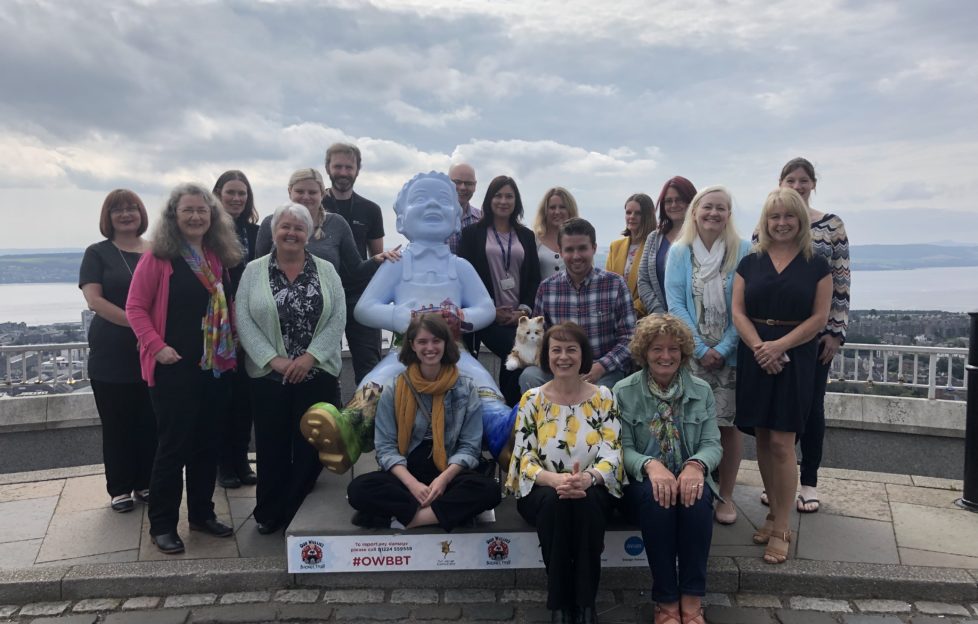 Photograph by DC Thomson Ltd.
This week's Editor's Diary sees me on my travels again!
With the Oor Wullie BIG Bucket Trail drawing to a close, we decided to have a team outing to see the special #PF150 statue painted by our very own Illustrations Ed Sarah.
A fleet of taxis transported us all up the Law, a steep hill in Dundee, where "Oor Friend" enjoyed a prime position looking down on the silvery River Tay.
If you look very closely at the above picture, you might just see office cat Marmalade perching on Iain's knee. Well, we couldn't leave him behind!
The Trail has now ended, but the statues will be auctioned off later this month.
It's all to raise money to help sick children across Scotland. We're hoping "Oor Friend" will bring in lots of cash!
The next day I was away from my desk again.
This time, I was attending an event at the University Of Dundee, held by the British Association Of Victorian Studies. Thrillingly, there was a whole panel discussion devoted to the "Friend"!
The speakers were friends of the "Friend" David Goldie, Charlotte Lauder and Juliet Shields.
It was fabulous to see such respected academics studying the magazine and sharing their findings.
They all spoke so knowledgeably, and it was a fascinating afternoon. I came away feeling very proud indeed to be part of such an institution.
On September 12, I'm going to be taking part in a similar event at the National Library Of Scotland in Edinburgh.
I'll be joined by Charlotte and Juliet, and the event is open to the public.
Why not come along and say hello?
For more from Angela's Editor's Diary, click the tag below.
Learn about Oor Wullie's BIG Bucket Trail here.