Great British Bake Off: Pastry Week
---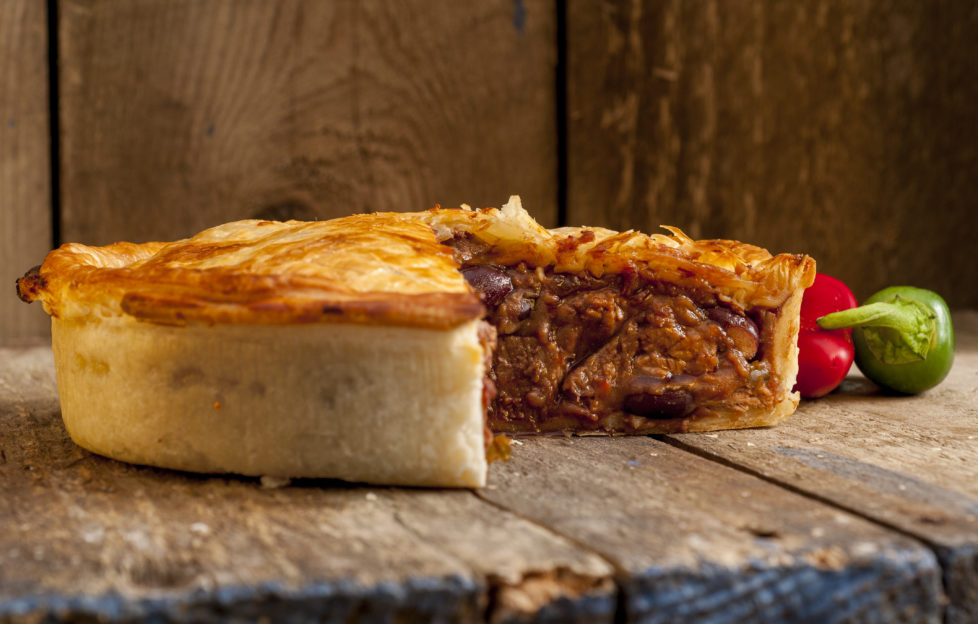 iStock.
The Great British Bake Off quarter finals were always going to be tense.
We're down to the best of the best now. Brilliant bakers, hardened to the pressure of the tent and Paul's withering stares.
They should be models of efficiency, and their culinary creations should shake our very souls with their beauty.
Just kidding. Everyone's a mess — the contestants, the viewers, the presenters — and this week's pies fell apart like a newspaper in a paddling pool.
Last night's Signature challenge was an innuendo lover's dream: tarte tatin.
Henry made his play for the title of Carry On king with plenty of "soggy bottom" gags, while also nailing it with a crab salad tarte that judge Prue took off for her lunch (no, really).
Then there was some colour-based confusion, with Paul accusing David of burning his carrots, which turned out to be intentionally purple.
He then (correctly) accused Rosie of charring her bottom, wisely not falling for the old "it's black garlic" trick.
Tie aficionado Henry came out on top, closely followed by the ever-consistent Steph.
The technical challenge
Things turned a little spicy in the tent, after the contestants were charged with making a Moroccan-style pie. Warqa pastry it is. Or even Warka. Not "Walker", as most reviewers seem to have convinced themselves, based purely on an inability to use Google.
The super-thin pastry is incredibly delicate, and would be incredibly difficult to produce on an average day. Never mind in the middle of a heatwave, when this episode was filmed.
Almost immediately, three-time star baker Steph crumbled. But not in the way everyone wants pastry to crumble, apparently.
The others were in full-on improvising mode, trying to put on their best brave, sweaty face. Except David, who was the only baker to have actually heard of Warka pasty in the first place.
Britain, 2019. #GBBO pic.twitter.com/w4ROMy4Haf

— British Bake Off (@BritishBakeOff) October 15, 2019
He duly won his first ever technical title. Rosie's Brexit-metaphor effort fell apart at the seams, but she still scored second place. Henry's also tragi-comically burst open, but he was rewarded with last place for it. For some reason.
The showstopper
When is a pie not a pie? When it's a . . . vertical pie? Aren't all pies vertical in some sense?
I digress . . .
The judges were looking for a tasty and imaginative structure made of at least three pies. Oh, Great British Bake Off, how you appeal to the Scotsman in me.
There were pie treehouses. Pie chandeliers. A fish pie, controversially lacking a lid. A pastry Rapunzel, and a carousel.
The danger for the bakers would be making their pastry too thick, and their fillings too dry. But this is the quarter final, these all-stars wouldn't fall into that trap, would they?
(Yes, they would).
While Paul scraped the bottom of the barrel for a reason to criticise Steph's effort, it was clear she was heading for Star Baker.
But Henry.
Oh, Henry.
With pastry as thick as phonebook and a filling that may as well have been compressed sawdust and woodchips, it looked like the writing was on the wall for this fan favourite.
Steph took Star Baker again, breaking records like they were nothing. Kris Akabusi would have been proud.
And just like that, Henry was gone.
Take a look at his highlights below:
He came. He baked. He procured a Hollywood Handshake and then told it to shut up. Behold Henry's best bits, darlings! #GBBO pic.twitter.com/raj2zGBzVg

— British Bake Off (@BritishBakeOff) October 15, 2019
The bakes
This week, the bakers took on:
For more on the Great British Bake Off, click the tag below.