Great British Bake Off: Patisserie Week
---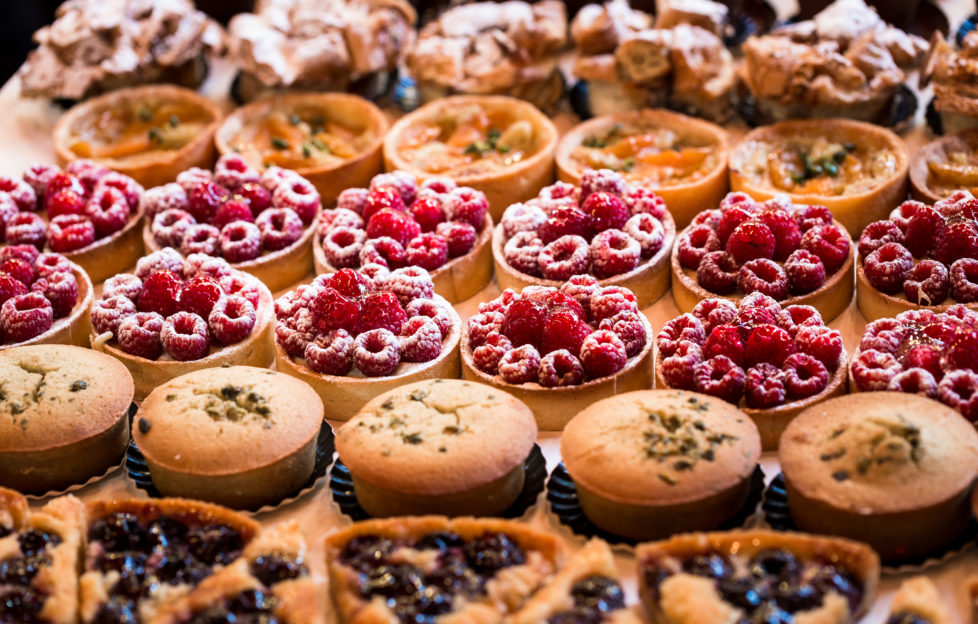 iStock.
And then there were four. The Great British Bake Off semi final had arrived.
Only Alice, David, Rosie and Steph remained of the original 13 bakers. Only one would be eliminated before the final. Making last night's episode both not really a semi final, and needlessly cruel on someone.
And if you couldn't predict who the victim of that cruelty would be, you probably hadn't been paying attention.
But proceedings began on a heartwarming note, as the contestants (and presenter Sandi) all wore ties in tribute to dearly departed fan favourite Henry.
The tie's the limit! A glorious tribute to Henry. ??? #GBBO pic.twitter.com/S7WTy061RO

— British Bake Off (@BritishBakeOff) October 22, 2019
It didn't take them long to bin all that nonsense, however, and get into the Signature challenge.
Sorry, Henry. The tie was fashionable, but impractical. A bit like Noel Fielding.
This week, the bakers were charged with making domed tarts, thereby ensuring that the entire viewing experience would be a massive game of Innuendo Bingo.
Sandi was very excited. It was unclear why.
Alice aimed for her domes to taste of mocha, orange and hazelnut, while David flavoured his with an "Italian aperitif" (it was Aperol, but apparently product placement rules meant no one could say so — a strange principle to stick to on a programme crammed with so many ad breaks that I basically needed to get ready for work again by the end).
Rosie's effort betrayed her desire to be somewhere else sipping gin, and four-time Star Baker Steph went for lemon, raspberry and white chocolate.
Cue lots of nervous glances into the freezer, and inexplicable un-set custard products.
That's where Rosie fell down (or wobbled), while winner Alice picked up plaudits for everything but her piping.
Technical challenge
Gâteau St Honoré sounds like a 14th century explorer, but is actually a reasonably intricate-looking patisserie.
"They've had tougher challenges," I pronounce.
Mrs Digital Ed looks unimpressed.
"Honoré is the name of the town in 'Death In Paradise'," I offer.
She's having none of it. Tough crowd.
If Rosie had a wobble in the signature, she had a full on earthquake in this one. Following their disrespectful failure to rise, she opts to remake her choux buns twice; her full puff pastry needs another go, too.
Even Noel's vet-based banter can't help her now. There are tears, and furtive glances from the other bakers. No one offers to help this week, with the final in sight.
She's not the only one struggling, however. David's final effort looks a bit like it's been in the backseat for a long, hot journey to the Southwaite Service Station, and Alice's caramel is only just on the right side of flambé.
Somehow, impossibly, Rosie managed to put something together. Even more impossibly, she managed to win the round. No one looked more surprised than she did.
Some folks on Twitter felt insult added to injury:
HOW IS ROSIE STILL HERE BEING SO SMUG AND HENRY IS GONE #GBBO

— Georgie Fogelman (@georgiefogelman) October 22, 2019
The showstopper
A glass cabinet full of cakes. That's what they have to make. A cabinet. With cakes in it.
Presumably the final will consist of them constructing a life-sized gingerbread house with the aid of Nick Knowles and Carol Smillie.
To their credit, the bakers are unfazed. They managed Warqa pastry pies, after all. They can do anything.
David's effort sounds deceptively simple. Or maybe just simple? Plus it's full of vegetables for some reason. Alice wants to raise awareness of the plight of the oceans, but thankfully steers clear of flavouring anything with fish. Speaking of oceans, Rosie has the look of someone unexpectedly in the deep end.
Steph is her steel-fringed, consistent self, but this time at the opera (cake). Very cultured.
In the end, it's between Rosie and David for the axe. She seems to have forgotten to include flavour in her patisserie. An easy mistake to make. He, on the other hand, just made a cake. Not quite what they were after, although presumably he has grounds for appeal, considering the name of the show.
He did opt for chocolate soil in his cakey allotment, however, forgetting that's precisely what did for Phil a few rounds back. It's basically just a pile of chocolate. I frequently create that by accident, never mind in the latter stages of a baking competition.
Alice's aquatic adventure hooked her Star Baker, while Rosie nipped to the front of the exit queue.
A fair result this time around.
The UK when it was announced Rosie was finally being sent home #GBBO pic.twitter.com/3K0x7JcVmk

— ? ? ? ? ? ♡ (@_wishingwells) October 22, 2019
The bakes
This week, the bakers tackled:
Domed tarts. There aren't many tarts on the "Friend" website, so we'll point our Great British Bake Off fans to this recipe for a savoury oven-roasted tomato, spinach and mozzarella tart.
Gâteau St Honoré. No matter what flavour you choose, it would definitely be better accompanied with some of Features Ed Alex's easy blackcurrant ripple ice cream.
Sugar glass cabinets and cakes. Sorry, we don't do construction projects. These chocolate cherry peanut butter cups should help you get over the disappointment.
For more on the Great British Bake Off, click the tag below.