Book Week Scotland: "The Big Scottish Book Club"
---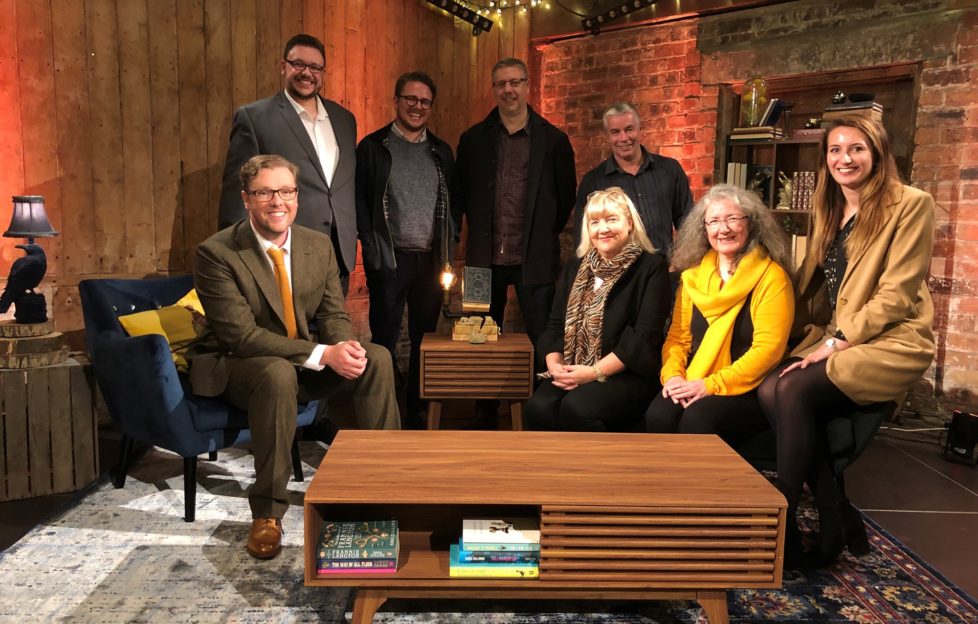 The DC Thomson Book Club (most of them) with Big Scottish Book Club host Damian Barr. Photograph by Alice Ferguson.
Book Week Scotland seems like a good time to say: we love our books at the "Friend".
You only have to glance at the team's book reviews to see that reading is play as well as work for us.
And we like to discuss books, too.
Once a month, some of us even stay behind after work (yes, really!), joining fellow members of the company's book club.
We discuss our latest find and pick what to read next. We also choose a topic for recommendations to bring to the following month's meeting.
Opinions? We have plenty!
So when fellow member Scott spotted a tweet back in July from Scottish author Damian Barr about a new TV series on books and book clubs, we were intrigued.
It looked like fun, so we got in touch.
Would Damian like to meet our book club? And would he mind that we drink tea, not wine (something Sharon is working to change)!
Right! so, you know we're bringing books back to telly for #bigscottishbookclub WELL, we're also putting bookclubs on the box! Yes, I can come to your house and drink your wine and talk BOOKS and then YOU and YOUR BOOKCLUBBERS get to come and watch the show being filmed! pic.twitter.com/gFYxlwRzIJ

— Damian Barr (@Damian_Barr) July 1, 2019
The Big Scottish Book Club
Just a couple of weeks later, we heard we'd be taking part in one of the four episodes of "The Big Scottish Book Club", to be shown in late autumn.
"Our" programme was to be the second of the series, on the subject of memoir.
That meant we'd be asked to read one of the three books to be featured, "All Made Up" by Janice Galloway.
Damian would come along and chat to us for a short section within the show. After that, we'd be invited to the main filming a few weeks later, where he'd be talking to the authors of all three memoirs.
Janice Galloway would be there, as would Maggie O'Farrell, author of "I Am, I Am, I Am", and Rhik Samadder, whose autobiography "I Never Said I Loved You" has just been released.
Our Bit
On the day of filming we headed to the Vista Room on the 10th floor of our building (so called because it has a fabulous view over Dundee, the Tay and into Fife).
Damian did some filming first with Editor Angela about the "Friend" and its place in bringing fiction to women for the last 150 years.
Then, introductions completed, we launched into our impressions of "All Made Up".
Our words of wisdom(!) were captured by a technician. He did a fantastic job of being completely unobtrusive while holding aloft a giant boom microphone for ages and ages.
What a pro — as were Damian and all the crew, who were friendly and helped us feel completely at ease.
Filming
Look at the gorgeous set for #bigscottishbookclub I might have to sneak away with my chair. pic.twitter.com/LusbZ90mFC

— Damian Barr (@Damian_Barr) September 23, 2019
The main part of the programme was filmed in a local arts centre.
Walking in on a very rainy evening, we loved the cosy atmosphere the production team had created inside. Perfect for a big book club.
I was slightly distracted by the raven reading lamp that made up part of the set . . . where could I get one? I love ravens!
However, I even forgot the raven once we got underway.
Completely absorbed in listening to Maggie O'Farrell, Rhik Sammader and Janice Galloway reading from their work, the time flew by.
Damian Barr is a lovely host, chatting with the authors, discovering new aspects to the books. One moment enjoying some gentle banter, the next sensitively exploring the most poignant memories of their lives.
It made a fascinating evening.
How to watch
As Damian says about the series:
"Book sales are higher than ever, and book groups continue to flourish (okay, drinking wine and occasionally talking about books).
"From Wigtown to 'Aye Write' and Edinburgh International, Scotland has some of the best and busiest book festivals in the world. And we've given the world some of its finest writers.
"I'm delighted to host the Big Scottish Book Club and invite everyone to join our conversation, readers and writers across the country and the world.
"Books are for everyone and so is this show."
You can see "The Big Scottish Book Club" on Sunday nights, repeated Thursday evening, on BBC Scotland until December 5.
If you're outside Scotland, the programmes are available on the BBC iPlayer after broadcast.
Watching is a great way to mark Book Week Scotland!
The next episode is on humour. It features, among others, the wonderful Marian Keyes.
The reading list for each programme is on the series website.
And if you're in Scotland, our lovely Scottish libraries have arranged to have copies of all the books on the list available for loan.
My reservation of Rhik Samadder's book arrived in my local library this week, so I can't wait to read it.
I'll try to read quickly, though, so it's ready for the next person on the waiting list!
For more on Book Week Scotland, click the tag below.