Fiction Sneak Peek: April 11, 2020 Issue
---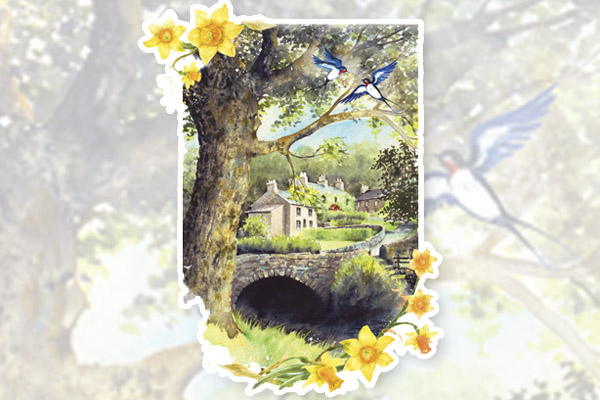 Image courtesy of DC Thomson Ltd.
Our Fiction Sneak Peek is the best place to find out everything about the stories, serials, series and soaps you can expect in our next issue.
And our April 11 issue looks like a good one! Don't believe us? Take a look below . . .
Our short stories
This week's fiction begins with "Hope Springs Eternal", a short story from Rebecca Holmes. The town of Hopewell will soon see Heather's marriage to Matthew . . . but will it all be smooth sailing? We hope you like this lovely Easter-themed illustration from our archive (above).
We take a trip to the Cat Cafe for our next story. Maxine's glad to have her best friend back, but is all well with Sabrina? "All Change At The Cat Café" is by Suzanne Ross Jones.
Eirin Thompson's "Peggy Sets The Pace" is a thought-provoking but feel-good story about Peggy and Errol. The world is their oyster, and they're determined to make the most of it . . .
If your head's in the clouds, can what's important pass you by? Find our in "Sky-Watching" by Yvonne Frederick, with a striking illustration by Manon Gandiolle.
Our favourite Victorian detectives are back in "In The Wrong Place". Brown and Victoria investigate a murder — but what did the dying man's cryptic final words really mean? With a wonderful traditional illustration by Ruth Blair, this story is by Val Bonsall.
In "The Five-star Break", by Margaret Skipworth, a double-booking at a luxury hotel forces a couple to downgrade to a cosy B&B, allowing them to reassess their priorities. Helen Welsh's upbeat, vibrant illustration complements this story perfectly.
Our final story this week is "Feeling Blue", by Christine Bryant. Angela uses a little reverse psychology on neighbour Jacob when he sprains his ankle. With a fun illustration by Sarah Holliday.
Our serials
In Part Three of "Birds Of A Feather" by Paula Williams, Jess isn't quite ready to explain who the strangers in the broken-down van really are . . . This serial's beautifully bright illustrations are by David Young.
It's Part Five of "The Tanner's Daughter" by Pamela Kavanagh. Dorcas seems to have her own agenda, but can Jane work out what it is? Mandy Dixon's stunning illustrations have really set the scene for this serial, which takes place in the 16th Century.
Our series
Abigail's son is arriving, but will the ladies like him? Find out in Jessma Carter's "Living It Up".
Our Soap
In Glenda Young's "Riverside", Jim and George are no longer on speaking terms. That can't be good . . .
Happy Easter reading!
Sneak peek leave you wanting more? Our new issue is on sale soon. Enjoy!
Remember you can subscribe to the "Friend" today, and you'll never miss another issue. Plus, if you're worried about potential delivery issues, you can take out a digital subscription and download every issue straight to your phone, tablet or home computer.