Fiction Sneak Peek: April 18, 2020 Issue
---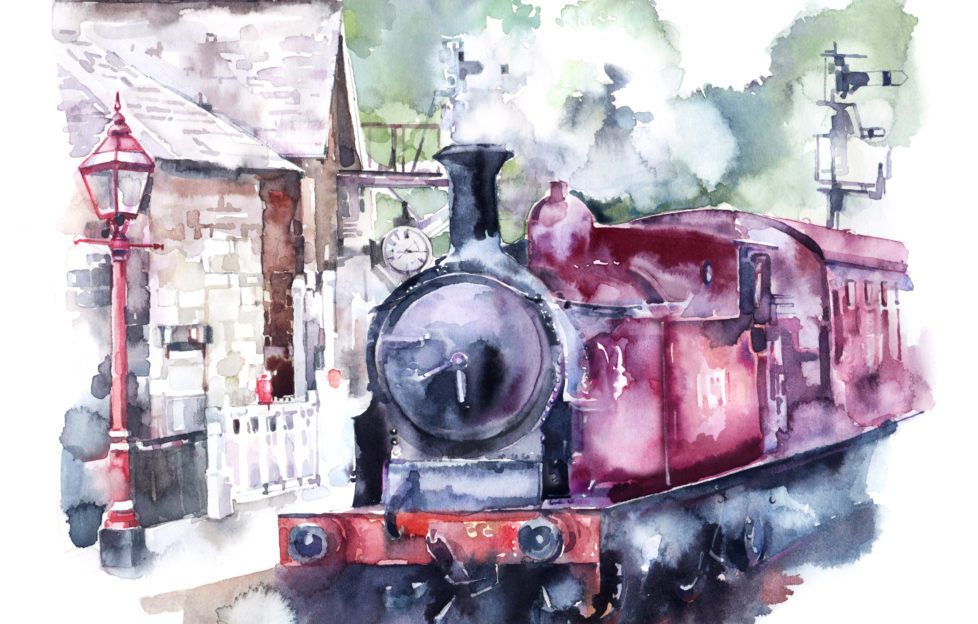 Illustration by Tracy Fennell.
Looking forward to receiving your copy of the "Friend" tomorrow? Take a sneak peek inside . . .
We start this week with "Across The Globe", by Alison Carter. Valda discovers that the globe her beloved grandfather ordered before he passed away isn't all that it should be. She travels across the globe to right the wrong . . . With a lovely 50s-style illustration by Sailesh Thakrar
Our next story is "Swimming Homewards", by Gabrielle Mullarkey. When young widow Kelly gets home from work, she's thinking about getting tea ready. But an empty goldfish bowl gives her cause for concern . . .
In "Hazlewood Junction" by Liz Goulds, Reg has built a model railway with real meaning. This lovely short story is beautifully illustrated by Tracy Fennell (above).
It's a wartime story next. "The Spy In The Kitchen", by our Writer Of The Week, Enid Reece. Who is the mysterious Mr Baxter? 10-year-old Charlie is determined to find out. Accompanied by a super illustration from Ruth Blair.
In "The Heart Of Sweden", by Wendy Janes, Ella is on her way to her brother's wedding. He's caused the family nothing but grief for years. Has he changed? With a striking illustration by Kirk Houston.
Gabby and her developer boss, Richard, are trying to relocate a long-term resident from her existing flat. Find out how they get on in "Moving Miss Blanchard", by Alison Carter. With a lovely springtime illustration by Jim Dewar.
A stay-at-home dad is at the end of his tether in "Barney's Baby Blues", by Nicola Martin. Sarah Holliday's fun illustration completes the story round-up this week.
Series
In Jessma Carter's "Living It Up", Rachel has news to share with Flora. But where is Flora?
And in Glenda Young's "Riverside", Jim and George still aren't talking. But Ruby has a plan to mend the friendship . . .
Serials
In Part Four of "Birds Of A Feather", by Paula Williams, Jess has revealed her identity to Frank. How will he react?
It's Part Six of "The Tanner's Daughter", and although a woman at the door is unknown to Jane, her heart is filled with foreboding…Find out more in our 16th-Century serial by Pamela Kavanagh.
Sneak peek leave you wanting more? Our new issue is on sale soon. Enjoy!
Remember you can subscribe to the "Friend" today, and you'll never miss another issue. Plus, if you're worried about potential delivery issues, you can take out a digital subscription and download every issue straight to your phone, tablet or home computer.