Fiction Sneak Peek: October 31, 2020 Issue
---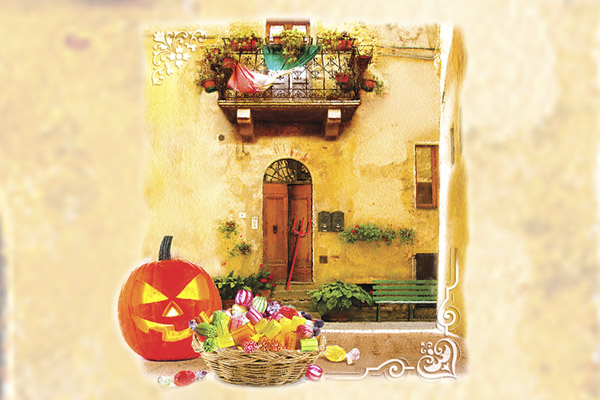 Illustration by Jim Dewar.
Let's take a sneak peek at a week of super seasonal reading with your "Friend" . . .
Stories
Our opening story is Alyson Hilbourne's "The Good Guy", set just after the Second World War. When Ellen returns home after serving as a Land Girl, the handsome Guy turns her head — but looks aren't everything, as Ellen will discover . . . With a perfectly lovely accompanying illustration by Philip Crabb.
Next up, there are "Pumpkins Everywhere" — so just how is Tanino going to teach his granddaughter about All Souls' Day? Jim Dewar illustrates all our Tanino and Melina stories for us, and this one has a decidedly seasonal feel! Written by Stefania Hartley.
In "Itching To Be Stitching", Anna has always loved to sew. But is it going out of fashion? Find out in our sweet short story by Valerie Bowes.
It's "Hallowe'en At The Cat Café", and Maxine is organising a party for Angus's birthday — but he has a surprise of his own! Find out just what that is in our short story by Suzanne Ross Jones.
Love between family knows no limits in our heart-warming next story. Teresa Ashby's "Elastic Hearts" has an accompanying illustration by our own Manon Gandiolle.
In the US, "National Men Cook Dinner" Day falls on November 1. One man tries to get into the spirit in Julie Goodall's "Making A Meal Of It", illustrated by Philip Crabb.
Our final short story of the week is the lovely "Fred's Fireworks Night" by Christine Bryant. It's November 5, and young Fred Bunting wants to make sure his neighbour, Gerald, has an evening that goes with a bang! With a joyful illustration by Martin Baines.
Serials
In Part Three of Laura Tapper's "We Can Work It Out", what will it take for Felicity and Esther to make up? Ruth Blair's lovely artwork accompanies this contemporary serial.
It's the final exciting instalment of "The Journey From Jarrow", by Alison Carter, and the march is over – but it will never be forgotten. Helen Welsh has illustrated this serial, set in the 1930s, for us. A brand new serial begins next week!
Series
A meeting couldn't have come at a worse time for Sheila, in this week's "Paw and Order", by Della Galton.
And in Glenda Young's "Riverside", Ruby is fed up of being taken for granted . . .
---
If this sneak peek has left you wanting more, don't worry! Our new issue is in shops soon.
Did you know that subscribers receive their issues early? Click here for more information on subscribing to the "Friend" today. You'll never have to worry about missing another issue again!
Plus, if you're worried about potential delivery issues, we have a great digital subscription available. This way, you can download every issue straight to your phone, tablet or home computer.