Fiction Sneak Peek: January 30 Issue, 2021
---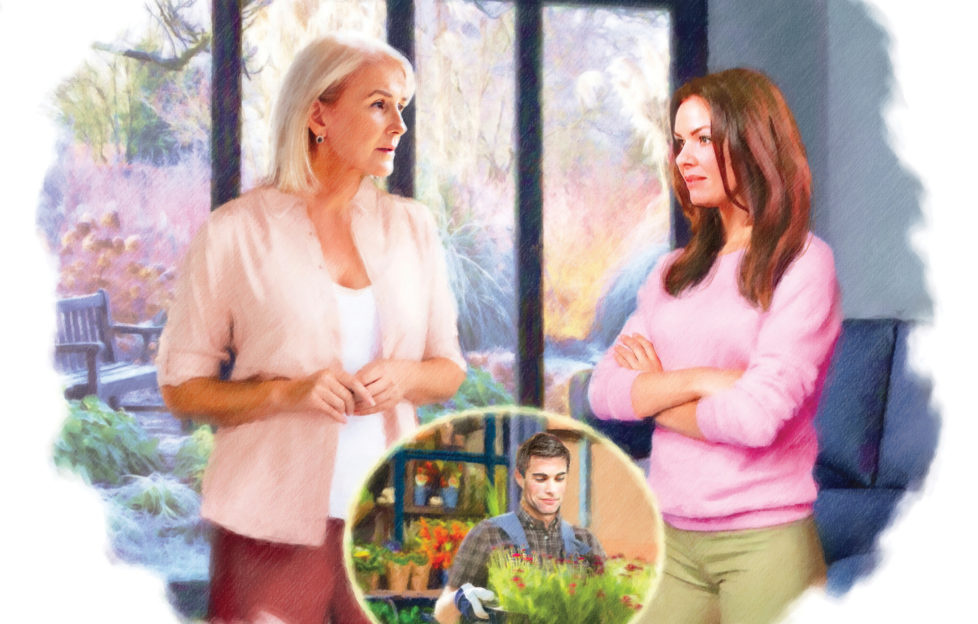 Illustration by Ruth Blair.
Our January 30 issue is in shops tomorrow. Here's a sneak peek at what's in store!
Our opener this week is Teresa Ashby's lovely "Go Your Own Way".  It's over two years since Fran's divorce, and her stepmother, Esther, feels it's time Fran got back out there – but Fran feels she can do without Esther's 'help'. Family ties and romance both feature in this gentle story, with a perceptive illustration by Ruth Blair (above).
We're "Stuck In A Hole" in our next short story by Nicola Martin. After falling through the floorboards on the first day of her new career, Sonia has plenty of time to consider whether she's made the right move. With a fun illustration by Sarah Holliday.
How many tattoos are too many? Find out in our fun short story, "Tattoo's Company", by Annie Harris.
A year after losing her husband, Robina is still struggling. So much has changed, and it's hard to see a way through. Find out if there's light at the end of the tunnel in Eirin Thompson's "Give Me A Sign".
We go back in time to the 1980s for our next story, and workaholic, Robbie, is stunned to discover he longs to be a father. How will his other half react to the news? Wendy Janes' feel-good story, "Baby On Board", is cheerfully illustrated by Kirk Houston.
Jenna's family are warming to her new boyfriend – as long as he doesn't put a foot wrong! Alison Carter's "My Perfect Boyfriend" is illustrated by Mandy Murray.
One woman reflects on life's tapestry in our final story this week. And one thing she's sure of is that the bad times make you appreciate the good. Katie Ashmore's thoughtful "The Tapestry Of Life" is illustrated by Andre Leonard.
Serials
Thanks to Kitty, the Foxwells are ready for their first high-society event, in Part Three of "Swansong At Foxwell's" by Lynn Love. With wonderful period illustrations by Mandy Dixon.
In the final instalment of "The Inn On Bluebell Lane", by Katharine Swartz, Gwen is nervous – and excited – to be officially unveiling the new B&B. Sailesh Thakrar created our vibrant illustrations for this serial. Look out for an exciting new serial starting next week!
Series
There's a surprise latecomer at Burt's birthday party, in Della Galton's "Paw And Order". But who is it?
And in Glenda Young's "Riverside", has Anna found her new salon employee?
---
If this sneak peek has left you wanting more, don't worry! Our new issue is in shops soon.
Did you know that subscribers receive their issues early? Click here for more information on subscribing to the "Friend" today. Right now we're offering a fantastic subscriber discount, too: just £8 for the first 13 issues. Don't miss out, take advantage of this offer while it lasts!
Fiction fans will also want to listen to "Reading Between The Lines", our brand new story podcast. Click here for more information.