Features Sneak Peek: May 1, 2021 Issue
---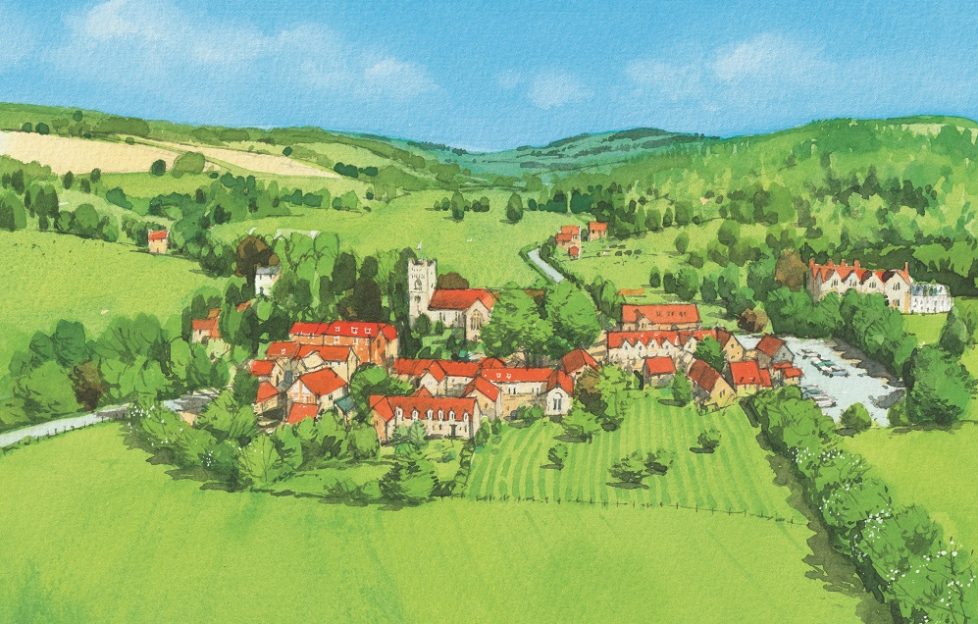 Illustration by DC Thomson Ltd.
Let's take a sneak peek at the features you'll find packed into the latest issue of "The People's Friend" . . .
First up, Pat Coulter enjoys an outing to Hambleden, one of the most attractive valleys in the Chiltern Hills.
Join Pat as she follows in the tyre tracks of the most wondrous flying car ever to grace film screens. We are talking, of course, of Chitty Chitty Bang Bang, from the film of the same name. The scene featuring the catchy theme tune was filmed in these parts.
However, Hambleden has also witnessed filming of "Midsomer Murders", "Endeavour", "The Witches" and more. Like a favourite comfort blanket, Hambleden wraps you in the feel of England from a bygone era.
It harks back to days long before the rise of computers and mobile phones. It's a genuine retreat where getting a decent Wi-Fi signal is far from a certainty. What a relief it is to simply let go!
Sue Moorcroft
Sue Moorcroft sold her first short story to "The Friend" twenty-five years ago.
The author has since written hundreds of short stories, serials and articles and writes two novels a year for HarperCollins.
Her books have been published not just in English, but also in German, Italian, Danish, Serbian, Bulgarian and Dutch, to name but a few. Lisa from the Features team finds out more.
A Royal Romance
A decade ago, the world watched on as Prince William married the love of his life, Kate Middleton.
As the couple celebrate their tenth wedding anniversary, Ian Lloyd takes a look back over their relationship. The couple met at the University of St Andrews, where William was introduced to Kate after a fashion show.
William later proposed to Kate during a safari trip to Kenya. On April 29, 2011, the couple married at Westminster Abbey in front of an estimated two billion people.
The couple now have three children – George, Charlotte and Louis.
Once life has returned to normality after the pandemic, the couple will continue their royal duties.
They will follow the example of the Queen by being ambassadors of goodwill at home and abroad as they have done with remarkable success for the past 10 years.
Corey Williams
It can be hard to know exactly what to do to help others in these difficult times.
But when ten-year-old Corey, from Rhondda in Wales, heard a news story about patients with COVID unable to contact their loved ones from hospital, he had a flash of inspiration. He wanted to raise money to help people in hospital talk to their families on Zoom or Facetime.
Corey climbed the two-mile route to the top of Penrhys mountain. He also opted to do it carrying an enormous sack of potatoes on his shoulder.
Corey went on to tackle two other mountains, running up Rhigos mountain and biking up the Bwlch mountain. He smashed his £1,000 target and became something of a local celebrity.
Elsewhere, vet Linda Simon discusses the problems of pet pesticides, and we have a pattern to knit a lovely lacy sweater. Plus we have a collection of delicious springtime recipes and plenty of fiction to keep you entertained. Enjoy!
---
Has this sneak peek encouraged you to subscribe to the "Friend"? Click here. This will mean your "Friend" will come straight to your doorstep! 
You can also take out a digital subscription, meaning your issue will come straight to your computer, tablet or phone! And it's great value for money. Click here for a sneak peek at that!