Features Preview: Special 210
---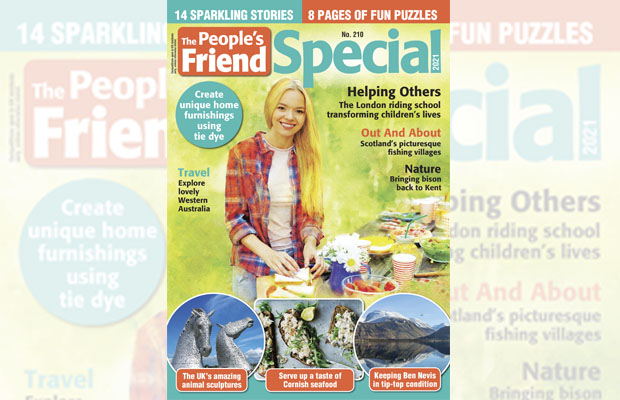 Our brand-new Special 210 is on sale now! Here's a preview of some of the features inside.
It's jam-packed with great articles, plus a whopping 8 pages of Puzzler puzzles in the middle.
You'll find our pick of the best non-fiction books out now.
A look at how bison are helping bring wildlife back to the Kent countryside. Plus some recipes with a Cornish flavour, not to mention these other highlights…
Go Fish!
Britain isn't a big nation, but one thing we do have is lots of coastline – over 31,000 kilometres! And although these days we think of the roads and the sky as our main forms of transport, the water would have been the motorways of the past for many hundreds of years.
As a result we have hundreds of gorgeous villages around the coast. Away from the big ports, these little gems lie next to little coves and natural harbours and are now splendid spots to live in or visit.
Willie Shand travels to some of Scotland's loveliest, from where fishing boats would have set sail to do battle against the North Atlantic or the North Sea.
Urban Equestrians
Spending time with animals has been proven to have so many benefits. And for children and young adults whose confidence can be particularly fragile, these can be amplified. Which is why the Ebony Horse Club is such a cool idea.
The Club built its stables right in the heart of Brixton to bring the harmony of horses to urban kids.
Teaching skills to the children, it's about giving them belief in themselves and showing them other ways of making a living that they might not know about. And sometimes it's just about having a good day out in the countryside with your pals.
Looking After A Mountain
It's rare to get a view from the top of Ben Nevis, Britain's highest mountain, but that doesn't stop a lot of people climbing it! As a result, it needs a bit of looking after! From path maintenance to litter picking, it's a year-round job, and it's the John Muir Trust that do it.
Unbelievably, there used to be a permanent weather observatory on the summit for a about 20 years in the 1880s. Now there's a cottage I'd like to have stayed in!
Nick's article is a fascinating read about the human history of the mountain and the work of the Trust.
---
And if you love Special 210, you can subscribe to make sure you never miss another issue.
In fact, we'll have them delivered straight to your door! Click here for more information.