Beetroot And Chocolate Brownies
---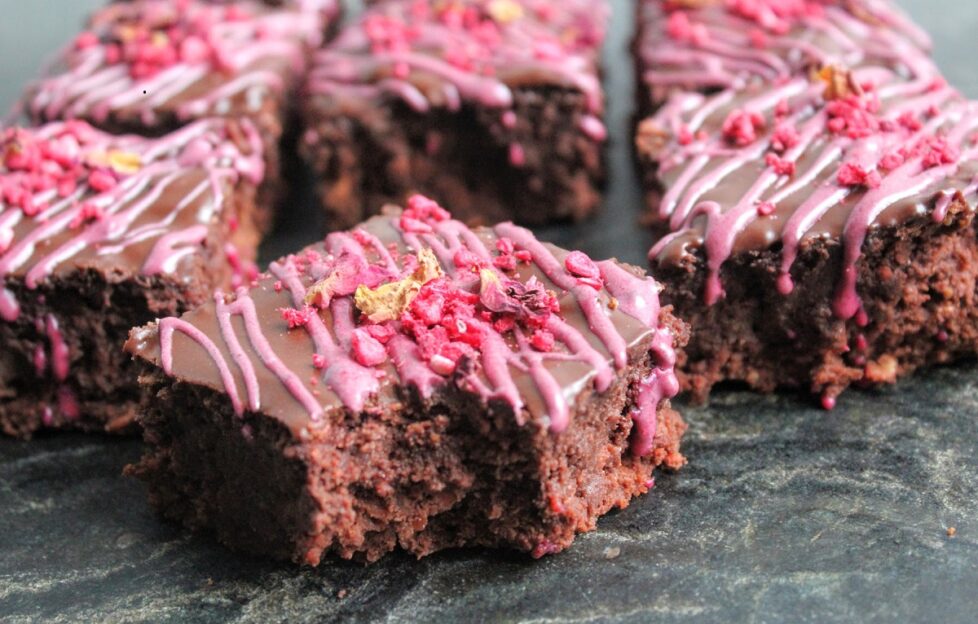 Photograph courtesy of Linwoods Health Foods.
Ingredients
100 g (3½ oz) oat flour (check label to ensure gluten free)
50 g (1¾ oz) ground almonds or almond flour
50 g (1¾ oz) cocoa or cacao powder
2 tbs LINWOODS Milled Flaxseed
1 tsp cinnamon
250 g (9 oz) cooked beetroot
100 g (3½ oz) honey or maple syrup
2 large eggs
1 tsp vanilla extract
2 tbs almond milk
For the Chocolate Topping:
2 tbs coconut oil
2 tbs smooth almond/cashew butter
4 tbs maple syrup
4 tbs cocoa or cacao powder
For the Icing:
30 g (1 oz) white chocolate
1 tsp coconut oil
½-1 tsp beetroot powder
Freeze-dried raspberries
Dried rose petals
Recipe courtesy of Linwoods Health Foods.
These gluten-free Beetroot and Chocolate Brownies are packed with good-for-you ingredients. Healthy cake – that's what we like!
Method:
Pre-heat oven to 180 deg. C., 350 deg. F., Gas Mark 4. Grease and line a 23 x 23 cm (9 x 9 in) baking tin.
Mix together the oat flour, ground almonds/almond flour, cacao/cocoa powder, flaxseed and cinnamon in a large bowl.
Place the beetroot, honey/maple syrup, eggs, vanilla and almond milk in a blender and whizz up until smooth.
Pour the wet mixture into the dry ingredients and mix to combine. Spoon into the tin and smooth out evenly then bake in the pre-heated oven for 25 to 30 minutes until firmed up. Leave to cool in the tin.
To make the topping, gently heat the coconut oil, nut butter and maple syrup to melt then whisk in the cacao/cocoa powder until smooth. Pour this over the brownies then place in the fridge for at least 2 hours to allow the chocolate to set. Cut into 9 to 12 squares then place on a wire rack.
To make the icing, gently melt the white chocolate and coconut oil then whisk in the beetroot powder. Drizzle a little over each brownie then leave to set for 30 minutes. Sprinkle with freeze-dried raspberries and rose petals.
Enjoy!
---
If you loved these Beetroot and Chocolate Brownies, we have more beetroot recipes for you to try.
How about Coeliac-Friendly Balsamic Beetroot Fritters or Baked Sweet Potatoes With Mackerel And Beetroot ?
Alternatively, if it's hidden vegetable bakes you fancy, we have this Amazing Avocado And Lime Loaf or these delicious Sweet And Savoury Scones!