Mushroom And Halloumi French Toast
---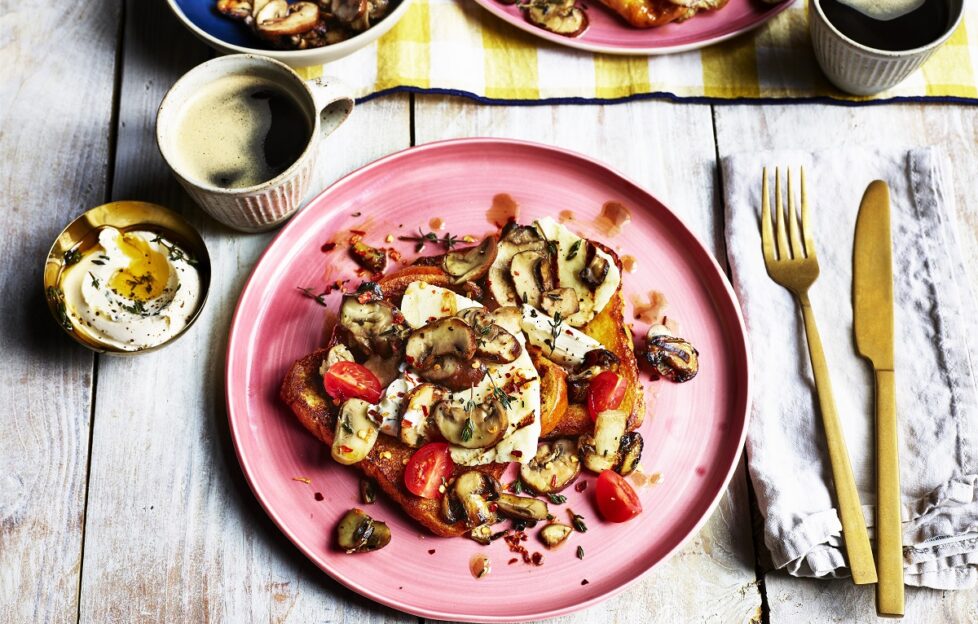 Image courtesy of the Mushroom Bureau.
Ingredients
200 g (7 oz) chestnut mushrooms, sliced thickly
2 tbs olive oil
A few sprigs of thyme
250 g (9 oz) block of halloumi, cut into eight slices
8 slices of brioche
2 eggs, beaten with a dash of milk in a bowl
A knob of butter
4 tbs crème fraîche
4 cherry tomatoes, quartered
A pinch of chilli flakes, optional
Salt, to taste
Recipe courtesy of the Mushroom Bureau.
Cooler days demand comforting food, and what could be more satisfying than this Mushroom and Halloumi French Toast?
It's the perfect leisurely weekend breakfast – or brunch!
Method:
Heat a griddle pan and a frying-pan until hot.
Toss the mushroom slices in a bowl with the olive oil and some of the leaves from the thyme sprigs. Cook them in the griddle pan until soft, lined and golden. Remove from the pan and keep warm.
Cook the halloumi in the griddle pan until nicely marked, remove from the heat and set aside with the mushrooms.
Dip each slice of brioche in the beaten egg and cook in the frying-pan in a little butter until golden on each side. Put two slices on each plate.
Mix the remaining thyme leaves with the crème fraîche.
Top the brioche with a spoonful of crème fraîche, then add two slices of halloumi and some mushrooms. Add four quarters of a cherry tomato to each and serve with a pinch of chilli flakes, if using, and salt to taste.
Enjoy this Mushroom And Halloumi French Toast? We have more tasty toastie recipes in this week's issue!
Or why not try Ham, Brie And Onion Chutney Toasties or Mozzarella And Basil Cheese Toastie? You'll be in good company – Features Ed Alex is a declared toastie fan!
---
We have plenty more cool-weather recipes right here on "The People's Friend" website, from casseroles to crumble. Try one today!