Lisa's Marathon Mosaic Mission Is Complete
---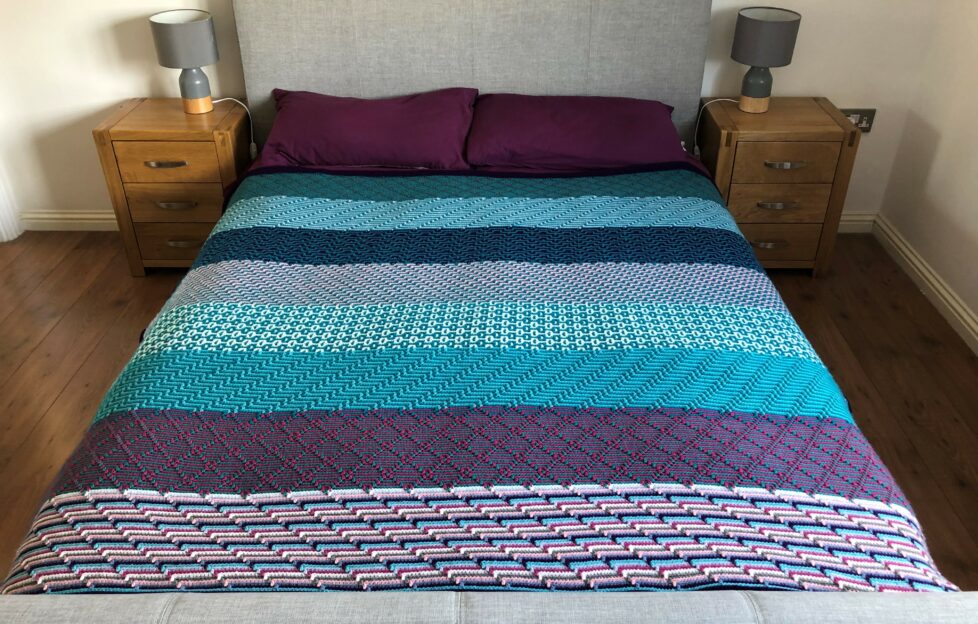 Photograph by Lisa Crow.
In November, 2020, I wrote a blog about how I was enjoying making a mosaic crochet blanket after a YouTube-recommended video took me to the wonderful world of Tinna Thorudottir Thorvaldar.
Now, almost a year later, I have finally finished my marathon mosaic mission.
It was such an undertaking (I made it king-sized) that I have to confess weeks at a time went by without me so much as looking at the blanket.
A part of me regretted starting in the first place because I just don't have the patience for a project of that size!
An extra splash of colour
That said, in between spending time with my family and doing other hobbies such as calligraphy, I finally managed to get it completed! By doing little bits here and there it wasn't so bad.
It makes me feel slightly less guilty about binge-watching Grey's Anatomy because I was being productive while watching.
And all that effort really paid off. Tinna's double-border technique finished it off perfectly. Now, our bedroom has that extra splash of colour.
Much simpler than it looks
I think the bottom panel is so busy with colour that it kind of makes your eyes go funny. Plus there's an entire section where I repeatedly made the same mistake.
Still, at least I was consistent with the error. At the end of the day, it's homemade, it was never going to be perfect. I'm happy with it and that's all that matters.
For anyone wanting to learn mosaic crochet, I highly recommend it. It's much simpler than it looks. As far me, there will definitely be more mosaic crochet projects on the horizon – though I think a cushion cover is about as far as my patience will allow the next time!
The Havana Afghan pattern that I used, along with a selection of other ones, is available to purchase at ravelry.com.
If you do your own mosaic project, share it with us over on Twitter or on our Facebook page. We'd love to see your results.
To find out more, visit Tinna's YouTube page where she teaches a few patterns.
There is also a Facebook group you can join where people share pictures of their stunning creations.
---
Lisa's been carrying the flag for "Friend" crafters over the past wee while. Click here to see her crochet chameleon, and a cute little owl, too!
Find more craft projects from "The People's Friend" by clicking here.