Fiction Sneak Peek: October 30, 2021 Issue
---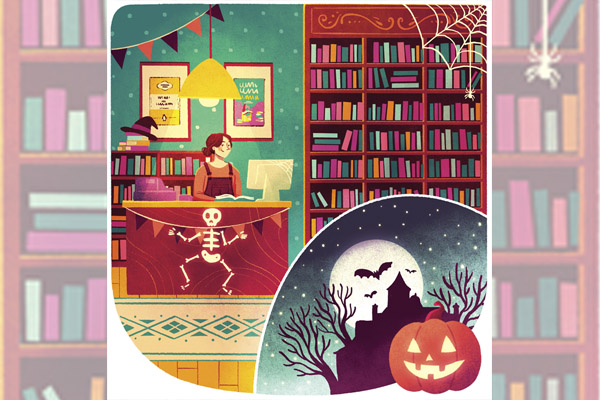 Illustration by Sarah Holliday.
Happy Hallowe'en! Here's a quick peek at the fiction inside our October 30, 2021 issue.
Short stories
Our opening story is "Life Lessons", by Annie Harris. Julia reflects that a career in teaching is a learning curve. Illustration by Helen Welsh.
Hairdresser Jacqui has a favourite "regular". And she seems to be up to something! "A Touch Of Pink", by Jan Snook, is illustrated by Kirk Houston.
When someone asks Meg to babysit, it's a trick that turns into a treat, in "That's Magic!" Written by Linda Lewis, accompanied by a Shutterstock image.
Giovanna and Cosimo are new to "Leather Lane". But will they ever feel fully at home? Alison Carter's story set in 1818 is illustrated by Andre Leonard.
Two friends do a life swap in Vanda Inman's "Each To Her Own". Artwork by Sarah Holliday.
When Christopher finds he's no longer as fit as he once was, his wife suggests yoga in the park. Discover how that pans out in "On Your Toes", by Isobel Sayer. Artwork by Shutterstock.
Our final story of the week is "Preserved In The Pages", by Liz Filleul. It's Hallowe'en in the bookshop, and one of Maddie's finds holds a seasonal surprise! Illustration by Sarah Holliday (above).
Serials
It's the final part of "A Curious Inheritance", by Tony Redcliffe this week. Will Thomas and Sophie solve the mystery? Artwork by David Young. Look out for a super new serial starting next week!
And in Part Four of "Sounds Like Radio", Miriam's on-air exchange with Theo sounds promising. Alison Carter's five-part serial is illustrated by Ruth Blair.
Series
Our new series begins this week — "Read All About It", by Eirin Thompson. Carrie hopes she can make a success of her parents' old business – and then a new buyer for the empty shop over the way reveals his plans…
. . . and in Glenda Young's "Riverside", will Graeme tell Julie how he feels?
---
Has our October 20, 2021 issue left you wanting more? Don't worry! Our new issue is in shops soon.
Did you know that subscribers receive their issues early? Click here for more info. 
You can also choose a digital subscription, and read the "Friend" on your tablet, smartphone or computer. It's the perfect option to avoid any pesky delivery trouble!