A Year In France – Episode 30
---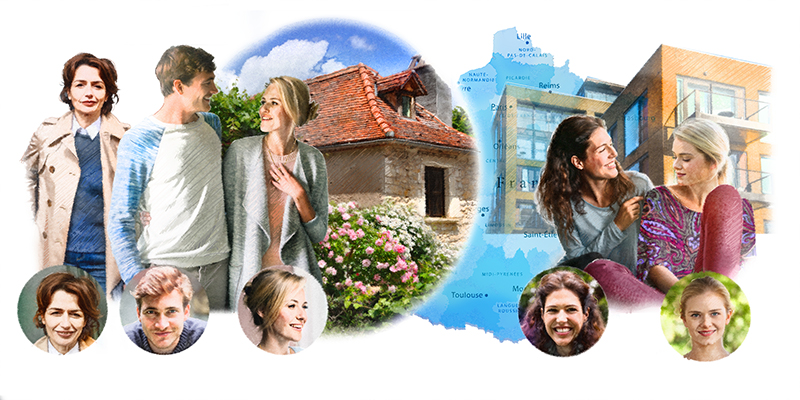 Illustration by Mandy Dixon.
Philippe was still working in his study when Julia arrived home, so she opened up her laptop and Skyped Maddy for a quick update on things.
"I've sent some press releases out and contacted a couple of journalists."
"I've been busy, too," Maddy said. "My business bank account is now set up, I've ordered business cards, and I've accepted an invitation to give a talk at a writers' conference in September."
"Brilliant!" Julia exclaimed. "Have you set up a Facebook page yet? Or Twitter?"
"I'm planning on doing that this evening," Maddy replied. "I'll send you the links later."
"We also need to sort out an official opening date. Would next week be too soon, do you think?"
"Before or after your birthday?"
"After, I think," Julia reasoned. She'd forgotten her birthday was so close. "Once the agency's name is out there, it's best we keep a high profile for a few days to take advantage of all the publicity. I don't want to take a day off in the middle of things."
Finishing the call with Maddy, Julia closed her laptop down. Would Philippe spend all day in his office on her birthday? She'd ask him over supper tonight.
*  *  *  *
Philippe refused to be drawn on the subject of plans for her birthday when she raised the subject.
"I'm definitely taking the day off," he told her. "But that's all I'm saying. You'll have to wait and see."
"You're planning a surprise party?"
Philippe shook his head, smiling.
"No. You'll just have to be patient."
*  *  *  *
When Julia went downstairs on her birthday morning, Philippe was already in the kitchen preparing a breakfast tray.
"Happy birthday," he said. "I was planning on giving you breakfast in bed."
"Was that my surprise?" Julia teased. "Shall we have it out on the terrace instead? It's a beautiful morning."
"Go out there, then, and take the cushions with you. I'll be another couple of minutes," he said.
Sitting there waiting for Philippe to bring breakfast, Julia sighed happily. The early morning sun was climbing over the hills and the sky was already a brilliant blue, Tess was at her feet and there were deer down in the woods at the bottom of the valley. It was the first time she'd actually seen any there.
As Philippe placed their tray on the table, she smiled up at him.
"Look! The deer are down by the edge of the woods. How brilliant is that to see on my birthday?"
"Right, birthday girl. I was going to make Bucks Fizz, then I realised, in view of what's happening later this morning, it wasn't a good idea. So we've got coffee instead. We'll have champagne for dinner." Philippe poured the coffees and pushed the plate of pains au chocolat towards her.
"What's happening this morning, then?" Julia asked.
Philippe tapped the side of his nose.
"For me to know and you to find out."
"Am I going to like it?"
"I'm in trouble if you don't. More coffee?"
Julia held out her cup.
"Thanks."
"I'm planning on walking Tess this morning, by the way," Philippe declared.
"Really? Which way shall we go? Down through the village or up in the hills?"
"No, you will stay here. You deserve a break from chores on your birthday."
"Tess isn't a chore," Julia protested.
"No, I insist. You can have an hour or so doing exactly what you want – or doing nothing. But you are not to work. Then when I get back we can start the day in earnest. OK?"
Julia laughed and gave in.