A Year In France – Episode 28
---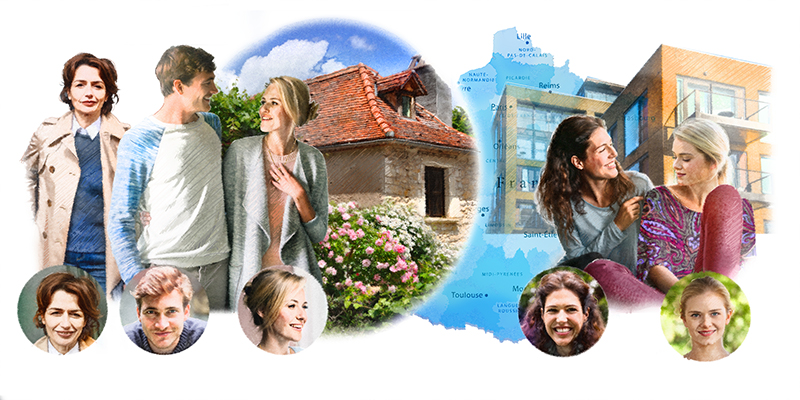 Illustration by Mandy Dixon.
Later, as they sat eating supper, Maddy looked at Dannie.
"Are you still enjoying life down here? More importantly, do you think you want to stay?"
Dannie glanced at her anxiously.
"You don't want me to leave, do you?"
"No, of course not. But the month we agreed is up in a few days and your parents must be wondering about what you're going to do."
Dannie didn't answer immediately and Maddy looked at her curiously.
"Is something bothering you? I'm sorry I've been a bit preoccupied with my own work problems, and now getting things organised for the agency. We've not had much time to talk. Is work not going well?"
"No, it's not that. Both jobs are fine, especially the boutique. I love it there. It's Jason, my ex."
"I didn't think you were in touch with him," Maddy said, surprised.
"I wasn't. He came for a job interview with one of the offices near the station. He was early so he popped in for a coffee. Talk about a surprise. He's been back a few times since then."
"Not just for coffee, I'm guessing?" Maddy asked quietly.
"Mainly he wanted to talk to me. Someone who would understand, he said." Dannie fiddled with a lock of her hair. "Things down here haven't gone as well as he expected, either with his job or his new girlfriend. In fact, he's broken up with her."
Maddy regarded her shrewdly.
"I can see where this is going. He wants you to get back together again, doesn't he?"
Dannie nodded.
"He says he's sorry for hurting me and realises he made a mistake."
"How do you feel about that?"
"Honestly? I don't know. We'd been together as a couple for a year before he came down here, but growing up in the same neighbourhood, we've known each other for ever."
"I know it hasn't been easy, but you've survived without him for the last few weeks," Maddy pointed out.
"That's been down to your kindness," Dannie returned.
"I gave you a room. You're the one who went out and got two jobs and pulled yourself up off a very dangerous slope," Maddy said. "Did Jason ask how you were? How you managed in the days after you arrived down here with no-one to turn to?"
Dannie shook her head.
"Not really. He apologised and said he felt guilty," Dannie replied. "What do you think I should do?
"I do like living here. Should I give him a second chance as we're both down here and he's free again?"
"I'm not you, but personally I'd find it difficult to trust any man who treated me like Jason did you," Maddy said quietly. "Don't let him use you. Do you still have feelings for him?"
Dannie shrugged.
"Once I got over the shock of seeing him in the coffee shop, it felt good talking to him. Like old times. Like putting on a comfortable jumper, if you understand what I mean."
"Habit is the word you're looking for," Maddy told her, regarding her thoughtfully. "If you're planning to stay down here, you should suggest to Jason that you revert to being just friends for a while and see how things go. Do you think he would agree to that?"
"I'll ask him tomorrow afternoon when he comes in for his coffee," Dannie said. "I do like the idea of being friends again."
She smiled.
"I seem to have made the decision about staying, don't I? I can't thank you enough, Maddy."
Maddy waved her thanks away.
"You wait until you see the rent I'm going to charge you. Joke!" she added quickly as she saw the look on Dannie's face. "We'll sit down one evening next week and work out a realistic sum – one that you can afford."
She didn't add that if Dannie went ahead and let this Jason back into her life, she planned on inviting him to supper one evening to check him out.