A Year In France – Episode 31
---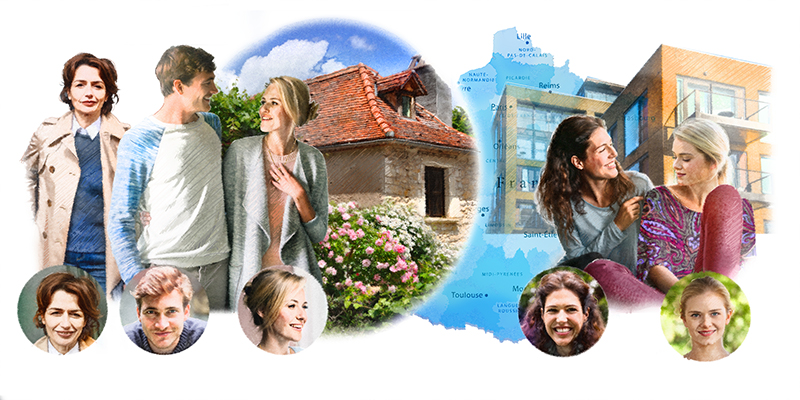 Illustration by Mandy Dixon.
Julia stayed sitting out on the terrace when Philippe left for his walk, simply enjoying the peace of the morning and resisting the urge to check her e-mails.
Philippe and Tess had been gone for barely ten minutes when Christiane arrived, full of apologies and carrying a scrumptious-looking chocolate cake.
"Is Philippe around?" she asked, following Julia into the kitchen.
"No. For some reason he's elected to be dog walker this morning. He said I could have some time off." She laughed. "He's up to something, I just know it!"
"He's cross with me, so I'm delighted to have missed him," Christiane said. "The last thing I need is another lecture."
"He's very protective of you," Julia told her mother-in-law. "I did talk to him about you and Thierry. I thought his attitude had changed a bit."
Christiane smiled.
"I know. Thank you. And he did seem to be trying to be nice to Thierry before I told him about this mini break we're having."
"Oh, that sounds exciting. Where are you going?" Julia asked.
"Venice. Which, according to my darling son, is wrong for several reasons. Not least because I'm not here to celebrate your birthday properly."
"Don't worry – there's always next year. A visit to Venice, on the other hand, is not to be missed."
"I've wanted to go for years." Christiane sighed. "Thierry knew that and decided to surprise me. Anyway, I've made you a cake. Happy birthday, Julia," she said, putting the cake on the table before turning to give Julia a hug.
"Thank you so much. Shall we celebrate with a slice now?"
Christiane shook her head.
"You and Philippe can enjoy it later." She opened her large shoulder bag. "And this is a little present for you."
She handed Julia a prettily wrapped package.
"I'd better go. I haven't finished packing yet and we're leaving at midday. Have a lovely birthday and I'll see you when we get back."
After Christiane had left, Julia unwrapped her present. A beautiful silk scarf in blended shades of red – from the palest of pink to the brightest scarlet – nestled in tissue paper in a bag from one of the famous designer shops in Cannes.
Gently, she fingered its silky surface. It would go perfectly with the creamy lace dress she was thinking of wearing if Philippe took her out for a birthday dinner that evening.
She'd just finished dressing an hour later, having indulged in a long perfumed bubble bath, when Philippe arrived home.
"Ready for your birthday surprise?" he asked, taking her by the hand. "Close your eyes and come with me. No peeping."