No. 4, Whitehall Gardens – Episode 03
---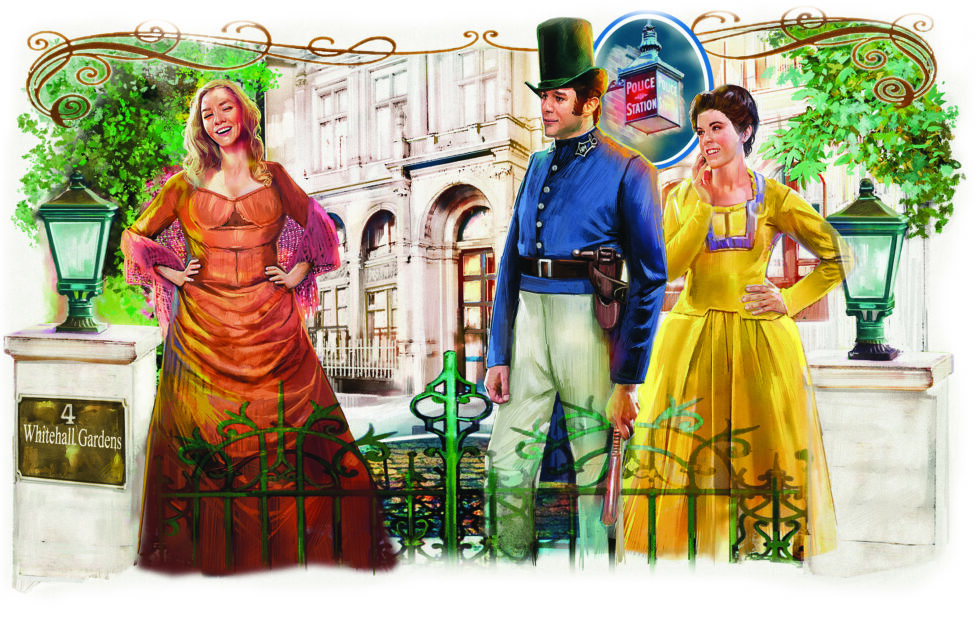 Illustration by Sailesh Thakrar.
Bridget had been granted half a day's leave for the interview, and was not needed in the kitchen at No. 4 until the morning.
"I'm sorry," Clementine said quietly as they walked out of the servants' entrance and round the side of the house.
Her mother gave a laugh.
"You and Miss Everett would only come to blows in that nursery."
"I'm a match for any dodo," Clementine said without thinking, and her mother stopped.
"Oh, my child, you're a liability," she said. "But I, too, remembered that visit we made to Brighton before your father died."
They both laughed.
"Well," Bridget went on, "at least you know all about that fine house I work in." She laughed. "Greens! I have never managed to get a morsel down your throat!"
"Well, I will find work," Clementine said. "No more scrapes."
"But I had such hopes," Bridget said. "Come, let's go."
*  *  *  *
William Grant knew all about the soon-to-be announced Metropolitan Police Service. It was a project of Mr Peel's and Mr Peel was the Home Secretary.
William regarded Peel as a person of wisdom and intellect. Many of his colleagues in the police viewed the proposed new force with suspicion, but William had one goal, and that was to rid his beloved city of crime.
If the Home Secretary had decided that a new body would help in that endeavour, William was a supporter. It was already 1829, and the project had been long in the planning.
"It'll mean less respect for us!" his friend George Ainsworth said. "They call us the Bow Street Runners already and it's disrespectful.
"Putting a new police force alongside us, well, it's going to make us the poor relation!"
"It's not so disrespectful, George," William replied. "We do run, and often!"
He laughed as he brushed his hat free of street grime.
George, reclining on a bench in the Runners' Worship Street offices, looked up idly at William.
"Oh, you run all the blessed time, Will," he said. "You make the rest of us dizzy with it."
George meant it kindly. William Grant had made a name for himself in the force the year before, at the tender age of twenty-four, by infiltrating a group of revolutionaries.
The Principle Officers (as the Runners preferred to be called) undertook many daring activities in their pursuit of crime, but undercover work was rare, and William had learned of plans to assassinate a senior member of the British civil service.
He then led a party of colleagues in storming their meeting place above a pub in Brewer Street, rooting them out once and for all.
He smiled.
"It keeps me healthy," he said, "running about."
"You're a born policeman, Will, that's what it is."
William hid his glow of pride behind his hat, but it was important to him that he did his job well and made his mother proud.
Perhaps, he thought, one day the Runners and the new force would combine.
After all, Mr Peel had merged the Marine Police with his Metropolitan force.
Already he had heard people call the proposed new officers Bobbies, a play on the Home Secretary's name, and even Peelers.
If there was, in the future, to be a single city-wide force to uphold law, William wanted to be right there, rising through its ranks, despite his humble origins.
George stood up as a portly figure entered the room. It was Mr Davenport, the Shoreditch magistrate.
"Morning, sir," George and William said in unison.
"Oh, sit down again, Ainsworth. It is your natural position anyway," Mr Davenport said as William tried not to laugh. "Now, Grant, I need you to come with me to Whitehall Gardens tomorrow."
"Has a crime been committed, sir?" William asked eagerly.
"No, Grant. A meeting. Think of it as a consultation."
"I see." William frowned again. "Yes, sir."
"Whitehall Gardens. Number Four. Get that uniform spotless, and those buttons shining like the sun.
"It's the house of Mr Robert Peel and you're to present yourself at eight sharp."
William blinked. The house of Mr Peel? He wondered if he was dreaming.