No. 4, Whitehall Gardens – Episode 05
---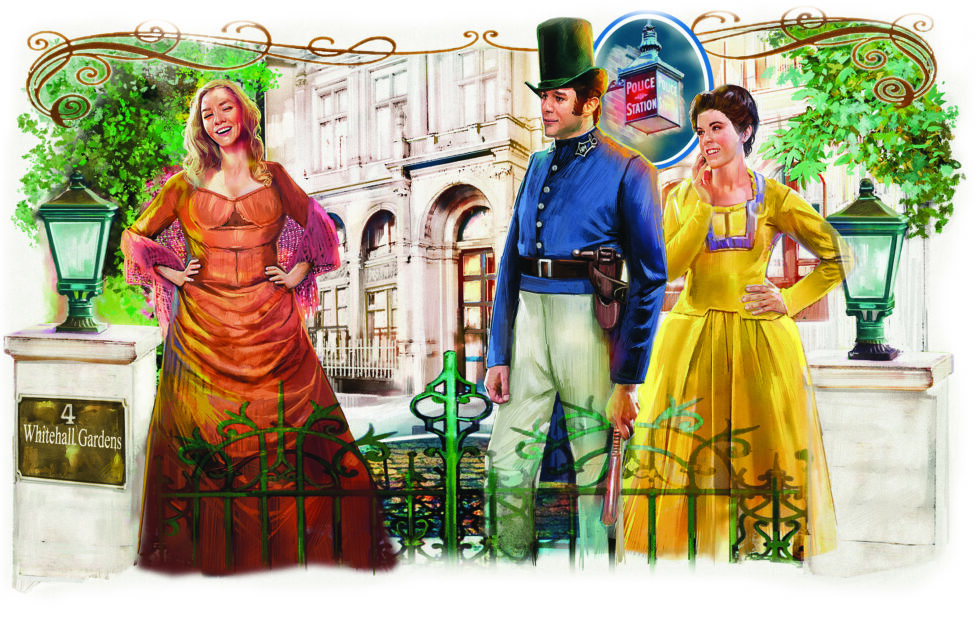 Illustration by Sailesh Thakrar.
Word had gone round that Molly wanted to see her friends after work one night, and they were willing enough.
When the laundry had gone quiet for the night, and the smell of soap and lye had died away, six or seven of them clustered together in the street opposite the laundry.
"Now, I happen to know a soldier or two," Molly said, and they all laughed, because Molly knew almost every soldier resident in London on any given date. "I have made the acquaintance of a fine collection of men over yonder in Hyde Park."
The girls looked to where she pointed up towards the Knightsbridge Barracks.
"It's a visiting regiment, filling up the barracks to bursting, they told me."
Jenny Wade piped up.
"They ought to build more on to the barracks for the soldiers, instead of all these houses! Where would we be without the militias?"
"Well said, Jenny," Molly replied with a chuckle. "Where are young women without handsome young men in uniforms?"
"Don't let your Silas hear that," Dorcas called.
"I am his only, from this day on," Molly said, her hand on her heart. "But the laundry at the barracks is not big enough for the . . ."
She grinned round at her friends, her slightly crooked teeth on show.
"The unmentionables that men on drill and on horseback discard. I heard that our own Mrs Thompson has approached the officers. She has offered to take laundry in here to relieve the barracks."
"And Mrs Thompson is charging over the odds, I bet," Clementine said.
Their overseer had a flexible attitude to charges, depending how needy she felt a customer to be.
"Clementine, you are a person with her head on her shoulders," Molly said, turning to her. "Yes, indeed. I happened to be passing Thompson's room and heard mention of the sum she means to charge.
"I thought to myself, what if I were to scrub their shirts and drawers for less?"
"In whose tubs?" Jenny asked, frowning.
"In these, dunderhead," Molly said, pointing to the wooden doors of the laundry. "We can slip extras in.
"And . . ." Molly leaned into the centre of the circle ". . . we could charge the regiment less than three quarters of what Thompson asks, and still do very nicely.
"The soldiers are happy and we're happy, too!"
"But Mrs Thompson isn't," Clementine said.
"What care you for Mrs Thompson?" Molly asked.
Clementine looked around the group. She could tell that the rest of the girls were getting sucked into the plan. It was neat, Clementine had to admit.
"No, I don't care for Mrs Thompson. She's a mean old stick. But –"
"The time has come to get something back from this laundry!" Molly interrupted. "Thompson won't know we've snapped up the business. There are other wash houses within a mile, and any of them could have made a better offer to Ensign Walker."
"Who's he?"
'He's a man with the finest curly hair and the most well-turned calf ever seen this side of the Thames," Molly said, her eyes shining in the dusk. "He has friends in that regiment."
Slowly her gaze passed around the circle.
"I believe he has exactly as many handsome friends as there are young ladies assembled here. So that's an additional attraction." She gave a nod to Dorcas Barnes. "Except you, Dorcas, who is engaged to be married, and me."
They laughed. Clementine felt the frisson of fear and doubt from every one of them, but Molly was so confident. She oozed a sophistication that they lacked.
Clementine knew that many of them would agree, and she was right. Tasks were assigned.
Sadly, Molly was not as brilliant as she imagined.