The Primrose Line – Episode 11
---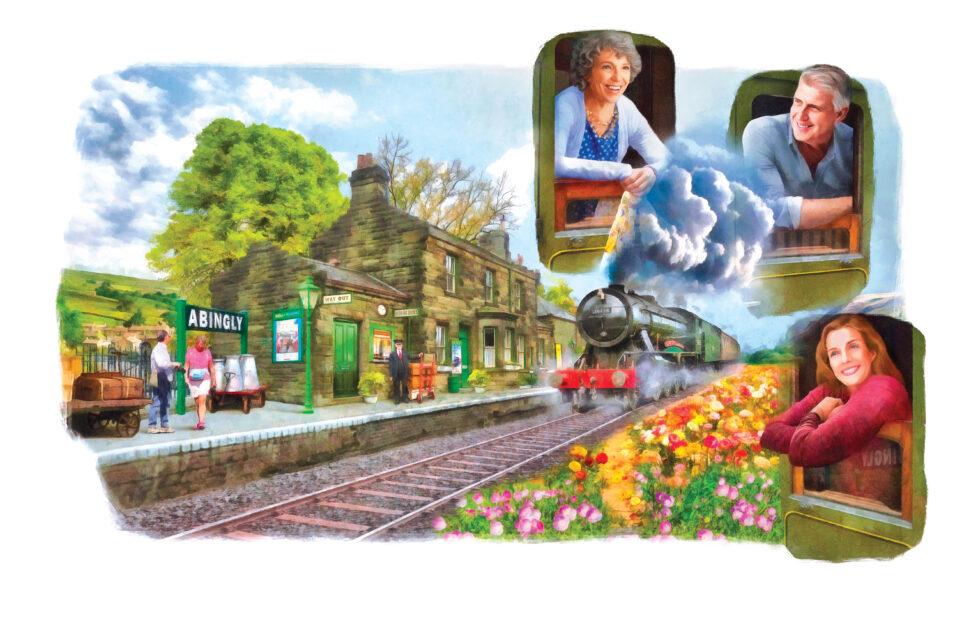 Illustration by Ged Fay
The meeting with the solicitor was affable and efficient. Thirty minutes later the smiling Mr Reed handed Jim the keys to Bluebell Cottage in the nearby village of Corton, together with all the documents that made the property legally his.
It all seemed too simple and Jim said so.
Mr Reed nodded.
"Not all inheritances pass off so smoothly. Despite her great age, Miss Gurdon's instructions were exceedingly precise. I take it you were well acquainted with your benefactor,
Mr Connaught?"
Jim shook his head.
"She was my teacher at primary school, nothing more than that. Pupil and teacher. It's a puzzle why she left everything to me."
"Everything being the cottage. Miss Gurdon had virtually no money left. Had she not passed away when she did, you may well have gained nothing. Nursing homes are far from cheap these days."
"My father was a builder, a real craftsman. He built the house for her to her own specifications."
Mr Reed shrugged.
"Although Miss Gurdon was a client of ours for years she was a very private person. I can offer no explanation as to her reasons for her actions.
"All I can suggest is that your father's work made her a very happy woman for a number of years. Perhaps it's as simple as that. Enjoy your windfall in the spirit it was offered."
Jim exited the stuffy chambers, welcoming the winter cold of the street. He looked at the keys he'd been given and the official-looking envelopes.
He was perturbed. Suddenly it wasn't so easy to catch the next plane back to Geneva.
He couldn't put this inheritance into any kind of perspective. The question "why" just wouldn't go away. Out of respect to Miss Gurdon, he needed to handle this with dignity.
He walked across the street to the George Hotel and booked a room. Now he would have a base for whatever came next.
*  *  *  *
The country road to Corton ran close to the old railway. There had been talk of closing it when he lived around here, as part of the infamous Beeching cuts.
Not only had it survived, it also looked in good condition, almost as if it was still being used. It reinforced the feeling that Jim was returning to the past.
He drove into Corton village with the railway still close by. Miss Gurdon had been fond of trains and he suspected his enthusiasm in that department had helped improve his relationship with her. No boy who knew so much about railways could be totally stupid!
He rounded the bend by the small church and there it was, in front of him on the left. Bluebell Cottage, a bungalow of half-brick, half-wood construction at the end of the village, a mile from what was the main London road before the motorway system had changed everything.
He stopped the car, pulling off the road as best he could. Miss Gurdon had not owned a car so there was no provision for parking.
He stared at his new acquisition. From this distance it didn't look bad. No doubt on closer inspection he would see the more serious defects that would make the decision to put it on the market as quickly as possible the only sensible one.
At that moment he heard a sound that made him shiver in the sun. It was a steam engine whistle. Surely he'd imagined it?
He looked to the right, from where it had come, expecting to see nothing.  Instead, around the bend and huffing white smoke into the grey sky came a train.
Jim stared open-mouthed as it approached, pistons hissing determinedly against the slight gradient.
He almost pinched himself as it went past, an old Southern region Lord Nelson class engine, number 30864 Sir Martin Frobisher.
It wasn't a dream! The driver and fireman waved their caps at him. The green coaches had people in them and a guard leaned out of the window. There was something not seen in the old days – the guard was a woman!
She looked at him. Despite the distance it was as though they were just metres apart. And oddest of all was that the woman reminded him of someone he'd known. His first love, Nicola!