The Primrose Line – Episode 12
---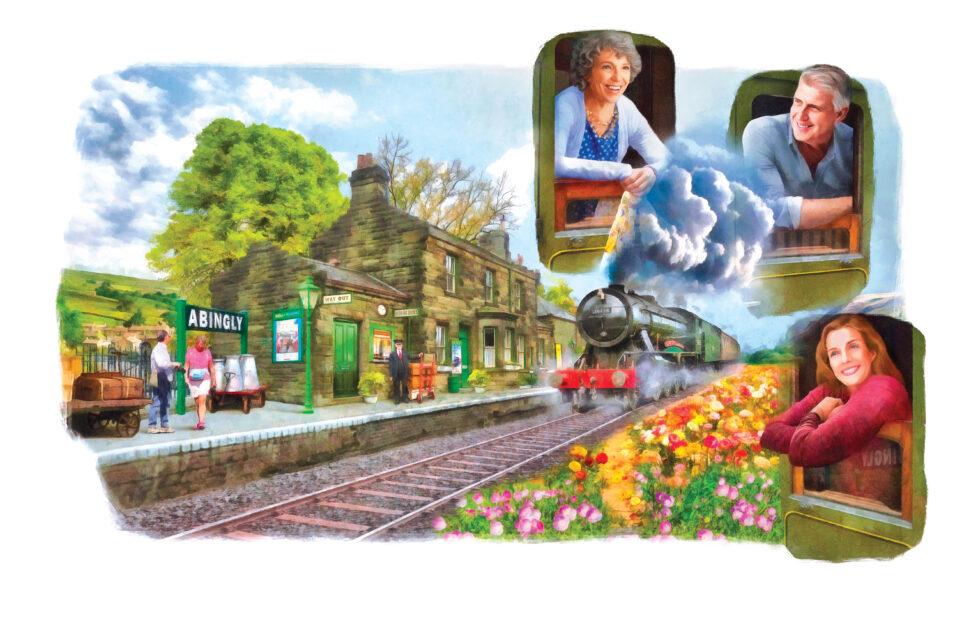 Illustration by Ged Fay
Nicola Renson stepped down from the guard's van on to the platform at Abingly. She could still not believe what she had just seen on the run from Corton station, or what she thought she'd seen.
Around her, passengers were descending noisily as they headed their various ways. Laughing children raced towards the reposing locomotive for one last close-up inspection.
She heard none of this. The beating of her heart was too loud.
Billy Boswell came along the platform and stood in front of her.
"Are you OK? You look as if you've seen a ghost."
She gave a wan smile.
"Yes, thanks, Billy. Bit of a late night, with David coming home. Then Dick Meldrew phoned in sick and I had to take over his guard's duty today."
"Lucky you were free. Having to cancel today's runs because of staff problems would have been another arrow to the consortium's bow.
"Get home and rest. David's a big boy; time he looked after you rather than the other way round."
"Actually, he's taking me out to dinner tonight. We're going to the George."
Billy whistled.
"That'll cost him."
The afternoon was closing down, as was the Primrose Line for the day.
Nicola picked her way across the rusty sidings to where her carriage was parked. It was good to see a welcoming light on in her home tonight.
Her mind must be overwrought. If not, why would she have imagined that she'd seen Jim Connaught at Bluebell Cottage just now?
It must be part of that dream she'd had. Maybe it was time to move on with her life. She didn't want to be one of those people who spent their later years chasing the past.
*  *  *  *
The George Hotel was a fine example of Georgian elegance and, since the Primrose Line had helped develop the tourist side of Abingly's natural country charm, its prices reflected its aspiring status. Nicola never came here and was conscious it had been a long time since anyone had taken her out.
David gave her a kiss on the cheek as he opened the door for her.
"Mum, you look gorgeous. I should have put a decent pair of trousers on rather than these jeans – this place seems more upmarket than I recall! Trouble is, I've got used to living in jeans these days.
"Besides, I'm here for a decent meal and to talk over our plans, not make a fashion statement!"
Nicola smiled. This was a different David, one with a set of simpler values. Whoever this girl he'd fallen in love with was, she felt she might like her a lot, which was a good start to the proposition David had briefly outlined to her.
They sat down at the table David had reserved and he launched straight into an obviously rehearsed conversation. When David had an idea he didn't leave it alone until it had been properly dissected.