Fiction Sneak Peek: April 4, 2020 Issue
---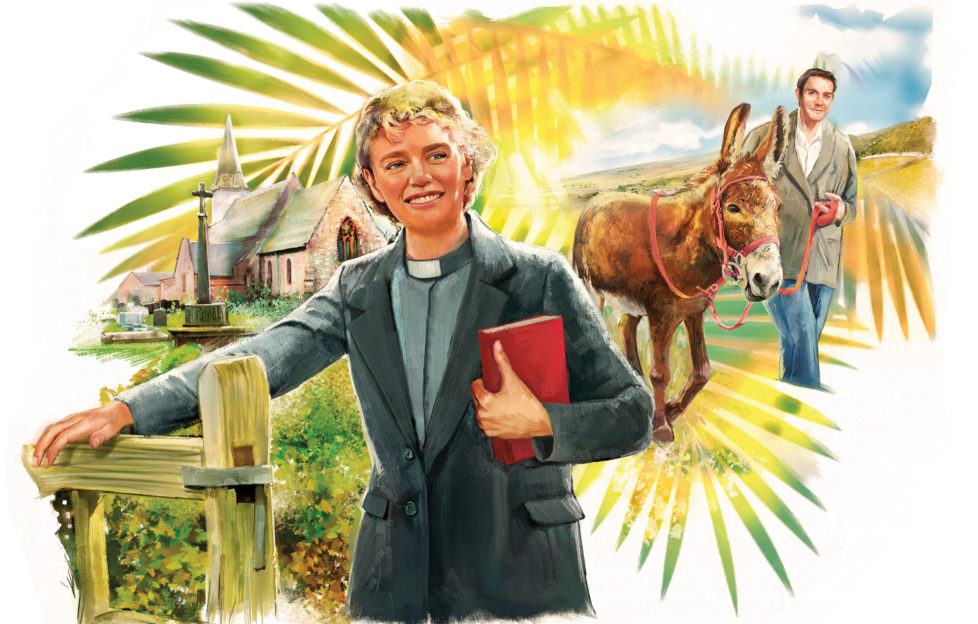 Illustration by Sailesh Thakrar.
Welcome to the Fiction Sneak Peek, our preview of the stories, serials, series and soap we have lined up for you in this week's new issue.
Seven short stories
We begin this week's issue with "Lettie's Choice". Unlike her sister, our heroine has no interest in marriage . . . By Pamela Kavanagh, it's illustrated by Gerard Fay.
Next up is "Doing The Donkey Work", by Annie Harris. Stella is the new vicar in the village where she grew up, and hopes to introduce a donkey-led procession for Palm Sunday. But the only donkey around belongs to an old friend who has cut himself off from the community.
You'll feel that spring is here with the accompanying illustration (above) by Sailesh Thakrar.
In "Music Lessons" by Ewan Smith, Enid's grandson is learning the violin — poorly! A meeting with another long-suffering grandparent leads to an offer of help . . .
. . . which is just what's needed in Jacqui Cooper's "Call The Plumber!". Gemma's love, Steve, broke her heart when she was a teenager. Can a plumbing emergency and a macaw bring them back together years later? Sarah Holliday's cheerful illustration accompanies this story.
In Teresa Ashby's "A Letter From Sidney", we go back to World War I. Sidney and sister Isobel keep each other going with their letters, while Isobel also writes to Bill, a young man with no family. Then something unexpected happens which threatens to change everything . . . The lovely illustration for this one is by our Illustrator Of The Week, Tracy Fennell.
Melina gives Tanino's screwdriver away, in "What's Mine Is Yours", by Stefania Hartley, and he's not happy! Jim Dewar's illustrations accompany our Melina and Tanino stories.
We round off our short stories with "Just Loving Life" by Val Bonsall. Two potential suitors are on the scene, plus lots of advice from a daughter and granddaughter! With a fun illustration by our own Manon Gandiolle.
Super serials
No one seems to recognise Rob in the second part of "Birds Of A Feather". By Paula Williams, illustrations are by David Young.
And in Part Four of "The Tanner's Daughter", Jane is overjoyed to see Margery again, even in such a setting . . .
Mandy Dixon illustrates Pamela Kavanagh's enthralling serial.
Series
In Jessma Carter's "Living It Up", can the ladies find a fitness regime for Abigail?
And in Glenda Young's "Riverside", there are unexpected visitors for George at the allotments . . .
Sneak peek leave you wanting more? Our new issue is on sale soon. Enjoy!
Remember you can subscribe to the "Friend" today, and you'll never miss another issue. Plus, if you're worried about potential delivery issues, you can take out a digital subscription and download every issue straight to your phone, tablet or home computer.