Fiction Sneak Peek: April 25, 2020 Issue
---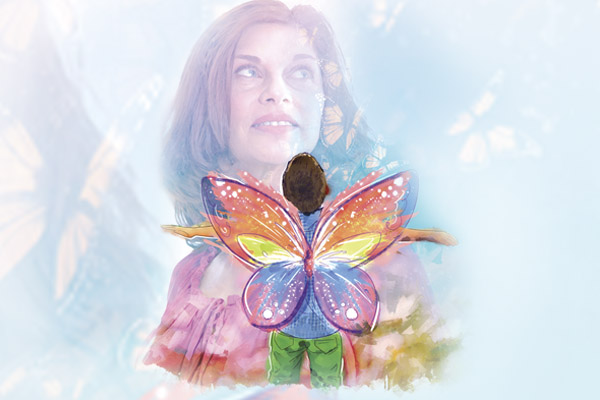 Illustration by Manon Gandiolle.
Ready for a good read? Here's a sneak peek into this week's issue . . .
Short stories
Our opening story this week is the lovely "On Wings Of Love", by Teresa Ashby.
Jenny is bereft following the passing of her husband, Wally. The thought of attending rehearsals for the spring carnival which he founded seems just too much to bear. This uplifting story is complemented by Manon Gandiolle's stunning illustration.
In "Be Our Guest", by Eirin Thompson, an unkind comment in a seaside B&B's visitors' book is deflating. When the reason for the bitterness within the message becomes clear, can things be put right? With a lovely spring illustration by Philip Crabb.
Esme doesn't want a traditional wedding, and declines to wear the wedding dress passed down through four generations of her family. Looking in a shop window, she sees an opportunity to start a tradition of her own. "A Break With Tradition" is by Gabrielle Mullarkey.
Arnold and Cathy sold Cathy's engagement ring many years ago, to buy their son a pram. When Arnold spots a similar ring in the jeweller's shop window more than 20 years later, it can't be the same ring. Can it?
Find out in "The Ring In The Window" by first-time '"Friend" author Pamela Still. With a touching illustration by Ruth Blair.
In "The Bull And The Boy" by Stephen Murphy, a drone is plaguing Meg and Bill. Could it turn out to be a blessing in disguise? With a lovely illustration by Sarah Holliday.
A lady with a happy home life reaches out to a homeless girl in our next story. "Reaching Out" is by Wendy Janes, with a tender illustration by Gerard Fay.
Pauline Bradbury's "Bev's Day Off" is our final story of the week. Fed up feeling like the family skivvy, a mum decides it's time to take some time for herself. Sarah Holliday provides the fun illustration.
Serials
It's Part Five of "Birds of a Feather" this week. Where has Rob gone? Our super serial by Paula Williams is wonderfully illustrated by David Young.
Jane has a visitor in Part Six of "The Tanner's Daughter" — Alys Croft, who claims to be Will's half-sister. Alys bears bad tidings, which could have life-changing implications for Jane . . . Penned by Pamela Kavanagh, our Tudor serial is superbly illustrated by Mandy Dixon.
Series
In Jessma Carter's "Living It Up", a member of the household has gone missing . . .
. . . and in Glenda Young's "Riverside", George and Jim smile for the camera, but there's no thaw in the frost between them.
Meanwhile, Beryl and Pearl pay an unexpected visit to Ruby . . .
Sneak peek leave you wanting more? Our new issue is on sale soon. Enjoy!
Remember you can subscribe to the "Friend" today, and you'll never miss another issue. Plus, if you're worried about potential delivery issues, you can take out a digital subscription and download every issue straight to your phone, tablet or home computer.