Fiction Sneak Peek May 23, 2020 Issue
---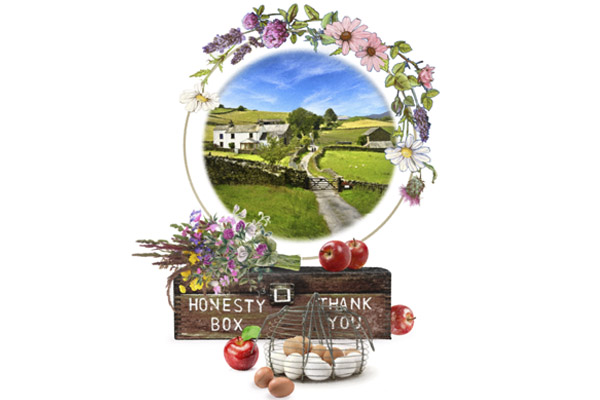 Illustration by Mandy Dixon.
Welcome to this week's sneak peek at the fantastic fiction in our latest issue!
Stories
Our fun opening story this week is "Playing Fair", by Deborah Rogers. Social climber Mrs Hartington-Davy had been planning a more "cultured" fair than the residents of Applecombe were used to — but when an ankle injury leaves her bed-bound, are those plans scuppered? With a lovely 1950s illustration by Jim Dewar.
In Angela Lanyon's poignant "Secrets We Keep", a beloved Nana reveals secrets about her past. With a stunning illustration by Tracy Fennell.
The day's just beginning in Ewan Smith's "The Heart Of The Family", but Margaret is already looking out for everyone she loves . . .
A farm's honesty box leads to a new romance in Glenda Young's lovely countryside story. A beautiful illustration by Mandy Dixon (above) accompanies "The Honesty Box".
Single Fern thinks she's happy as she is. Can her sister persuade her otherwise? Find out in "Leave Me Alone" by Wendy Janes. With a fresh illustration by Ruth Blair.
In "Dinner With Debbie" by Eirin Thompson, a doting mother discovers her son's new girlfriend isn't quite who she was expecting. Super illustration by Martin Baines.
Melina and Tanino return in "The Chair", by Stefania Hartley. Tanino is not pleased when Melina gives his old chair away. But might it bring happiness to its new home? Jim Dewar's lovely illustrations brings the story to life.
Serials
Our intriguing new serial begins this week! Set in 2002, "Return To Tillakos" is by Lydia Jones. Jade travels to Tillakos, to find her father . . . this serial has a lovely summery illustration by Gerard Fay.
In the exciting final part of "Love Underground", by Lynn Love, Ruth and Pete follow Manny, hoping for clues to Joan's whereabouts. This serial is set in 1949, with a lovely '40s' illustration by Helen Welsh.
Series
In this week's "Living It Up", by Jessma Carter, there's something weighing on Abigail's mind.
And in Glenda Young's "Riverside", Beryl and Pearl's surprise goes exactly as planned!
Sneak peek leave you wanting more? Our new issue is on sale soon. Enjoy!
Remember you can subscribe to the "Friend" today, and you'll never miss another issue. Plus, if you're worried about potential delivery issues, you can take out a digital subscription and download every issue straight to your phone, tablet or home computer.