Fiction Sneak Peek: September 5, 2020 Issue
---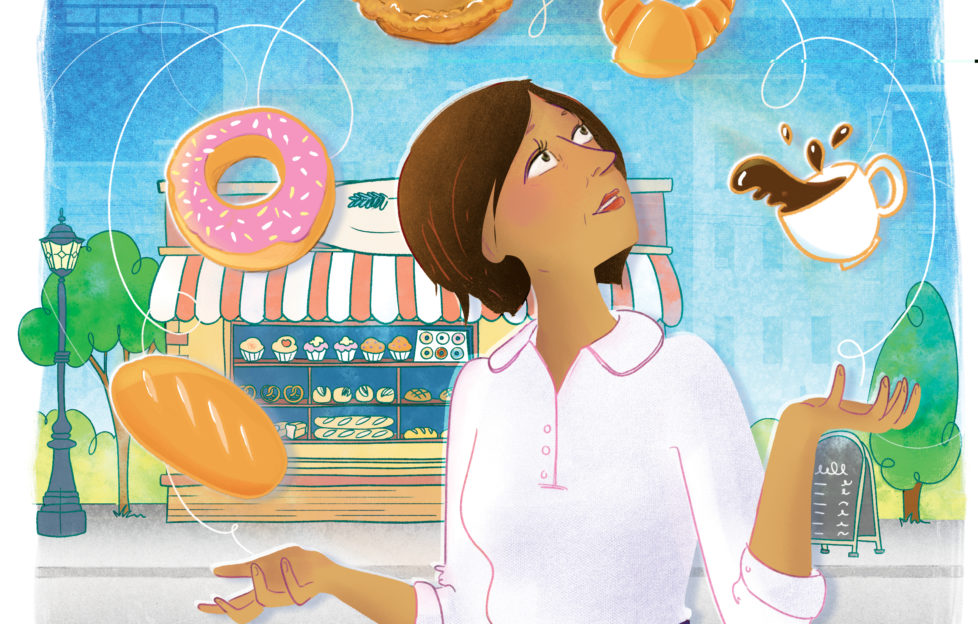 Illustration by Manon Gandiolle.
Welcome to our sneak peek at an autumnal-feeling September 5 issue! We've got lots of fabulous fiction for fireside reading this week.
Short stories
This week's opening story is the lovely "Harvest At Brightstone Farm", by Laura Tapper.
Laura has set this story in the 1930s. It's all about the hopping holidays East End families took to Kent each September, to work on the hop farms. With a lovely illustration by Jim Dewar.
Running a bakery certainly isn't a piece of cake in our second story, "Oh Crumbs", by Jane Broughton. Janet takes on her first managerial role only to receive an ultimatum . . .
She must increase takings by 50%, or face closure! Our very own Manon Gandiolle has illustrated this fun short story for us (above).
Next it's the sweet "Along Came A Spider", by Helen Yendall. Lorna is getting ready for her first date since her partner passed away. But there's a spider in the bath! Hope you like the fun illustration to go with this gentle story, from Sarah Holliday.
. . . and even more!
"Tales Of Courage" by Annie Harris is the story of Glen, a young lad studying the Battle of Britain, who is introduced to a WW2 veteran. Listening to his stories brings history to life, and a real friendship develops. With a warm accompanying illustration by Jim Dewar.
Tissues at the ready for our next story, the moving "Lost And Found", by Gillian Harvey. Rebecca has spent the past 20 years looking for the truth. And now, it is finally within her grasp . . .
We're "Joining The Hedgehog Highway" in our next autumnal short story! Can a prickly new arrival in the neighbourhood bring people together? Find out in this lovely short story by Ann Mortimer.
It's an interesting final story this week. In "Trust The Science", Milly can't decide what to study, and she's missing her dad. Without him, how can she decide which path is right for her? There's a happy resolution to this interesting short story by Penelope Alexander.
Serials
Will the Smarty Pints be the top pub quizzers? Find out in our new contemporary six-part serial, which starts today! "May The Best Team Win!" has been written especially for the "Friend" by Katie Ashmore, with super illustrations by Gerard Fay.
Our serial "Rebel With A Cause", by Jan Snook, ends this week, with Edward having something important to discuss with Miranda's father.
Mandy Dixon's lovely illustrations complement this serial perfectly.
Series
In "Paw and Order", by Della Galton, Dan's week off isn't proving as relaxing as he'd hoped.
And in Glenda Young's "Riverside", is George cut out to deal with a group of youths?
---
If this sneak peek has left you wanting more, don't worry! Our new issue is in shops soon.
Did you know that subscribers receive their issues early? Click here for more information on subscribing to the "Friend" today. You'll never have to worry about missing another issue again!
Plus, if you're worried about potential delivery issues, we have a great digital subscription available. This way, you can download every issue straight to your phone, tablet or home computer.