Fiction In Our Feel-Good Special 2020
---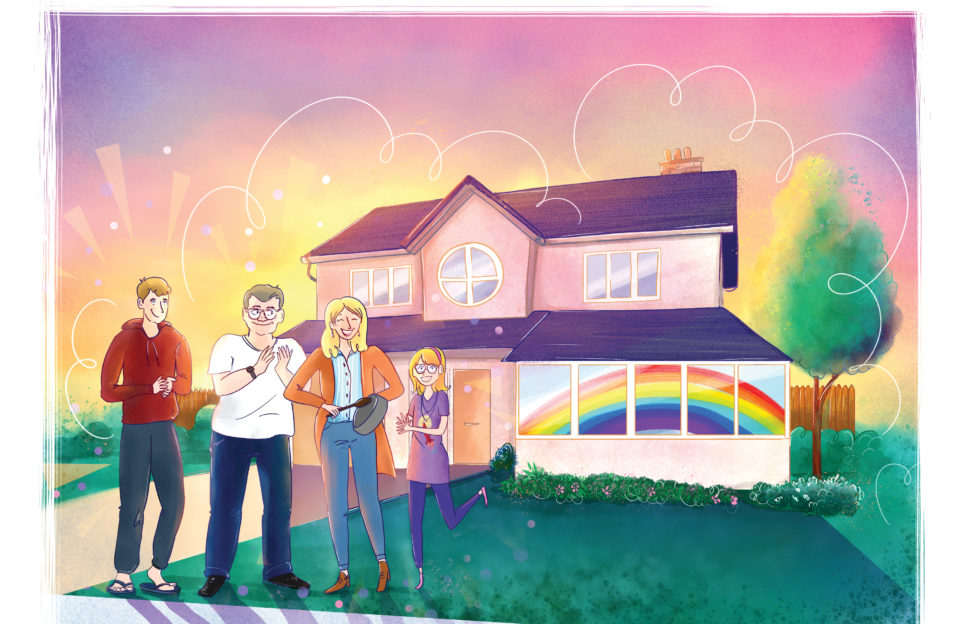 Illustration by Manon Gandiolle.
Have you seen our Feel-Good Special 2020? It's the perfect pick-me-up, full of uplifting reading.
And it's on sale today, Wednesday September 16!
Here's a look at the fabulous stories you'll find inside!
Our feel-good fiction
Our opening story is Eirin Thompson's "Put Your Hands Together". It's all about family lockdown life — clapping for carers on Thursdays at 8pm, home-schooling, and re-evaluating what's most important. With a cheering illustration (above) by Commissioning Illustrations Editor, Manon.
Manon has worked closely with former "Friend" Illustrations Editor Sarah Holliday to provide uplifting illustrations for our brand new bookazine.
Next up is the lovely "Marcus And The Angel", by Leonora Francis.
Marcus thinks he's happy, but really, he is not. Then lockdown happens and someone comes into his life unexpectedly.
Who is she, and why does she appear at the oddest times? With a lovely, light-hearted illustration by Manon (below).
For Sarah, lockdown alone is tough. Yet it changes her life in some wonderful ways.
Teresa Ashby's "Look To The Future" has a wonderfully warm illustration from our Sarah (below).
"Story Of My Life", by Glenda Young is next.
During lockdown, Larry plans to write his life story. As time goes by, he realises that what he really wants to do is appreciate life in the here and now.
Manon's charming illustration (below) brings this story to life.
And there's more!
"Noisy Neighbours", by Alison Carter, is next.
Caroline and John meet when they move into adjoining business premises during lockdown.
They'd both banked on silence to be able to get on with their work, and now neither wants to be the first to back down!
With an illustration that will bring a smile, by Sarah.
In "A Little Screen Time", by Lydia Jones, lockdown gives Janice the chance to pick up a new hobby and reconnect with her family. But will any of us ever get used to using Zoom?!
With a cheerful illustration by Sarah (below).
Our final story is a strong one — "Footsteps To Freedom", by Gabrielle Mullarkey.
A refugee remembers her grandmother's advice. Whatever happens, just keep on walking . . .
Manon's striking illustration brings our fiction round-up to a close.
---
Click here to get your copy of our Feel-Good Special, priced £6.99.