Great British Bake Off 2020: Biscuit Week
---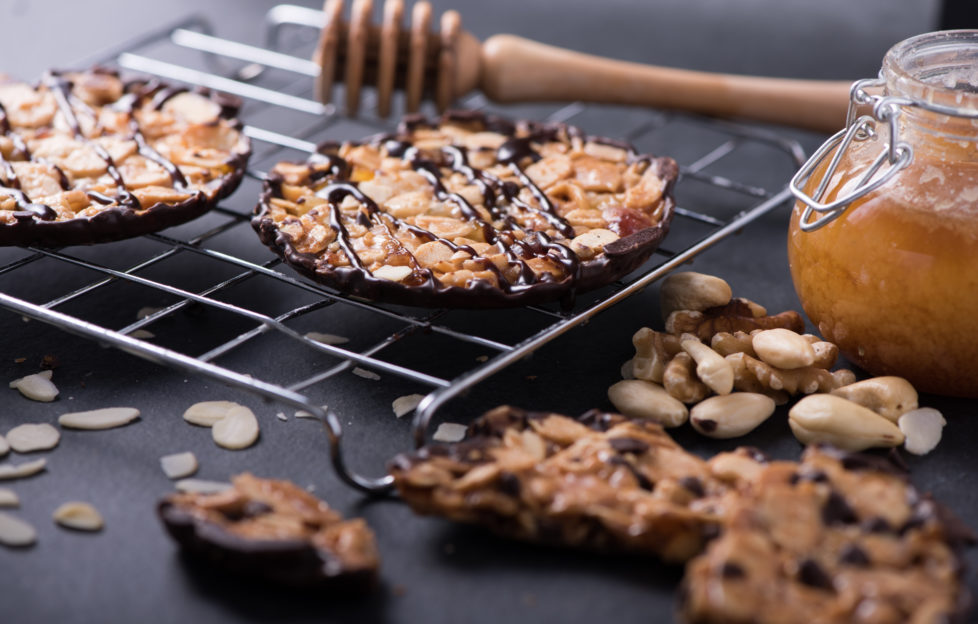 Shutterstock.
I was a little sceptical about the change in presenter for the Great British Bake Off.
After a reasonable start last week, the Noel Fielding-Matt Lucas combo opened with the first of many awkward gags that didn't quite hit the spot.
I'd recount it here, but I found myself forgetting it even as they were delivering every stilted syllable.
Unlike Sura's admission that she's been dreaming of Paul . . .
The signature challenge: chocolate florentines
Half a minute either way in the oven will ruin a florentine, apparently. So there was no pressure there then!
On the up side, nearly all of the bakers actually knew what they were, which was an improvement on last week.
But as they got stuck in, it was clear that not everything had improved on last week. Rowan (Stand And Underdeliver) decided to go big again, choosing to decorate his biscuits with modelling chocolate waistcoats.
A nice nod to his accountant-chic sartorial style. But his admission that he hadn't managed to complete the task on time in practice left Paul looking a little despondent.
Loriea was booted last week for not following advice from the judges. Could Rowan suffer the same fate?
Four of the contestants (Hermine, Mak, Return Of The Mark and This Year's Dave) decided to flavour their florentines with mango.
How much is the mango lobby paying Channel 4 for this product placement? And can we get in on that here at the "Friend"?
Panto producer Lottie landed the series' first Hollywood handshake, while Rowan's waistcoats came all unbuttoned. Dave looked solid, but the rest of the pack were fairly indistinguishable (an issue last season's Michael is having, over on the excellent Guardian live blog).
The technical challenge: coconut macaroons
When is a macaroon not a macaroon?
When it's a macaron, apparently. Which is definitely a different thing, and I've known that all along.
Yes I have.
Anyway — for those who are a little confused (not me), here's a handy guide:
I think this is a timely reminder… #gbbo @BritishBakeOff #macaroon pic.twitter.com/Fl6BiAnMwz

— Bini 👩🏽‍🍳 (@BiniPW) September 29, 2020
Now that's out of the way, we were free to enjoy Rowan completely ignoring Paul's instructions once again.
His rough and ready Hubris Biscuits were obviously bound to turn out better than the neat little macaroons the judges expected.
(Dear Readers, they were not).
The expression 'dog's dinner' translated for cat lovers by Rowan. #GBBO pic.twitter.com/hZKr6UTGsz

— British Bake Off (@BritishBakeOff) September 29, 2020
It was here that Dave cemented his position as my spirit animal by all but telling Matt Lucas to do one. And I don't mean a biscuit.
He was also named technical winner, which in a pleasing turn of events was thoroughly deserved. The pressure of The Handshake got to Lottie a little, while the two young children in a trenchcoat pretending to be Peter didn't cover himself in glory either.
Rowan's cat's lavatory came rock bottom. He's on a shoogly peg, as my mother would say.
The showstopper: 3D biscuit table setting
Ah, we're back here again. 
Prue and Paul seem to have an obsession with stuff that looks like other stuff (see the picnic basket of lies from last year's final).
It's a bit of a novelty, I'll admit. But probably not if you do it every year.
Plus, as a round it seems designed (moulded?) specifically to cause contestants to fall to pieces.
Unless you are Indiana Marc, of course, who is a sculptor by trade. He did a manful job of not looking too smug about it.
Mak goes flat-pack for his attempt (a violation of The Rules), while Laura's effort is a little low-effort.
Peter's gingerbread haggis is definitely going on my menu.
But This Year's Dave nailed it. His stuff very definitely looks like other stuff.
He rightly wins Star Baker.
He didn't crumble or snap in Biscuit Week! Well played to our Star Baker Dave! 👏👏 #GBBO pic.twitter.com/5SFziUmR5b

— British Bake Off (@BritishBakeOff) September 29, 2020
The controversy
We're trotting out all the old Great British Bake Off hits this week. It comes time for the elimination, and Rowan's basically packing his very snazzy bags.
He ignored Paul all last week, and Loriea was sent home.
Ignoring Paul all this week again, he failed to complete a single one of the challenges.
He couldn't dodge the chop twice.
So, obviously, it was Mak that the judges sent home.
I covered the sometimes baffling decisions the judges make before, and I don't want to feed into the undoubted Twitter rage about this particular one.
If the show had been a little further on, I may have been more exercised about this. But make no mistake: it was codswallop.
While Mak's flat-pack was ill-timed and badly executed, he was solidly middle-of-the-road.
Rowan, on the other hand, ignored the road entirely, and instead occupied himself with trying to create the Sistine Chapel out of pancake batter, or some other such nonsense.
But he did it in some style.
The face you make when you've finished bottom of all 3 challenges, but they still vote off someone else. #GBBO pic.twitter.com/KavNstk1DI

— Laura Beattie (@laura_beattie) September 29, 2020
So does that mean that The Great British Bake Off isn't really just about baking? Do the "characters" last longer than those who can actually do the job?
And should we be surprised by that?
Tune in next week, when I presume Paul will up the ante by punching poor Peter in both of his tiny faces.
The bakes
Chocolate florentines

Coconut macaroons

3D biscuit table setting
Needless to say, Cookery Editor Marion hasn't yet created the Houses Of Parliament out of a jam roly-poly.
In fact, we don't have any of the above on our website— but we do have plenty of biscuit recipes, including these butter cookies, a delicious shortbread recipe from 1915, and even Christmas tree cookies.
Why not try them for yourself!
---
Click here for more delicious recipes from "The People's Friend".
For more on the Great British Bake Off, click the tag below.