Fiction Sneak Peek: October 10, 2020 Issue
---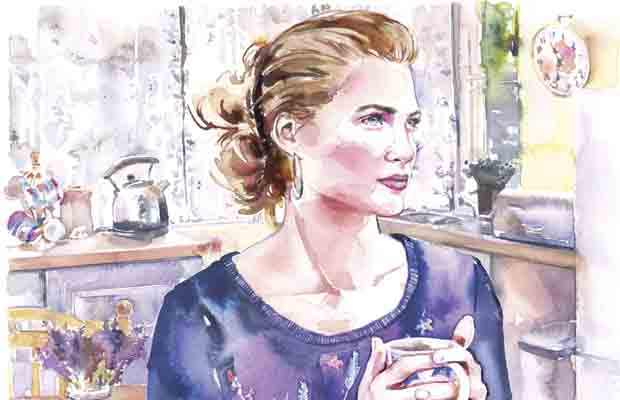 Illustration by Tracy Fennell.
Welcome to our weekly sneak peek at the fiction in our new issue!
Short stories
Our opening story this week is "Trading Places", set in 1817 and written especially for "Friend" readers by Kitty-Lydia Dye. Two girls from very different backgrounds plan to swap lives just for a night, finding fun and excitement along the way. With an illustration by Helen Welsh.
"New Beginnings" by Teresa Ashby is just wonderful. When Sandra visits her nan's little house after Nan passes away, she finds Nan's memory gives her the strength to make a difficult decision. With a beautiful illustration by Tracy Fennell (above).
We welcome another debut "Friend" author this week – Wendy Craig. Wendy is this week's Writer Of The Week, too.
In Wendy's story, "The Bridge Club", a new player is joining today's game, and Gran is fretting! With a fun illustration by Sarah Holliday.
Eirin Thompson's "Back To Basics" is next. Cara's mum and dad are no longer together, and chippy teas are the order of the day, instead of being a special treat.
They need a big change, to remind everyone that sometimes, the day-to-day things can be the most special. Mandy Murray illustrated this feel-good family story for us.
Italian Francesca is working in a hotel in England — and there's definitely "Room For Improvement" in her housekeeping skills! Stefania Hartley's fun story has a lovely illustration by Sarah Holliday.
There's a big decision to be made in "The Coast Is Clear", by Mary Barr. Can some time and space spent on a wild, Scottish coastline help? Illustrated by Jim Dewar.
In our final story this week is "Fall In Love" by Glenda Young. Sophie wishes she could go 'leaf-peeping' in the States with football-mad husband Pete. Although that's not possible, autumn brings changes, blown in on the wind.
Serials
In Part Two Of Alison Carter's "The Journey From Jarrow", set in 1936 and illustrated by Helen Welsh, it seems to Beatrice that Con Taylor is as thrilled as she is to meet again…
And in the concluding part of Katie Ashmore's "May The Best Team Win!", illustrated by Gerard Fay, have the Smarty Pints done enough to win the Quiz Quartet? Look out for a brand-new serial beginning next week.
Series
There's a surprise resident at the animal sanctuary, in Della Galton's "Paw And Order".
And in Glenda Young's "Riverside", what does the stranger want with Sam?
---
If this sneak peek has left you wanting more, don't worry! Our new issue is in shops soon.
Did you know that subscribers receive their issues early? Click here for more information on subscribing to the "Friend" today. You'll never have to worry about missing another issue again!
Plus, if you're worried about potential delivery issues, we have a great digital subscription available. This way, you can download every issue straight to your phone, tablet or home computer.