Features Sneak Peek: January 9, 2021 Issue
---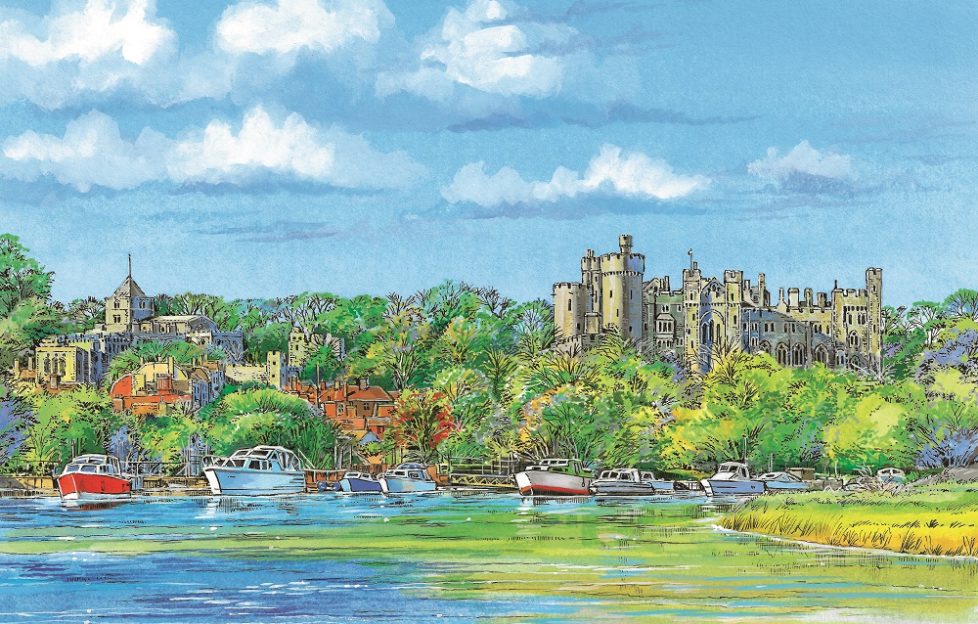 Illustration by DC Thomson Ltd.
It's time again for a new issue of "The People's Friend", so here's a sneak peek at the treats we have for you this week.
Pat Coulter is in West Sussex, where she is exploring the villages of Arundel and Walberton.
There she is discovering their connection to much-loved author Rosemary Sutcliff.
Her local patch in and around the South Downs proved inspirational for many of her novels, most notably "Knight's Fee".
We will also visit picture perfect Swanbourne Lake and its mill, which inspired John Constable's painterly view of the lake and castle backdrop beyond.
Feline fun
Three months into a global cycling trip in 2018, Dean Nicholson found a stray kitten scurrying alongside his bike.
Since then, he and his feline companion, Nala, have travelled through 21 countries.
Dean began documenting their travels online and his Instagram account now has 854,000 followers.
Dean's new book, "Nala's World" is bringing their story to a wider audience.
Mairi from the Features team caught up with Dean to hear all about their adventures.
Bond and beyond
Douglas McPherson pays tribute to the Scots actor who many consider to be the best 007.
Earlier in his life, Sean was a milkman, coffin polisher and lifeguard. But he will forever be remembered as James Bond.
Ian Fleming, creator of the titular spy, might not initially have been sure of the choice to cast Sean. The public, however, loved him, and he starred in seven Bond films.
He would, of course, go on to star in many other movies, and was knighted in 2000. He sadly passed away last year.
Hand Of Friendship
Lisa Ashton MBE, the Winnie Mabaso Foundation's founder and CEO, updates us on the challenges the past year has brought our Hand Of Friendship partner.
In spite of the issues Covid has raised, readers of "The People's Friend" raised a further staggering £7,000.
This meant the charity were able to provide over 350 families in need with grocery packs to last them for one month. Along with essential food items, each pack contained soaps and handwash for laundry, too.
Elsewhere in the magazine: we have a collection of tasty recipes for those of you looking for some Veganuary inspiration, and a pattern to knit a beautiful jumper.
Plus Alex Corlett gets on board with a Transport for London initiative to put a smile on the faces of their passengers.
---
Has this sneak peek encouraged you to subscribe to the "Friend"? Click here. This will mean your "Friend" will come straight to your doorstep! 
You can also take out a digital subscription, meaning your issue will come straight to your computer, tablet or phone! And it's great value for money. Click here for more details.