Fiction Sneak Peek: June 26, 2021 Issue
---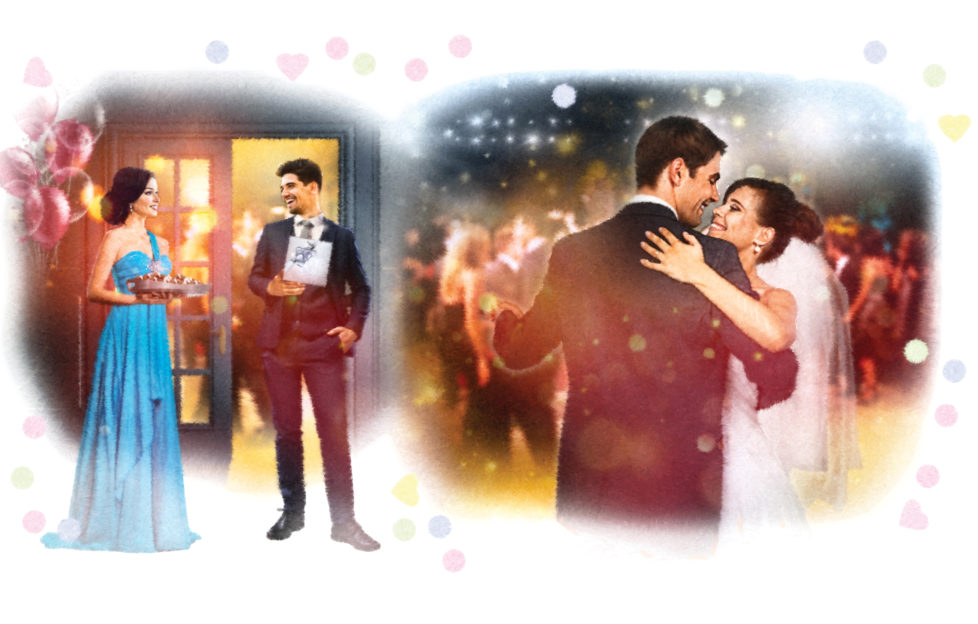 Artwork: Mandy Dixon
Welcome to this sneak preview of the fiction in our June 26, 2021 issue!
We're at a wedding in our opening story – and despite his invitation, one of the guests is not welcome. "For Better, For Worse" by Vivien Brown has a sparkling illustration by Mandy Dixon (above).
In "Going Solo", it's a lovely day, and Bonnie feels trapped in the house – but her husband never wants to do anything. Teresa Ashby's perceptive short story has a lovely summery illustration by Ruth Blair.
Two opposites attract in Moira Gee's romantic short story, "Against All Odds". Illustrated by Mandy Murray.
We go back to the 1960s for our next story – "Slow And Steady". Ahead of her marriage to Graham, Rosemary keeps being told to keep her expectations low – but she can't help but dream of a more exciting life…Alison Carter's thoughtful short story is illustrated by Jim Dewar.
The seaside is just the place to gather one's thoughts, in "All At Sea" by Tess Niland Kimber.
Two sisters find their mum's old diary and after reading it, try to give her a nice surprise. Find out how that works out in Jacqui Cooper's "One For The Diary".
Our final story this week is Alyson Hilbourne's "Planting The Seeds".  Anita could never have guessed that just one day off school would shape her whole future. Illustration by Manon Gandiolle.
Serials
An exciting new eight-part serial begins today – "The River Runs Deep", by June Davies. June set her serial in 1860s America. Sailesh Thakrar illustrates.
There's a trip to a Highland Games in Part Three of Anne Pack's "Summer At Horseshoe Cove". With illustrations by David Young.
Series
In Stefania Hartley's "Tales From The Parish", who will draw the short straw in this year's village scarecrow contest?
And in Glenda Young's "Riverside", who is lurking at the allotments?
---
If our June 26, 2021 issue has left you wanting more, don't worry! Our new issue is in shops soon.
Did you know that subscribers receive their issues early? Click here for more information on subscribing to the "Friend" today.