Fiction Sneak Peek: October 2, 2021 Issue
---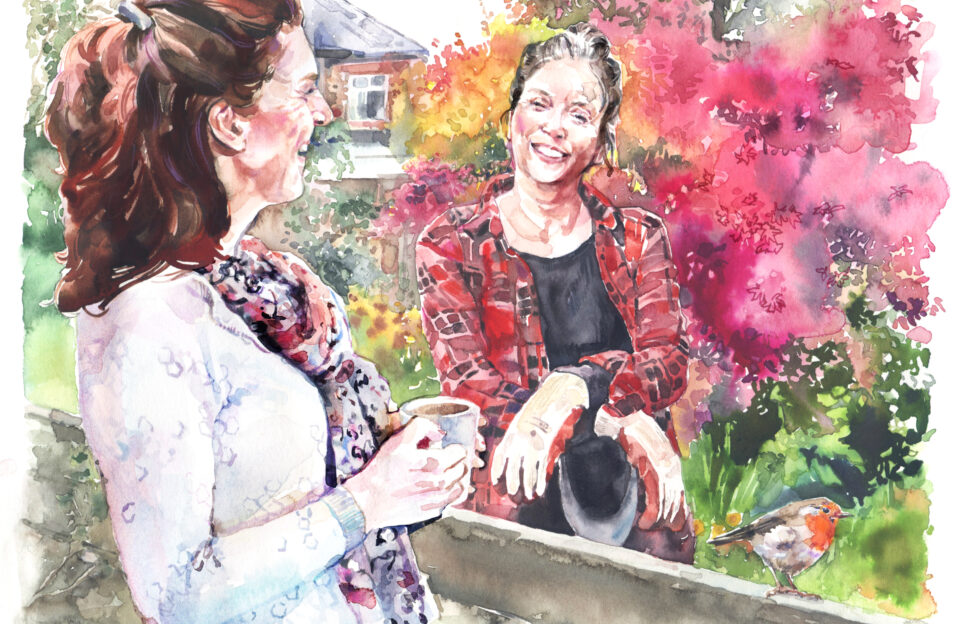 Illustration by Tracy Fennell.
A warm welcome to our preview of the stories in our October 2, 2021 issue.
The opener
Our opener this week is "Rough Music", by Joanne Duncan. DS Diane Moffatt and DC Alex Knowles investigate the assault of choir bigwig Jennifer Potter. Illustration by Mandy Dixon.
We go back to 1952 next, where June is excited about her new job in TV. But she has other things to celebrate, too! Alison Carter's "A Cup Of Joy" is illustrated by Shutterstock.
Katie Ashmore's "In This Together" is next. After a life-changing diagnosis, what lies ahead? Accompanied by an upbeat image from the Shutterstock picture library.
Neighbours Joanna and Molly discuss the benefits of taking up a pastime, in Vanda Inman's "The Perfect Hobby". With lovely artwork by Tracy Fennell.
Karen is horrified to realise that a blast has booked in to her B&B – for a week! "A Voice From The Past", by Teresa Ashby, is illustrated by Andre Leonard.
Florist, Celia, strikes up a rapport with one bride-to-be, in "A Blossoming Romance". It's only later that Celia realises she knows the groom, only too well . . . Eirin Thompson's short story is illustrated by Mandy Dixon.
Did you know it's Grandparents' Day on October 3? In our final short story of the week, we follow one grandma determined to break down "granny" stereotypes! "In The Picture", by Alison Wassell, is illustrated by Shutterstock.
Serials
In the final episode of "Shadows Of St Morfa Hall", the future looks brighter for Zoe than it had for Lady Alexandria Oxley . . . Lydia Jones's five-part serial is illustrated by Helen Welsh. Look out for a brand new serial, starting next week.
And in the penultimate part of "An Exacting Profession",  Arthur pays dearly for his support of the lady doctors . . . Written by Anne Stenhouse, our serial set in 1870 has artwork by Ged Fay.
Series
In Stefania Hartley's "Tales From The Parish", Father Okoli has some controversial plans for the harvest decorations . . .
. . . and in Glenda Young's "Riverside", Ruby is about to receive some unexpected visitors . . .
---
If our October 2, 2021 issue has left you wanting more, don't worry! Our new issue is in shops soon.
Did you know that subscribers receive their issues early? Click here for more info. 
You can also choose a digital subscription, and read the "Friend" on your tablet, smartphone or computer. It's the perfect option to avoid any pesky delivery trouble!