Fiction Sneak Peek: November 6, 2021 Issue
---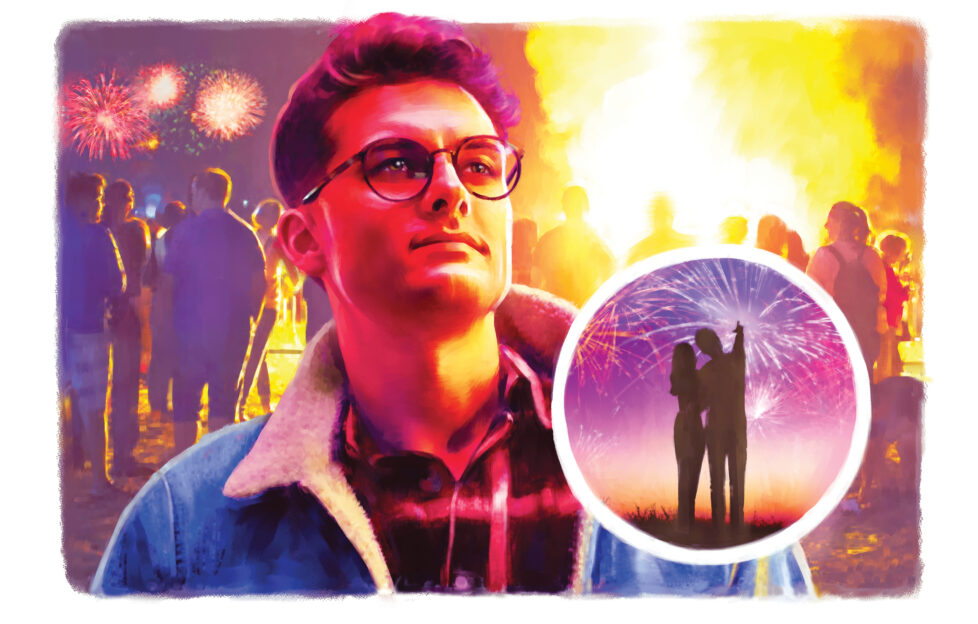 Illustration by Kirk Houston.
Remember, remember – our November 6, 2021 issue is out on Wednesday!
Here's a look at some of the 'sparkling' stories and serials we have ready for you to enjoy.
In our opening story, the annual fireworks display brings back memories every year . . . Moira Gee's "Remember, Remember" has seasonal artwork by Kirk Houston (above).
We're off to a bakery for our next story – and a bond is formed over storm-related names! "Baking Up A Storm", by Kate Blackadder, has a fun illustration by Sarah Holliday.
When your customers have been like family, what happens when retirement comes around? "Calling Time", by Sammi Montgomery features artwork by Sarah Holliday.
Emma has a twinge of panic when she realises that everyone seems to be good at hand-making baby gifts – except her. She has something different to offer, in "Something To Treasure", by Teresa Ashby. Illustrated by Shutterstock.
A warm welcome to our latest debut author, David Balmer! In his first Friend story,  a special bench means a lot to one older couple – and reminds them of what's most important. "Down Memory Lane" features beautiful artwork by Philip Crabb.
As the year turns towards Remembrance Day, we go back to the days after World War One for our next story. Stanley's brother, Alfred, only signed up because Stanley had – and when Alfred was lost at sea, Stanley finds the guilt overwhelming. Only art calms his mind – could that be where his future lies? "Drawing Forth", by Laura Tapper, features poignant artwork by Tracy Fennell.
It's the end of the season and all paws are on deck at the lido before it's cleaned out for winter! "Puppy Love", is written for us by Helen Yendall. Features an extremely cute Shutterstock illustration!
Serials
A new serial begins today – "Darkest Before Dawn". We're in 1939 and with war on the horizon, Tilly and Edward's wedding day is a time to put troubles aside. By Teresa Ashby, our splendid six-part serial features stunning artwork by Mandy Dixon.
It's the final part of Alison Carter's super "Sounds Like Radio" this week –  and Cesca and her team can finally feel excited about the future. Lovely illustrations throughout by Ruth Blair. A new serial begins next week!
Series
If Roy opens a supermarket, what will it mean for Carrie's shop? Find out in part two of our new series, "Read All About It", by Eirin Thompson.
And in Glenda Young's "Riverside", can Dave cheer up heartbroken Graeme?
---
Has our November 6, 2021 issue left you wanting more? Don't worry! Our new issue is in shops soon.
Did you know that subscribers receive their issues early? Click here for more info. 
You can also choose a digital subscription, and read the "Friend" on your tablet, smartphone or computer. It's the perfect option to avoid any pesky delivery trouble!