Fiction Sneak Peek: November 20, 2021 Issue
---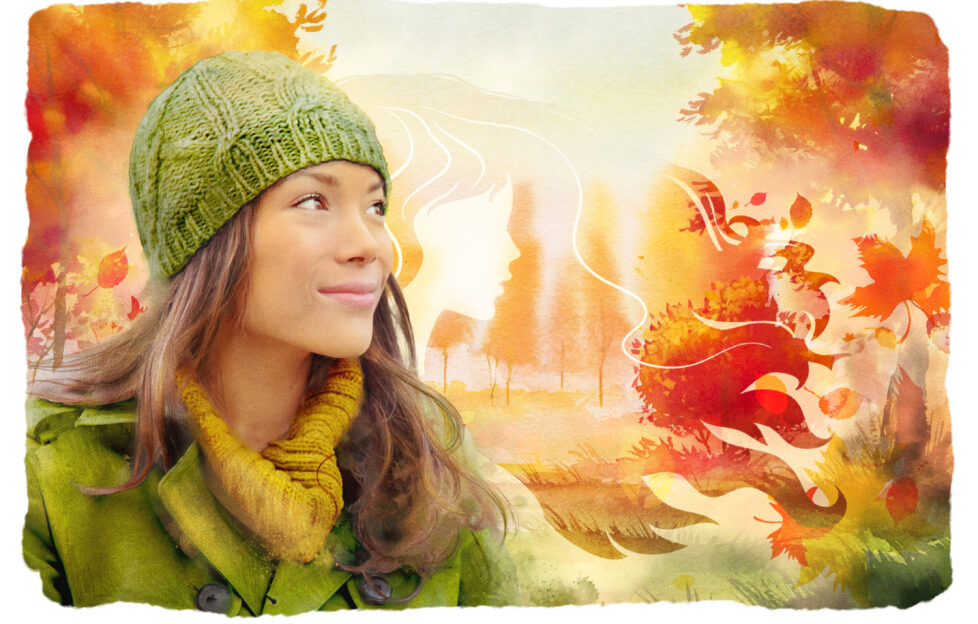 Artwork: Manon Gandiolle
Welcome! Here's a quick peek at the fiction you'll find in our November 20, 2021 issue. It's out in shops on Wednesday, November 17.
When Abbie accepts a job offer in her home town, she visits a place known in her childhood as the 'Almost Woods'. Will it still be as magical, now she's grown up? Our opening story, "Treasures Of The Trees", is by Rebecca Holmes, and illustrated for us by Manon Gandiolle (above).
Jane misses her late husband terribly, but when she finds a mysterious letter, it reminds her of his words of wisdom. Christina Campbell's thoughtful "Words To Live By" is illustrated by Kirk Houston.
Cassie left university before completing her art degree. She hasn't touched her paints or brushes for a year – could now be the time to pick them up again? "The Sun Always Rises", by Becca Robin, features a Shutterstock illustration.
Nancy and her father have worked at the turnpike for many a year, but now they're being let go. What does the future hold? Find out in "The Gatekeeper's Daughter", by Valerie Bowes, illustrated by Ruth Blair.
A mum and daughter find a budgie in the run-up to Christmas – and it brings so much joy into their lives! "A Feathered Friend" by Gwen Rollinson features artwork by Mandy Dixon.
A well-known landmark is the perfect setting for romance, in "Empire State Of Mind", by Alison Carter. Illustrated by Martin Baines.
Can Don Pericle help another couple in need? Find out in "A Peace Offering" by Stefania Hartley, with artwork by Helen Welsh.
Serials
In Part Two of Jan Snook's "Christmas Wishes", Louisa's enjoying the company of Daniel – even though they've only just met . . . Illustrated by Sailesh Thakrar.
Part Three of "Darkest Before Dawn" sees the Pollards celebrate a christening. But they have no idea of what lies ahead . . . Teresa Ashby's six-part wartime serial is illustrated by Mandy Dixon.
Series
A small act of kindness is better than nothing, in this week's "Read All About It", by Eirin Thompson.
And Mary has something to confess to Ruby, in Glenda Young's "Riverside".
---
Has our November 20, 2021 issue left you wanting more? Don't worry! Our new issue is in shops soon.
Did you know that subscribers receive their issues early? Click here for more info. 
You can also choose a digital subscription, and read the "Friend" on your tablet, smartphone or computer. It's the perfect option to avoid any pesky delivery trouble!